Ducati 748 Gulf Dream by Jon Ball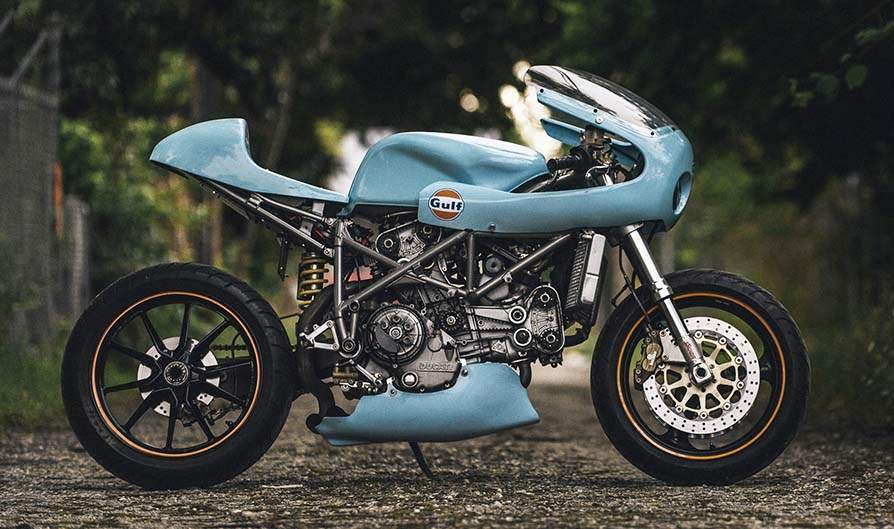 Jon Ball, an IT professional and father of two, has a lifelong passion for motorcycles. He may not look like your typical bike builder on paper.
He originally purchased a Ducati 748 to fix it and sell it. "I tuned it up, cleaned the tank, fixed the issues, replaced tires and all the fairings…but didn't sell it."
Soon afterwards he began pondering his next project, a Gulf racing inspired build.
"I usually work out of my modest 2 car garage with my basic tools." says Jon. "We did the bulk of the fabrication for this bike in Dave Morales' shop, Denton Moto Collective, in Denton, Texas.
After doing away with the Ducati's factory fairings Jon started laying plans that would allow the fitment of more classically styled components. Jon worked alongside his friends Fabian, Derek and David to get the project underway.
"The subframe was completely chopped up and rebuilt to accommodate the computer, battery, relays, and all the rest of the electronic doodahs." recalls Jon. "We moved all the wiring over to the left side of the bike in order to showcase the exposed dry clutch and cam belts/gears on the right. All the wiring also had to be extended to reach the subframe. Modern bikes have some serious wiring going on so I focused on that with Derek while David fabricated the tail section."

With the rear section of the frame revised, the wiring rerouted and mounting gear for the fairing done, he performed the finishing touches while Scott Kinsey at Kinsey Customs laid the stunning pale blue paint, orange racing stripes and Gulf racing livery.
Read the entire post on http://www.returnofthecaferacers.com