To give the R9T a popularity boost in the Netherlands BMW's marketing team came up with the "Soul Fuel Challenge". The aim of the challenge was to invite workshops to submit designs, select 3 of the best and supply them each with an R9T to make their design a reality. One workshop who took up the challenge and won first prize for their creation was Rotterdam based 'Smokin' Motorcycles' with their "Elegant Bastard" R9T build.
The aluminium fuel tank was hand made using wooden jigs in the Smokin workshop while the redesigned sub frame is a CNC milled piece that integrates the bikes rearward facing lights. The original tank badges have been relocated to the sides of the bike where they are fixed to carbon fibre engine covers and a pod filter sits on the mouth of the bikes ram air inlet.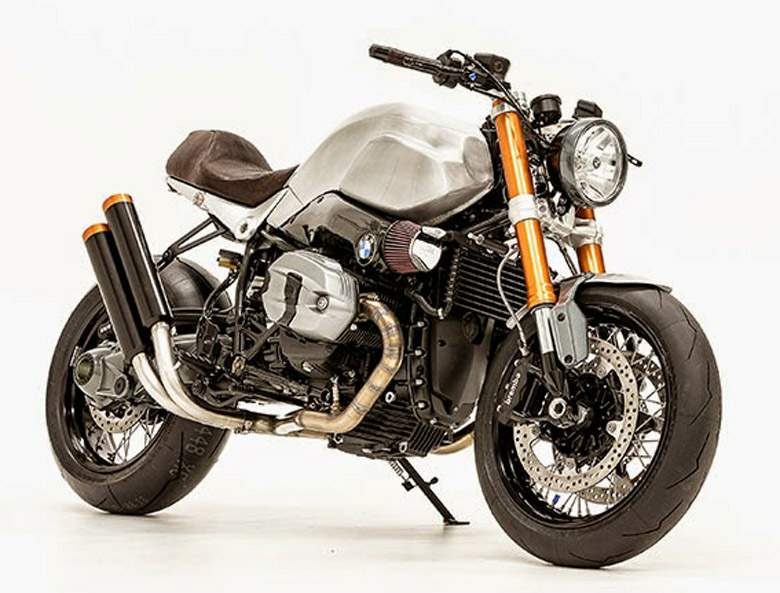 The mufflers are mounted on the right side of the bike rather than the left they make the most floating wheel effect of the single sided swing arm and tie in nicely with the bikes standard gold forks. Then there's the seat. Full grain buffalo hide with a rear stitch line that would be the envy of Ed Gein it's the opposite of elegant, but it looks perfectly home on the Bastard.
Source Returnofthecaferacers.com | Smokin Motorcycles | Photos by Mark Kamphuis