MV Agusta
Brutale

"GT MotoLady"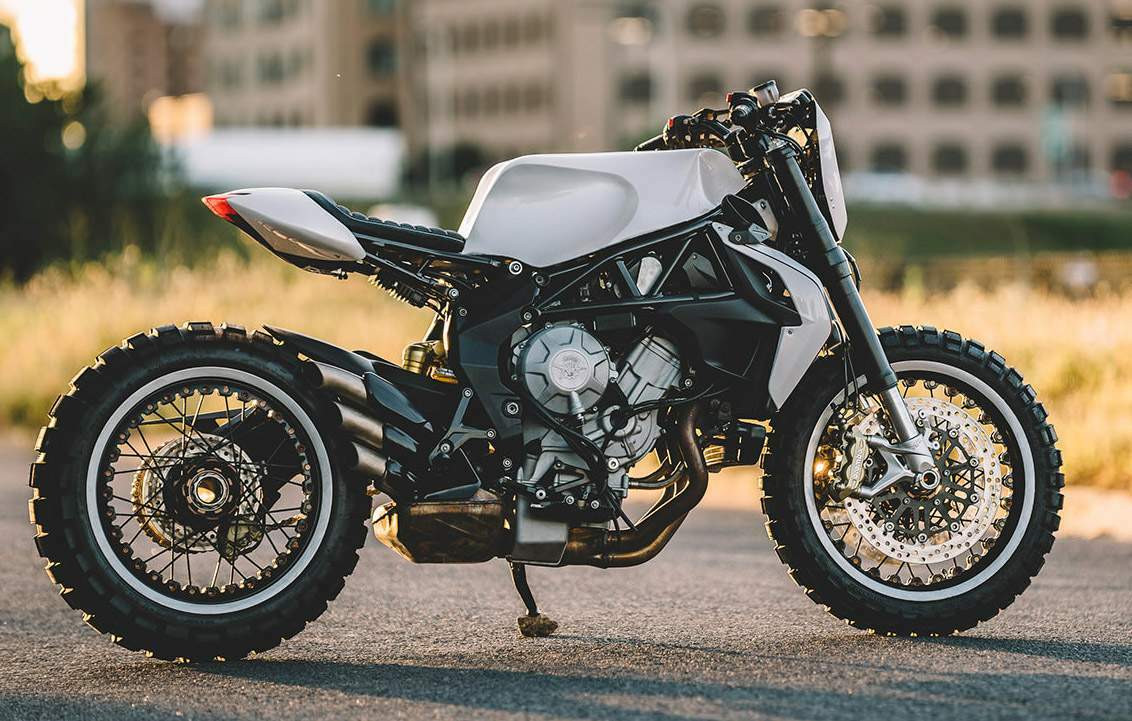 Alicia Elfving of MotoLady and Sofi Tsingos of GT Moto managed to create an astonishing piece of machinery by customizing an MV Agusta Brutale and created this one-off Brutale 800.
MV Agusta provided a 2014 model to be used as a base for the project and the aftermarket parts were taken from sponsors, while services and fabrication were donated.
For this project Alicia dealt with the more logistical aspects, such as sourcing parts, while Sofi did the hands-on work and fabricated the extensive custom metalwork found on what the two are calling the "GT MotoLady" (a combination of their two brands' names).
This bike was raffled and all proceeds were donated to St. Jude's Children's Research Hospital to help families with medical expenses.
They opted to leave the stock Brutale's suspension, brakes and powerplant untouched, as well as leaving the bike's stock ECU, ignition, and exhaust, to preserve the model's fantastic handling and power delivery.
The tail section, headlight unit, fuel tank and radiator shrouds were pretty much hand made from aluminum.
Sofi said the hardest part to manufacture was the tank as the original one had a massive fuel pump that they had to work around. As well as the huge air box that is also located under the tank.
The tubeless lightweight spoked wire wheels came from an MV Dragster, which were repainted, and the truing was done by Woody's Wheel Works. They're running Continental TKC80 tires.
The black and white seat was created by XTreme Upholstery. Rizoma provided the grips and mirrors, and the turn signals came from Motivations USA in Austin.
The flat-tracker style front was crafted from aluminum by Sofi and JW Speaker LED lights were used as the bike's headlight. The custom tail-section also managed to incorporate the Brutale's stock tail light while still fitting the heavily modified handcrafted custom aluminum tail section.
Alicia and Sofi would like to thank the companies that supported this project: MV Agusta Corporate, who donated the bike, Continental Tires, Woody's Wheels Works, Crosslink Powdercoat, Junior Burrell, Rizoma, Xtreme Upholstery and JW speakers.
Source themotolady.com & GT Moto