Campagna T-Rex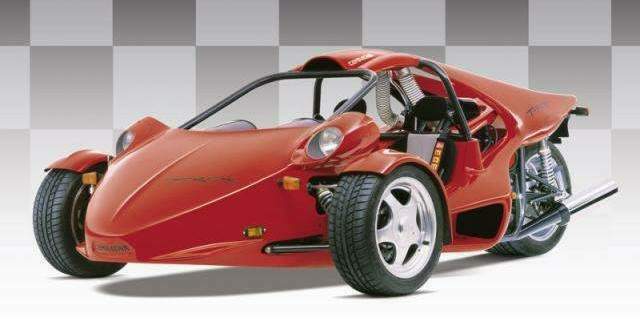 Originally created by Daniel Campagna (an ex-F1 mechanic) in the mid-1990s, the T-Rex has evolved over the years and is now one of the best performance-oriented trikes in the market today. With more than 200bhp and 154Nm of torque on tap, it accelerates from zero to 100km/h in 3.9 seconds and is capable of hitting a top speed of around 220km/h.

With its tubular steel chassis, fibreglass body panels, and carbonfibre windscreens and headrests, the T-Rex weighs 455 kilos dry and rides on 16-inch aluminium wheels, shod with 205/45 ZR16 tyres. Suspension is comprised of unequal opposed triangular arms with shock absorbers and roll bar at the front, and dual, adjustable shock absorbers at the back. And the gearbox is a sequential six-speed (plus one reverse gear) manual, with a foot-operated clutch.

For those who may be worried about its practicality, the T-Rex is available with optional luggage bags (removable, lockable and waterproof) that can be mounted at the trike's sides, at the back. The 'Rex can seat two people and comes with seatbelts and a roll-cage, so it's not only loads of fun, but also quite safe...