Yamaha have released details of the third XV950 in their Yardbuilt custom motorcycle series. German born builder Marcus Walz has taken a similar approach to the builders before him and transformed the cruiser styled XV950 into a more aggressively styled cafe racer. Named "El Raton Asesino" the bike, like many of Marcus' builds uses prototyped parts and top of the range components to ensure it's performance is as impressive as its appearance.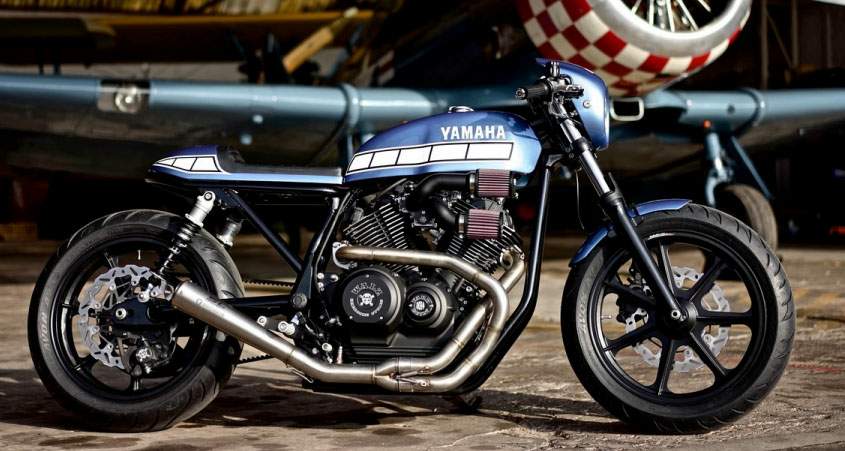 Walz transformed the rear end of the XV950 to develop a classic café racer line by modifying the standard swing arm and building a custom rear sub frame from scratch. Mini LED units are integrated into the rear frame in place of the standard tail-lights. A hand shaped fuel tank with Monza style filler cap was added at the front along with a custom designed headlamp cowling and a one-off custom tail unit topped with a hand stitched leather seat. The front fender is custom made in-house, as is the bracket holding it.
The front-end is modified and lowered, and uses progressive fork springs whilst the rear gets fully adjustable Öhlins shocks. The wheels are hand-cast magnesium wheels prototypes by Marvic, with custom adapters made in house.
LSL clip-on bars replace the handlebars, and house a quick throttle, custom switchgear, LSL master cylinder and LSL adjustable clutch and brake levers all topped off with custom bar-ends. The clocks are replaced with a Moto Gadget 'Tiny' tachometer, and there are custom cylinder-head plates and engine casings, and a custom manifold feeding an SC-Project exhaust.

"This isn't just a concept build for me," comments Marcus Walz. "My first experience of motorcycles was with Yamaha at the age of 15, I had Kenny Roberts posters on my wall, the yellow YZ500 with the 'speedblock' design. My first bike was also an RD80 that I customised to look like Kenny's so my bike roots begin with Yamaha. This build is my journey from first bike experience to now, so thanks Yamaha for the memories!"