Ace Café Racer by Stonebridge Motor Co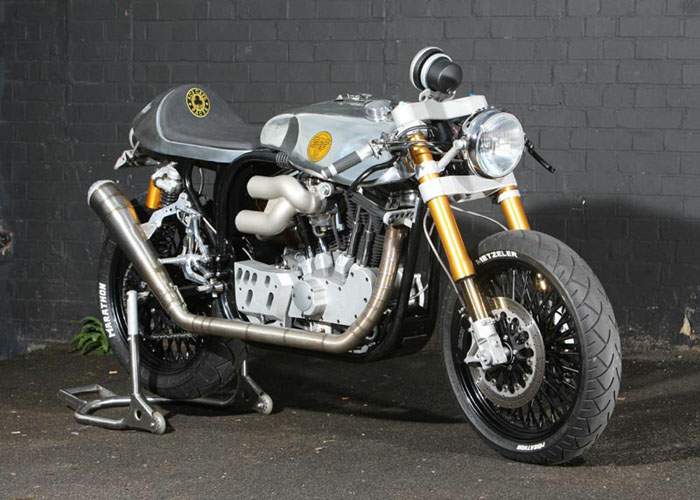 The Ace Café Racer's 1200cc air cooled V-twin lump makes 138bhp and 110ftlb of torque, which Nick estimates should give it a top speed of around 180mph. Neat touches include a top yoke that hides the brake and clutch reservoirs, an exquisite exhaust system that took 10 solid days to fabricate and an oil filler cap that pokes out of the seat in true old-school Café racer style.

The bike is as interesting to ride as it is to admire: "This is a man's bike and no mistake. The seat is wide due to the featherbed frame, which makes it hard to touch the floor, you need the grip of a gorilla for the clutch and once fired up the engine is loud enough to wake the dead"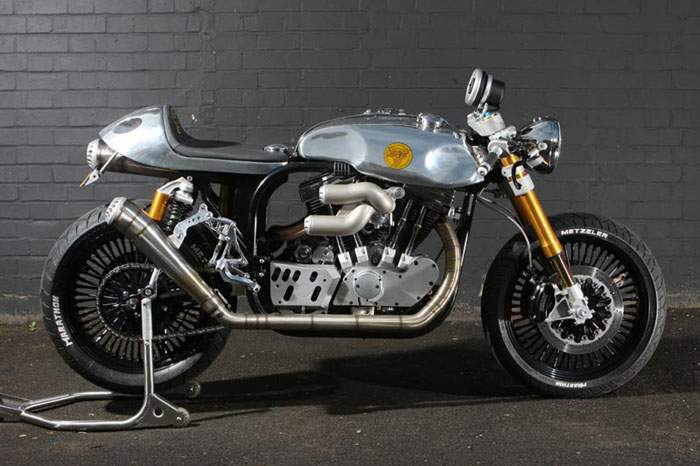 Tech Spec:

Engine:
Type - air cooled 45 degree V-twin
Capacity 1200cc
Bore/stroke - 3.5 inches / 3.812 inches
Compression Ratio 9.5:1
Fuel system - carburettor size Super E

Transmission:
Gearbox - 5-speed – ratios:
1st at 10.407
2nd at 7.436
3rd at 5.53
4th at 4.583
5th at 3.93

Sprocket sizes:
Front 23 tooth
Rear 48 tooth

Chain – type Triple S "O" Ring size 530

Wheels:
Front 17 x 3.00"
Rear 17 x 4.35"

Tyres:
Front Metzeler 110/70/17
Rear Metzeler 150/70/17

Sealed High Performance 12v 12Amp Battery - 210 Cranking Amps
Weight 11.8lbs
Dimensions 5.9 x 3.4 x 5.7 inches

Paint - House of Colour
Primer coats x 3
KO - seal coats x 3
Black base coats x 3
Lacquer coats x 4

Vital Statistics:
Weight 385lbs 12.944oz
Height to seat 2ft 6"
Length 4ft 8.75"

Power 78bhp at 5200rpm
82lb ft torque at 4000rpm

Price: £22,725 Inc.of VAT

Ace 1200CR Street Special with standard 1200cc engine does not include:
Wiseco forged pistons
Andrews N4 profile camshaft
Crane roller rockers
Gas-flowed cylinder heads

N.B. HD 1200 Sportster engine as standard produces 64bhp at 5200rpm & 69lb ft torque a 4000rpm

Price: £20,795 Inc.of VA
T