Aprilia SXV GP45 Super Twin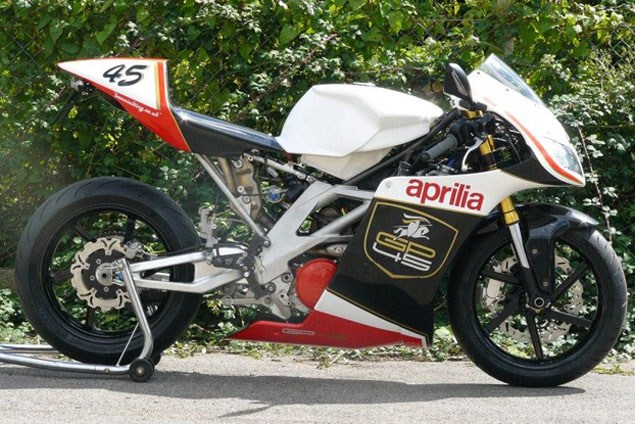 An Aprilia SXV GP45 Super Twin that's road legal. Martin at Ashley's of Yeovil who does the GP45 kit has just completed this one, This special GP45 uses the 450 Aprilia twin. The engine remains encased in the supermoto bike's chassis with custom moulded GP45 fairing and seat unit. The engine is standard keeping the 60bhp.
The GP45 SXV450 is suspended on Marzocchi USD 43mm race forks and the standard Sachs rear shock has been shortened to the spec of the race seres. Wheels of the bespoke SXV450 sports bike are Marchesini Magnesium GP race wheels, taken from Rattapak Willarot's Honda 250GP bike, with braking from the radial calipers of the Aprilia supermoto on wavy discs, and overall the bike weighs 120kg.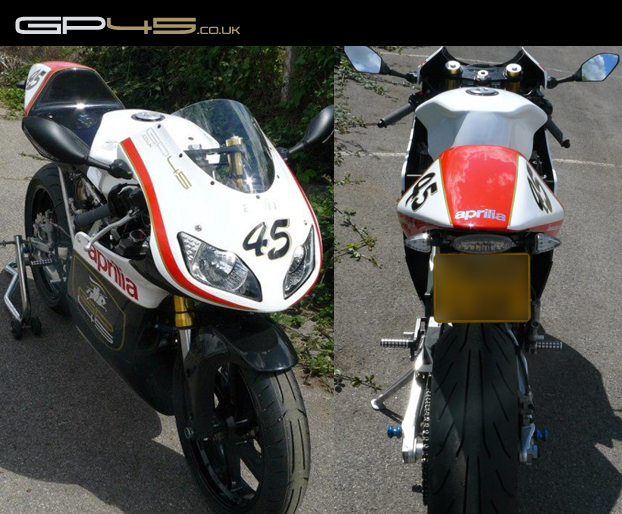 GP45 Specifications
Base Bike - Aprilia SXV450 2008
Forks - Marzocchi USD 43mm Race Forks
Yokes - GP45 Super Twin "Gull Wing" Race Yokes
Wheels - Marchesini Magnesium GP Race Wheels ( From Rattapak Willarots 250GP Bike )
Brakes - Braking Wavy Discs with SXV Radial Calliper
Clipons - GP45 Race
Fairing - GP45 SXV Type
Seat - GP45 SXV Type ( twin exhaust outlet )
Rear Shock - Standard Sachs ( Shortened to GP45 Race Spec )
Rear Sets - Adjustable GP45 Super Twin Race Kit
Digital Dash - Race Technology Dash 2 ( incl Revs, shift lights, mph & gear indicator )
Fairing Mounts - GP45 Super Twin Kit
Brake Disc Carriers - Bespoke Engineering by "Ashleys of Yeovil"
Tyres - Michelin Pilot Pure
Rear Lights - LED Indicators / Rear Lights.
Front Lights - Scooter Twin Headlights
Mirrors - Built in indicators
Fuel Tank - GP45 Super Twin Race Kit 10ltr (internal fuel pump from donor bike )
Rear Bobbins - GoFasterBits.co.uk
Engine - Standard
Paintwork - Bespoke paintwork to customer spec