Audi RB-1200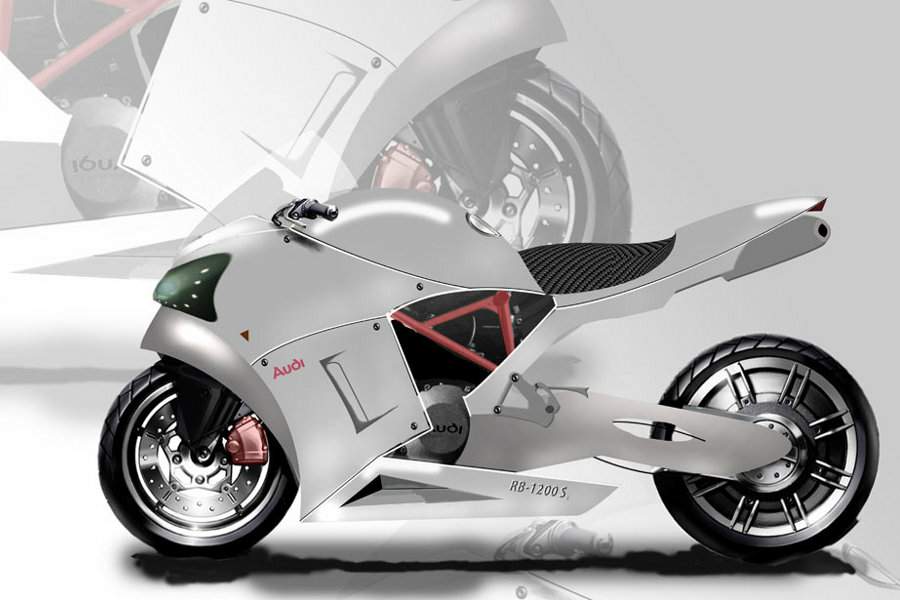 One of the things that never goes unnoticed in the automotive world are two-wheeled concepts coming from automakers without a tradition in building motorcycles. So is the case with Audi who, if it would ever make a step towards this direction, will likely make a sportbike similar to the concept envisioned by designer Garvin Harvey.

Audi motorcycle designs are not a novelty, but the project seems to be a possible idea for a German motorcycle produced under the brand with four rings.

Dubbed Audi RB-1200 S, the performance bike concept by Garvin Harvey uses details from Audi cars, such as the lights from the R8 model to link the bike to the car, as StayOnTheBlack reports. Specifically, the
Click to enlarge [Deisgned under 'Obession driven' motto]
Deisgned under 'Obession driven' motto
Audi R8 standard headlights are comprised entirely of light-emitting diodes (LED).

Also, the front brake will be colored in Audi red, while it will also have the Audi logo (4 circles) engraved in to the metal. In addition to that, the rear of the bike will have a twin exhaust, located under the seat under the rear lights. As for the seat, this will be made from leather, with carbon fibre detail and will also have the Audi four rings engraved in the material.

However, the overall design seems to be inspired by the famous Auto Union D-Type race cars from the 1930s. Finally, though most of you are mostly preoccupied with the performance aspects of such a bike, expecting to see figures that could leave the R8 behind, we must mention that Harvey made no reference to this aspect.
Source Autoevolution.com