Brickyard Killer by by Hogtech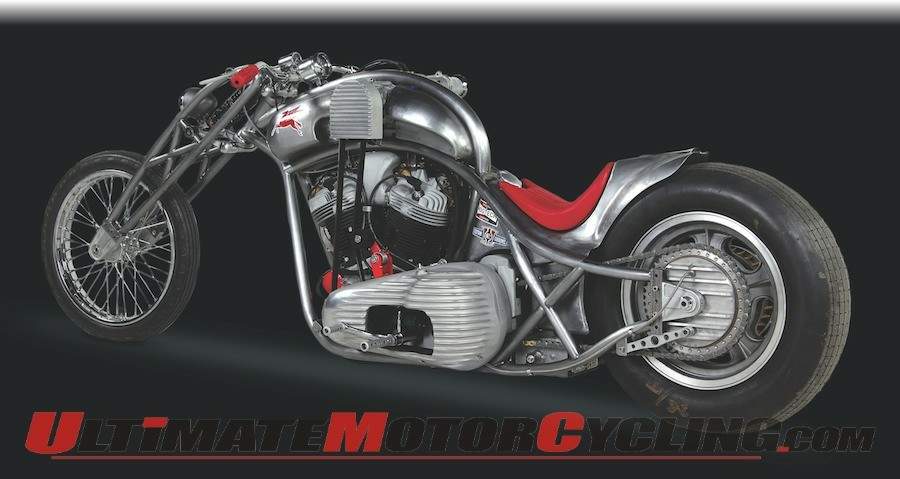 The land of national bikini teams, fjords, and Ikea furniture is not exactly the place you would expect to find a raw and ready custom motorcycle inspired by American drag racing and the Indy 500 scenes of the 1960s, but that is exactly what the Brickyard Killer is.

Built by Hogtech and Paul Funk in Eskilstuna, the Brickyard Killer is pure industrial motorcycle art.

From the architectural Hogtech/Paul Funk Design girder suspension raked out 40 degrees with custom Hyperpro shock in the front, to the brutal Mickey Thompson ET Front tire designed for cars, dragsters, and land speed racers at the bike's rear, it is unorthodox, to say the least.

Putting power to that huge slab of rubber is an 1800cc S&S Knucklehead-style motor that was massaged by the brain trust of Hogtech, and the Dutch pair of Joop's H-D Service Centre and Supercycles.

An integral part of the horsepower enhancement is the Eaton M45 supercharger-designed for autos and light-trucks-modified by Paul Funk, and a two-throat Edelbrock carburetor.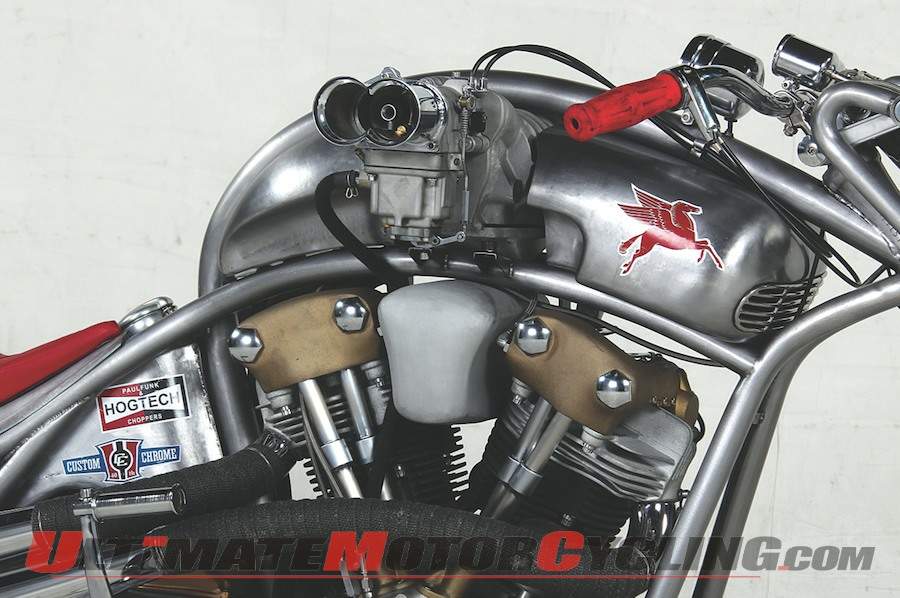 For reliability, "every engine part was measured, re-aligned, straightened, and machined to fit with the lowest possible tolerances of free play," according to Funk.

If you are planning on riding the Brickyard Killer, good luck bringing this beast down from speed; there is no front brake, and the rear wheel/front tire combo is slowed by a twin hydraulic drum brake system that is a collaboration of Kustom Tech, PF Design, and Chop 76.

Rather than chrome, the Brickyard Killer gets sand blasting and nickel plating. Paint was applied via spray can.

Mobil's iconic Pegasus is the primary graphic touch, though Hogtech's logo, inspired by Champion Spark Plug's design, makes a conspicuous appearance on the oil tank.

Is it art? Or is it performance? The Brickyard Killer's raw motorcycle appearance speaks for itself, and if it pulls up next to you at a stoplight, racing for pinks is not recommended.
Source ultimatemotorcycling.com

Technical
Engine totally re-engineered (blue printed: every engine part measured, re-aligned, straightened & machined to fit with the lowest possible tolerances of free play) by Joop van Amelsvoord and PF at Supercycles. Paul Funk customized Eaton m45 compressor with Edelbrock Two Throat Carb, Engine assembled with 90% fluid gasket material, Special remachined S&S HVHP oil pump with 1 to 5 gear ratio. S&S flywheels, S&S/ PTP Supreme con rods(machined for centrifugal piston lubrication system), restrictor free S&S crankshaft with Jims crank pin and custom con rod/crank pin bearings, Ross racing pistons with twin cam wrist pins, Power Seal Nikasil cylinders. Heads welded in PTP/ Supercycles style bathtub combustion chamber & Singh groove, Kibblewhite custom valves (smaller in, bigger and higher positioned out), ported & flowed, Supercycles cam, Kibblewhite extra strong cylinder studs, Crane time savers, Fuel pump in lower custom Gas tank by Hogtech.