Campagna T-Rex 14RR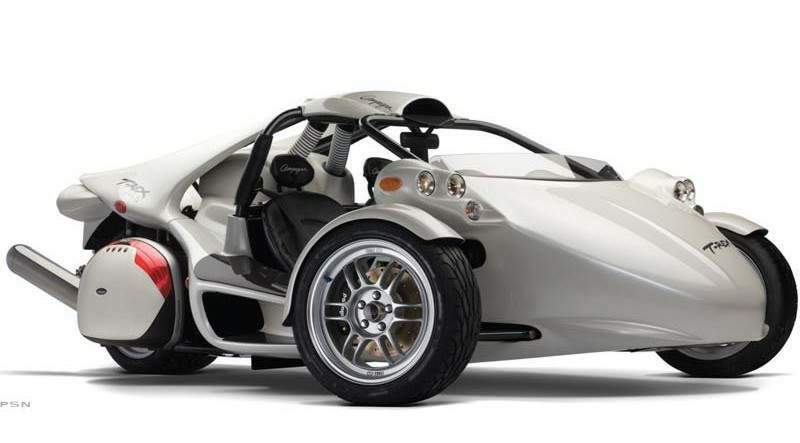 Coming from Montreal-based Campagna Motors, known for its three-wheeled creations, the 2010 T-Rex 14RR trike rivals, as crazy as it may sound, with the Lotus Exige 260, the Ariel Atom 3 and the KTM X-Bow. It is, however, the lightest and the cheapest of them all.

Specifically, the Campagna T-Rex 14RR is priced from $56,500, while tipping the scales at 1,040 lbs (472 kg). Using a fiberglass bodywork, the "predator" on three wheels rides on 16-inch (front) and 18-inch (rear) wheels, and it is capable of transporting two people and their luggage.

The vehicle sports a Kawasaki 1,352cc inline-four engine that pumps out 197 horsepower and 154 Nm (113.5 lb.ft.) of torque, and is coupled with a sequential six-speed gearbox. Performance wise, the T-Rex 14RR accelerates from naught to 96km/h in 3.9 seconds and hits a top speed of 230km/h (144 mph).

In terms of safety, the T-Rex 14RR comes equipped with triangulated side walls and front crash zone, 3 points safety belts with adjustable shoulder strap, reinforced safety roll-cage, and safety belt warning light and buzzer, among others.

The in-dash electronic instrument cluster includes a speedometer, trip computer, tachometer, oil and engine coolant temp warning lights, fuel gauge, and flashers indicators. The cargo area is removable, lockable and waterproof.

The Campagna T-REX 14R is available in 3 colors (spicy red, assault green and white silver) with assorted trim, while matching suitcases would cost you some extra $1,649. The interior trim is matched to the exterior color with subtle detailing. A chrome option is also available.