Harley XLST3 Sportster Dirt Track by Shaw Speed & Custom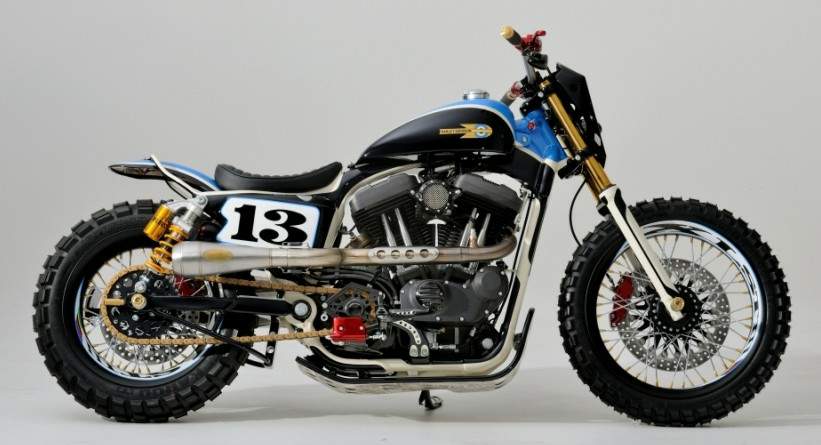 This Sportster dirt track custom project build by Steve Willis the man in charge of Speed and Custom, the custom division of Brighton, UK based Shaw Harley-Davidson. The XLST3 featured here is based on a 2011 XL1200N Nightster and was inspired by the look of the 70′s Dirt Trackers. Stripping down the factory Sportster to bare frame was a must to be able to freely rebuild for such an appealing result.

From there a RSD gas tank was used, modified with new gussets welded under it and new tabs on the frame to position it to give the bike its racing stance. Original rear fender and supports were removed and tossed, and to reach the high back end look of a dirt tracker a stock Harley-Davidson Crossbones front fender was fitted and held in place by an old school fender brace. Then, Shaw Speed & Custom hand made the handlebars, seat and exhaust system.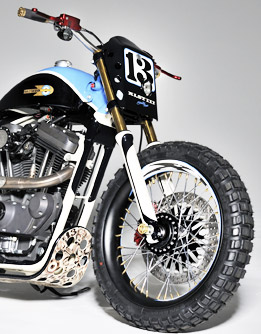 Old racer look was reinforced by replacing the final belt drive system with a chain and sprocket. A very clean and practical push start button was installed and incorporated to the frame neck right side. XLST3 rear suspension is provided by a pair of gold Ohlins shocks with front end tubes gold nitrated to match. Like it's sone in cycling, inside rims are painted with the XLST3 logo. For brake calipers, 13″ rotors (model Black Op) and engine covers, Steve Willis placed an order with his pal Roland Sands at RSD.

This Sportster Tracker just whom 1st place at the London International Custom Bike Show AMD Championship event, and in January 2011 2nd place of the AMD International Class in Verona.

Source Cyril Huze