Honda CB 250RS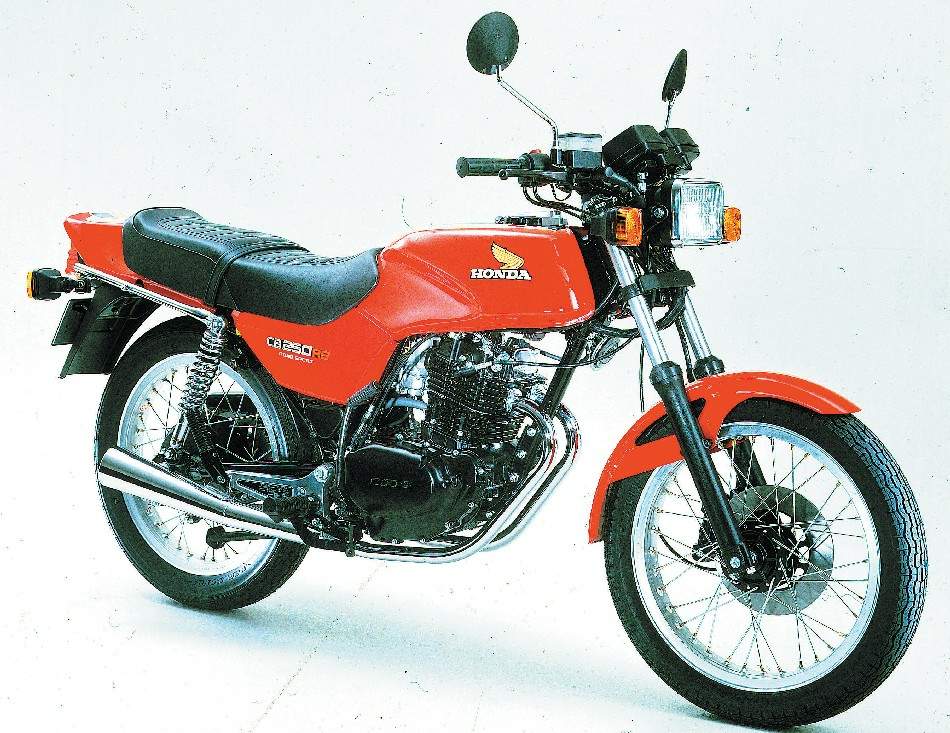 | | |
| --- | --- |
| Make Model | Honda CB 250RS |
| Year | 1980-81 |
| Engine | Air cooled, four stroke, single cylinder, SOHC, 4 valve |
| Capacity | 249 |
| Bore x Stroke | 74 x 57.8 mm |
| Compression Ratio | 9.3:1 |
| Induction | 30mm Keihin |
| Ignition / Starting | / kick |
| Max Power | 11.6 hp @ 8500 rpm |
| Max Torque | 12.6 Nm @ 8000 rpm |
| Transmission / Drive | 5 Speed / chain |
| Front Suspension | Telescopic forks, 120mm wheel travel |
| Rear Suspension | Dual shock with adjustable preload, 90mm wheel travel |
| Front Brakes | Single 250mm disc |
| Rear Brakes | 140 drum |
| Front Tyre | 3.00-18 |
| Rear Tyre | 4.10-19 |
| Dry Weight | 136 kg |
| Fuel Capacity | 14 Litres |
| Consumption average | 25 km/lit |
| Standing ¼ Mile | 16.3 sec |
| Top Speed | 136 km/h |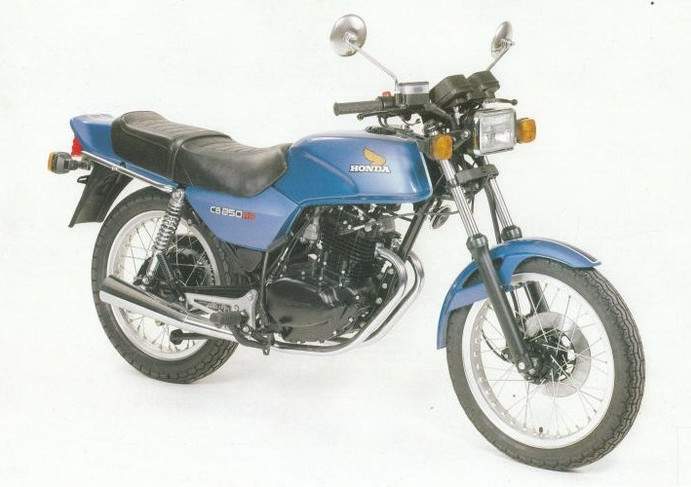 Fashion moves in circles in the motor cycling world: the single-cylinder, a staple offering pre-1960 from leading manufacturers, has been resurrected in recent years by the Japanese, who once had little time for anything less complicated than an ohc, preferably dohc, twin.
Honda with their XL trail bikes of the 1970s were the first of the Big Four to market an overhead-valve single in the West. In 1980 they repeated, probably unwittingly, a precedent laid down a half-century earlier by British manufacturers, who were then in the habit of dressing up their singles with twin exhaust ports, pipes and silencers.
The XL250 had twin ports, and pipes, but only one silencer: what Honda did, when it came to making an RS out of an XL, was to lead the pipes into separate silencers with 'megaphone' outlets, treat the engine and cases to a matt-black finish, and make use of a low, light frame. The result, the keenly priced CB250RS, was a considerable success in its first two years and looked set to be an even better seller in 1982, when it acquired an electric starter.
Honda's single, having a four-valve layout, was a reasonable candidate for double exhausts; with one valve per pipe, there was even some technical merit in the arrangement, whereas the pre-war British single usually had but one exhaust valve, and thus changing to twin ports was on the whole a purely cosmetic improvement.
The RS engine was fitted with counter-rotating weights, driven by chain, to dampen vibration, an automatic chain-tensioner, and a larger carburettor (compared with the XL), at 30mm instead of 28mm.
With aluminium but wire-spoked wheels and a front disc brake, and weighing no more than 300 lb, the RS handled well and had a surprising turn of speed — to beyond 90mph in favourable conditions. Ironically, riding it recalled for anybody with the relevant experience one of those BSA-group 250s summarily brushed aside by the all-conquering Japanese in the 1960s.