Husaberg FE 390 Enduro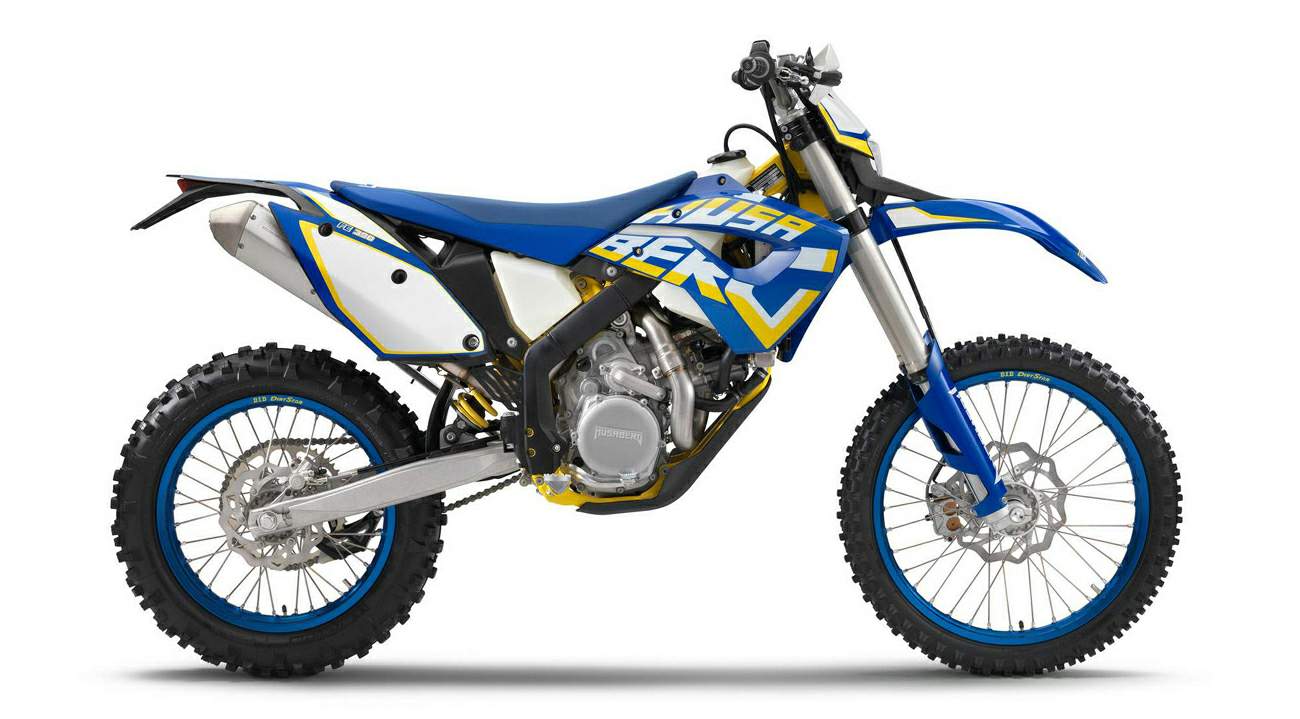 Make Model

Husaberg FE 390 Enduro

Year

2012

Engine

Four stroke,

single-

cylinder, SOHC

Capacity

393.3 cc / 22.9 cu-in

Bore x Stroke

95 x 55.5 mm
Cooling System
Liquid

cooled

Compression Ratio

11.1:1
Silencer
Aluminium

Induction

Keihin EFI Electronic fuel injection.

Ignition

Kokusan

digital

Starting
Electric
Clutch
Wet multi-disc clutch, hydraulically operated

Transmission

6 Speed
Final Drive
Chain X-Ring 5/8 x 1/4"
Handlebar
Neken, Aluminium Ø 28/22 mm
Frame
Double cradle perimeter design 25CrMo4, subframe Cross-linked Polyethylene

Front Suspension

WP 4860MA HUSABERG SUPERMOTO, 300mm wheel travel.
Front Wheel Travel
300 mm / 11.8 in

Rear Suspension

WP-PD S shock absorber, 335mm wheel travel.
Rear Wheel Travel
335 mm / 13.1 in

Front Brakes

Single 260mm 2 piston caliper

Rear Brakes

Single 220mm disc 1 piston caliper

Front Tyre

90/90-21

Rear Tyre

140/80-18
Wheelbase
1475 mm / 58.0 in
Steering Head Angle
63.5°
Ground Clearance
390 mm / 15.3 in
Seat Height
985 mm / 38.7 in

Wet Weight

114 kg / 251.3 lbs

Fuel Capacity

8.5 Litres / 2.4 gal
Less can often be more than enough. Especially when the rider needs to be economical with his energy and the going gets really tough. The youngest member of the Husaberg four-stroke family offers smooth power development coupled with sufficient power for every situation in everyday enduro use.

mass centralisation with 70° engine layout
optimum positioning of centre of gravity
controllability

precise power application with EFI
harmonic power delivery in every situation

traction due to engine characteristics and weight distribution
convertibility of engine power into forward propulsion

closed cartridge forks
unrivalled responsiveness
constant damping throughout the entire suspension travel
optimised for fast and rutted terrain

Husaberg FE390 Features and Benefits

The latest WP closed cartridge USD fork with 48 mm diameter signifies a new dimension in the field of enduro suspension. The fully adjustable 48 mm fork from WP Suspension ensures comfortable response and large damping reserves. In conjunction with the CNC-machined triple clamps, this guarantees more assured control of the front wheel.

Particularly light and manufactured from high quality aluminium, ensuring that the silencer complies with all statutory noise limits.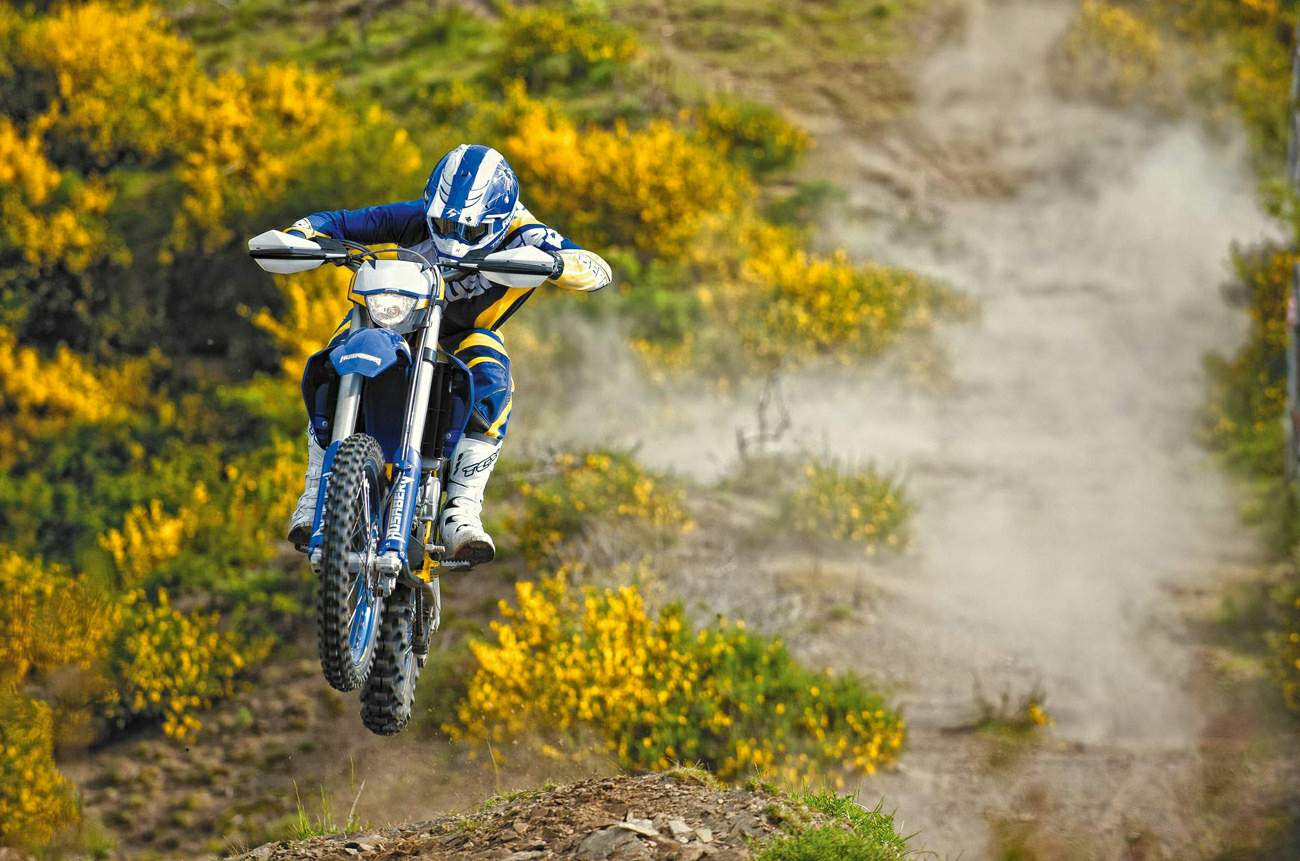 The lightweight double-cradle perimeter design guarantees the highest levels of torsional rigidity and assured directional stability. Extremely slim lower tube loops. Minimal overall width. Unbeatable Ground Clearance.

High-strength aluminium alloy Neken tapered handlebars guarantee the highest levels of stiffness and safety. Mountable in 4 different positions.

Crosslinked polyethylene guarantees the highest levels of strength at the same time as reduced weight. Numerous electronic components are embedded perfectly in the subframe. Now in black.

Classy triple clamps machined from a single piece are fitted as standard to all Husaberg models. This results in precise clamping of the fork tubes, which supports the flawless function of the forks.

Positioned directly behind the tank cap, it is covered by the front part of the seat. The raised airbox position guarantees cool, clean intake air and maximum wading depth. Intake port in direct downdraught from the filter to the cylinder.

The 8.5 litre capacity, slim fuel tank extends way under the seat, providing a favourable centre of gravity, and is equipped with a compact fuel pump as well as a reserve sensor. The transparent polyethylene also allows the fuel level to be determined from the outside.

The integrated stainless steel exhaust manifold offers optimum protection from damage by rocks and prevents all direct contact with the rider.

The latest Brembo front brake for optimum braking performance with a minimum of effort. Effective single-piston rear brake caliper. Ultra-light Wave discs for best possible deceleration
and efficient self-cleaning of the brakes.

Fully adjustable PDS shock absorber with optimised settings for even better traction and stability. Adjustable rebound damping and variable high- and low-speed compression damping guarantee the perfect configuration for the most diverse conditions.

sports-oriented compact engine design with revolutionary layout + reduced to the minimum + optimum handling thanks to 70° cylinder angle and crankshaft position close to bike's centre of gravity + easy starting + the hightest reliability

Starting at the push of a button, in every situation by means of precisely controlled state-of-the-art engine management, no need for a kickstarter, minimum engine weight

42 mm throttle body in direct downdraught + optimum flow from the airbox to the cylinder + 2 alternative mappings selectable (map-select switch available as a Husaberg part)

New valve spring retainers made of stronger material guarantee greater reliability under heavy loads in the highest rpm ranges.

All engine versions are equipped with a perfectly graduated 6-gear transmission, with a narrower spread in the FX.

Designed for extreme loads, hydraulic clutch actuation system from Magura, integrated torque cushion, perfect application, FLEX clutch lever, hinges forwards up to 90°, reduces risk of breakage

For greater stiffness, the engineers have significantly reinforced the area of the frame around the steering head on the 4-stroke models, reduced frame flex at the decisive points, substantially improved stability of the bike at high speeds, absolutely precise control of the front wheel

Super-light cast aluminium swingarm, holds the directly attached PDS shock, greatest degree of directional stability, plenty of traction and comfort
Press Release

Husaberg model year 2012 is about to hit the trails

For model year 2012 Husaberg will be 100% Enduro and with the addition of a sixth model to the Enduro line-up the Swedish brand once again addresses a completely new target group.

In Model Year 2012 Husaberg clearly focuses on its core competence again - Enduro. From the very beginning back in 1988, when a couple of Swedish Enduro enthusiasts decided to develop and build a radically new Enduro machine, which then became known as the first Husaberg, up until today Enduro was always the brand's inner core. Be it in terms of sales or in terms of racing success, the FE and TE Enduro bikes have always been the brand's most valuable assets and therefore the decision was taken to go "back to the roots" and become 100% Enduro again.

A new model for new Husaberg riders

Husaberg wants to open up access to the brand for even more Enduro enthusiasts. Therefore the model range is further expanded by the addition of a new model, the TE 125.

After the bigger-bore 2-stroke models last year which have proven very successful in racing (victory at Hell's Gate, Tough One, Extreme Lagares and Vice-World Champions title in the Indoor Enduro World Championship) as well as in sales right away, this new addition to the Husaberg model range will attract even more new customers to Husaberg. The passionate 125cc riders on one hand and, even more importantly, the young Enduro enthusiasts and racers from the age of 16 on the other hand. It is the next logical step for Husaberg to become a full range 100% Enduro brand attracting new young customers.

The TE 125 is unbeatable in terms of easy handling and with the top of the range components like the closed-cartridge fork, machined triple clamps and translucent 11 litre tank it shares with its siblings will be an easy choice for all E1 racers who want the best price/performance ratio of the class.

New look, better "Husability"

The look of the 2012 model range has been refreshed not only by new graphics but also by very useful changes and additions. A very convenient change which also contributes to the fresh and light overall appearance of the bikes is the now completely translucent fuel tank for all FE and TE models which makes it even easier to determine the fuel level in the tank. As the yellow coated frame might only look good the addition of very stable MX handguards offers excellent protection and further underlines the high level of equipment offered as standard on the Husaberg models like the frame protection (all models) and the engine protection (all models but TE 125).

Only the best components

Of course Husaberg remains true to its premium standards and therefore all models feature the top of the range suspension with a closed-cartridge front fork and the fully adjustable PDS shock. The fork is held in place by machined triple clamps whereby the upper triple clamp is a new, lighter and more rigid version offering even better clamping characteristics for the 2012 models.

The high performance brakes featured on the 2012 Husaberg models are again supplied by Brembo, the shrouds are manufactured using the latest in-mould technology making them more resistant to wear and the hydraulic clutch actuation and the electric start button (all models but TE 125) are mounted on an extremely rigid Neken aluminium handlebar.

The big-bore 2-stroke models TE 250 and TE 300 receive a new reed valve block for even better throttle response and the TE 300 also features a new cylinder for increased bottom-end power. The standard on-the-fly ignition switch is replaced in model year 2012 by a new, smaller version so far only available from Husaberg's accessories programme.

Last but not least Husaberg will be expanding the Husaberg Factory Team's long-standing cooperation with Michelin on to the standard bikes by equipping all models from model year 2012 with Michelin Enduro Competition III tyres.

Value for money

Although still using only the best components available on the market and not compromising any detail when it comes to build quality, focusing on the core Enduro models, complimenting better sourcing terms resulting from a steadily growing sales volume over the last 3 years, Husaberg can now pass on these cost benefits to its Husaberg riders with more attractive retail prices* for model year 2012.

All news and details about the 2012 models are available here on Total Motorcycle website.

* price reductions may vary or not be valid in all countries