Make Model

Husaberg FE 650e Enduro

Year

2004 - 06

Engine

Four stroke, single cylinder, SOHC, 4 valves

Capacity

644 cc / 39.6 cu-in

Bore x Stroke

100 x 82 mm
Cooling System
Liquid cooled

Compression Ratio

12.2:1

Induction

Keihin CVR 32
Lubrication
Pressure circulation, trochoit oil pump

Ignition

Kokusan digital
Starting
Electric & Kick

Max Power

NA

Max Torque

NA
Clutch
Wet multi-disc clutch, operated hydraulically

Transmission

6 Speed
Final Drive
Chain
Frame
25CrMo4 tempered

Front Suspension

WP USD 4860 MA

Husaberg enduro

Rear Suspension

WP PDS 5018 MCC

Husaberg enduro

Front Brakes

Single 260mm disc

Rear Brakes

Single 220mm disc

Front Tyre

90/90 -21

Rear Tyre

140/80 -18
Wheelbase
1490 mm / 58.7 in
Seat Height
950 mm / 37.4 in

Dry Weight

110 kg / 240.3 lbs

Fuel Capacity

10.5 Litres / 2.7 US gal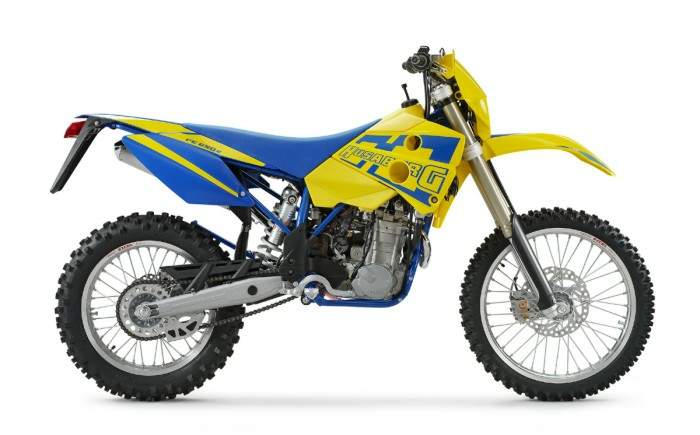 When you ride something with a '650 Works Replica' written on the side you tend to treat it with respect. The FE560 Husaberg deserves respect alright, but this is not the big angry animal the good folk from Dirt Bike Trader mag expected.

Think back, not too far, about 10 years, maybe 12. Back then the Honda XR600 was the fastest, toughest big bore you could buy, and God knows how many people owned them. The XR600 was a do-everything bike that you could race, trail ride or go adventuring on, and nothing much ever went wrong with it, or at least not enough to dissuade Australians from buying them.

There were other popular big bores too. Yamaha made the TT600 while Suzuki had, and still has the enduringly popular DR650. And the Euros have plenty of big buggers. They got in early with 610s and 620s, but then a weird thing happened. For some reason Yamaha and Honda, the two biggies, surrendered that part of the market. They simply said "Nup, we're not doin' this any more". The result is that today, the biggest four-stroke dirt bike you can buy from either manufacturer is a 450. Suzuki still makes Dr Big, Kawasaki makes the KLR650, but that's it from Japan.

Why did they do that? Who knows. It's a mista-wee. But the Europeans certainly took advantage of the situation. With a big hole in the program, they were only too glad to fill it. Now Husqvarna has a 510 and a 610; KTM has everything from the 525EXC to the 990 Adventure - they've creamed this class; TM has a very fast 530; and now Sherco has launched a 510 to go with the neat and deceptively quick 4.5i. The game's back on.

Husaberg started making dirt bikes in 1988 and are obviously very proud of their product. They say the appearance of the supermoto and dirt models will be more obviously differentiated this year; they don't want people buying an FE650e and inadvertently win a supermoto race on it. What you make of the colour scheme on the 2007 range is up to you. We think it's pretty at both ends but ugly in the middle. Maybe they should have employed a bit more blue and a little less yellow, particularly on the fuel tank which, already enormous, could have done without the added notoriety.

These bikes have always had first class equipment and had it not been for the clumsy switchgear the tradition would have continued. The bars are tapered Maguras, the grips and levers Brembo, which is great, but you have to take your hand off the grip to hit the kill-switch or the horn button.

And Husaberg's infatuation with inexplicable eccentricity continues. The fuel tank is semi-transparent, which is a great idea and always was, but for reasons concealed from everyone who rode this bike, the fuel tap is mounted in reverse. That means you can't see the On, Off, Reserve markings. Did they do this to protect he fuel tap? Okay, how many times have to come home with your fuel tap hanging off? Besides, anything tough enough to rip a fuel tap off would probably take your right leg with it.

The hot-start button and the choke are not merely tucked away but entombed under the tank on the lefthand side. Finding a way to make the choke so utterly inaccessible must have been a lifetime project for Husaberg's ergonomics professor. We had to poke it back in with a stick.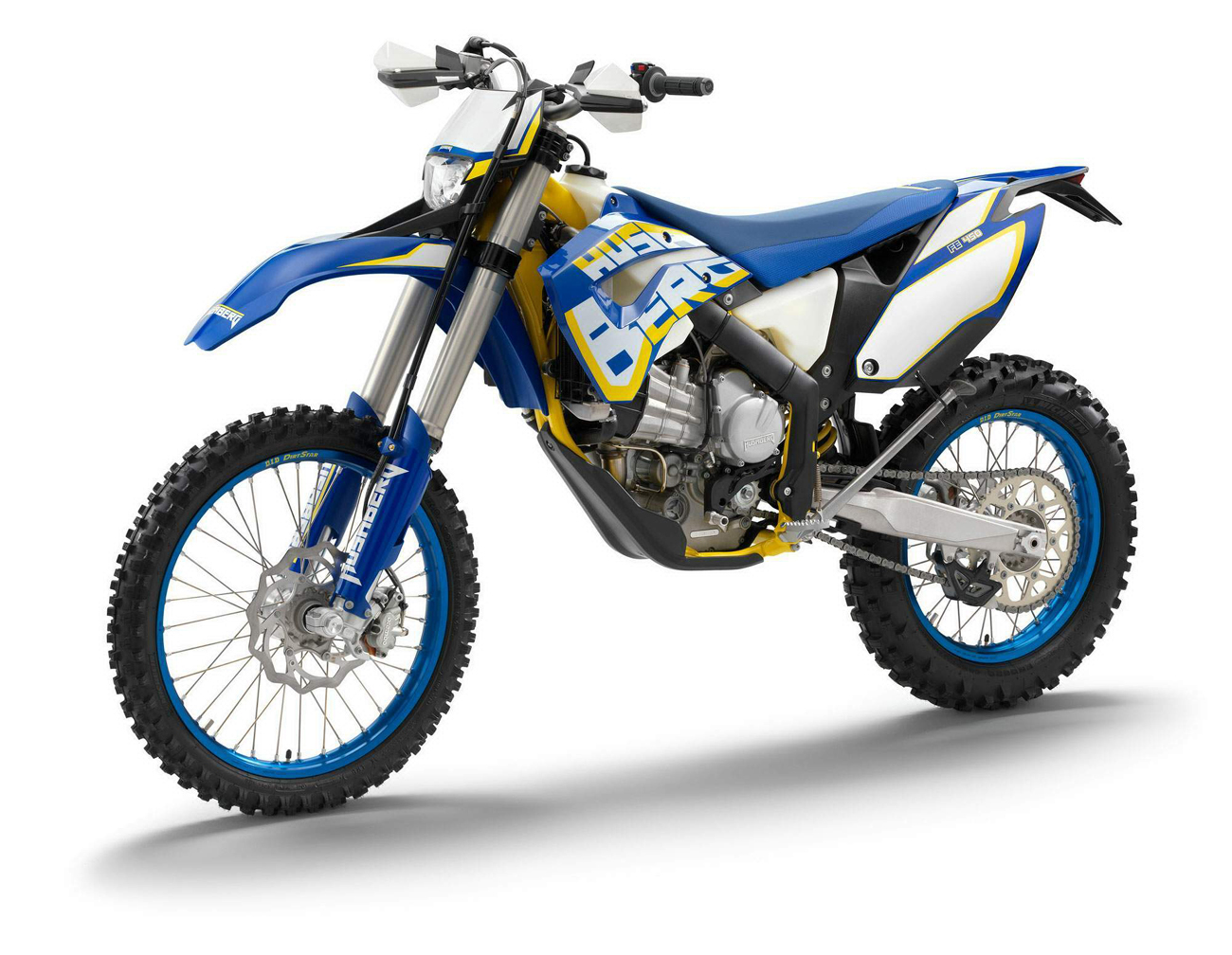 DOES IT GO?
Having conscientiously listed all the negative aspects of this motorcycle we will now regale you with its indisputably positive aspects. Yes, there are some.

In the first place, it handles like a bike half its size. The FE650e is a 450 with a lot more power. If you position your weight properly it will tip easily into corners and you soon forget that this is the world's most powerful dirt bike. You also forget about the alleged mass. It might look big when it's parked in your concubine's driveway but once the thing is moving it feels balanced and stable. Even on single-lane trails it's certainly not the handful we expected. It's also slowed by brakes that have that admirable combination of power with feel.

We thought the steering was very accurate, and for a big bike with a lot of power the Berger seems to get a lot of it to the ground. Wheelspin under acceleration during a power-slide on gravel is minimal. That says a lot for chassis.

And we can't say enough about that engine. God Almighty this thing hauls! If KTM did indeed buy Husaberg to get the engine technology, this could be the engine that sealed the deal. Crack the throttle and you get a noticeable induction noise. You also get a burst of acceleration that feels like Pethidine in reverse.

Only it's not rip-your-kidneys-out acceleration. With the stock 45-15 gearing there's a rapid but smooth accretion of velocity that you can meter precisely with the throttle, almost down to single rpm, or at least that's how it feels. It might be God Almighty fast but the power is predictable and hell fun to play with. This is a drop-dead brilliant thing to ride. Throttle response is excellent and the grunt just keeps on coming. A standard FE650e should top out somewhere around 160kph so you won't have any trouble keeping up with all those bum-knuckles on the freeway.

On the road it's actually quite civilised. Vibration isn't too bad until you hit 100kph, the seat is comfortable for short spurts on tarmac, and the engine's prodigious midrange and top-end will enable, if not downright encourage you, to pass anything. We had reason to suspect that the odometer on the test bike was inaccurate so our fuel consumption figures may be a bit dodgy. Consumption on the trails was an indicated 10.9km/litre, and we can believe that, but consumption on-road was allegedly 20km/litre and we can't believe that. (In hitting that old lady we must have startled the odometer).

This bike is a conundrum, and has minor faults the Japanese eradicated from their bikes years ago. But to be honest, we loved it. For the sheer pleasure of riding something that handles well and has this much power, you can't beat it. They sell about 50 FE650s a year in Australia. But for the feeling among dirt riders that KTM bought Husaberg for its engine technology and then lost interest, they might have sold a lot more.

IS IT RELIABLE?
This is the Big Question with all Husabergs and not even Eddie McGuire knows the answer. We know riders who think Bergers are more reliable than concrete. We also know one KTM dealer who surrendered his Husaberg franchise, and another who refused to sell them, both because of recurring engine problems and irate customers

To make sense of this mista-wee, here are the facts as we know them:

Husaberg engines that are well looked after generally experience no cylinder, piston or valve problems. They can be reliable and durable
But not if they're noisy. Don't buy a secondhand Husaberg if the engine has what mechanics call 'primary engine noise'. Any Husaberg with a noisy engine has a good chance of suffering main bearing failure. This was an endemic problem in early models
03/04 crankshafts were poorly machined, a problem that also provoked bearing failure
Water-pump seals are known to leak, though the fix is simple
Husabergs gearboxes are big and strong. The clutch is okay too but will complain if slipped excessively in tough terrain. Clutch-scrunch is your Husaberg talking and it will do it for the first 1000 kays
Starter-motors in 03/05 models were often dodgy but in later models seem to be more reliable
The potential vulnerability in a single radiator is offset by the rider's capacity to repair the problem with anything sticky enough to plug a hole. (Bits of that old lady perhaps).
07 UPGRADES
There's another contender in this class too, the Husaberg FE650 'Works Replica'. (There's also a 550e, but not in this issue). The 650 as far as we know is the biggest dirt bike on the market, and in the past 12 months has been upgraded in small but significant ways. Here's that menu:


For improved service life, tolerance values have been improved on the crankshaft
The gearbox has been strengthened to survive 'hard forces' on the shifter
There's a new one-piece counter-balancer
The water-pump seal is now made of more durable material
The triple-clamp is CNC machined and has adjustable offset
The aluminium in the steering stem has been upgraded

Source Bikepoint.com.au