Indian Motorcycle and Dirty Bird Concepts revealed a customized 2015 Indian Scout at the International Motorcycle Shows New York City event. Dirty Bird Concepts owner, John Shope, was fired up about the project called "Scout 42" as soon as he saw the new motorcycle revealed at the Black Hills Rally in Sturgis SD earlier this year.
"Dirty Bird is well known for our custom baggers," says Shope who co-starred in the television show Biker Battle Ground Phoenix, "So when I saw the new Scout I knew it was going to be a real player on the market – and when I had a chance to ride it – I was totally blown away by how great the engine and handling is."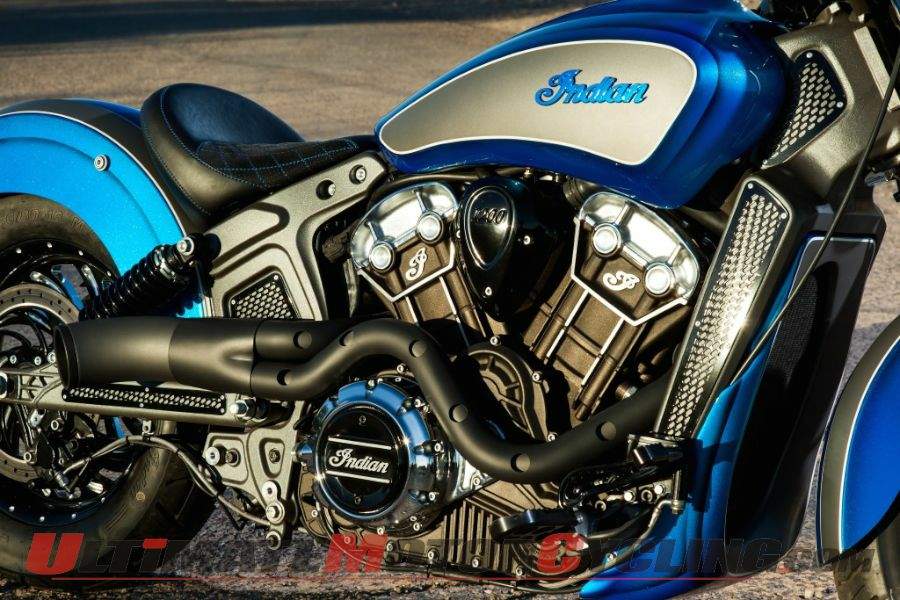 Shope's custom reflects the sporting heritage of the Indian Scout. Known for its balance of chassis and power, the history of the Scout model name is framed by racing wins, world records and performances on the fabled "Wall of Death". The custom work on "Scout 42" was done to increase the sport appeal of the motorcycle, without sacrificing the highly praised handling of the stock bike.
From a design standpoint the front of the motorcycle received the most attention. A custom fairing and chin spoiler bring a sportbike aesthetic to the Scout. While the footpeg location remains stock, "Bear Claw" pegs were mounted for increased boot traction, a Renthal handlebar pulls the rider forward into an aggressive stance and for more weight on the front end. A new chin spoiler changes the lines around the stock radiator and front frame member. A custom front fender compliments the tighter look. Shope developed a series of frame inserts to add additional details to the otherwise stock cast aluminum frame.
Shope, one of the stars of Bike Battleground Phoenix, winner of the Chopper Challenge on CMT and the 2014 Hot Bike Power Tour, chose to stick with the stock rim sizes to maintain handling, however custom rims were ordered up through Gorby Machine and the stock tires re-mounted. The stock shock springs were custom powdercoated, as were many other details on the motorcycle. The forks remain stock, however the seat was re-covered in a diamond pattern suede by Guy's Upholstery.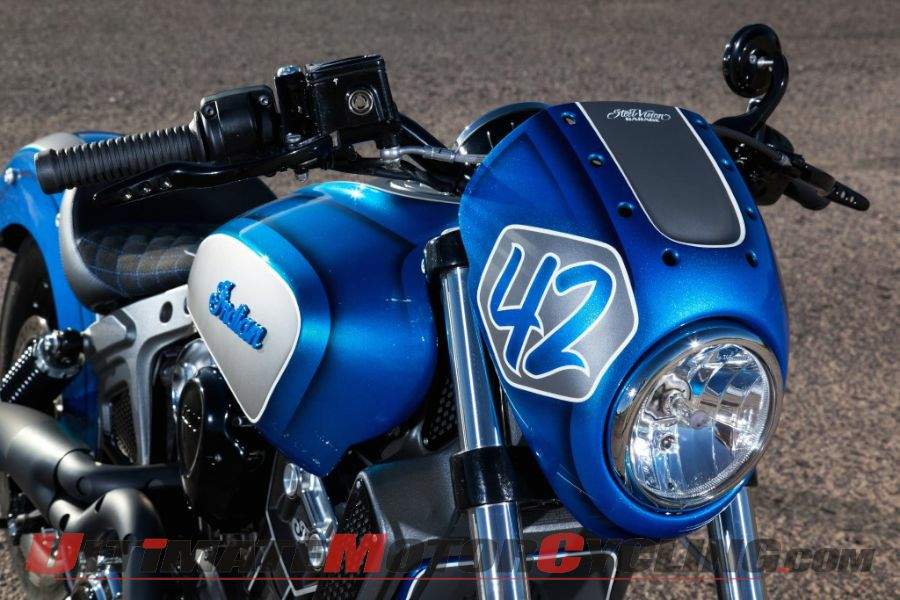 Shope's favorite part of the build is the fairing. "That really set the attitude for this bike – it's really going to annihilate the competition." Interestingly, Shope decided to leave the stock tank alone. "The designers knocked it out of the park. That's the most bad-ass stock tank ever, I just love the shape."
Paintwork by Steel Vision Garage in a candy blue with tape fading style and gray inserts is complimented by a darkened tail light, and a blue tinted instrument pod. Other details catch the eye such as a side-mount license plate and drilled out levers, chain guide and sprocket cover plus a tight and reconfigured exhaust system that according to an ever-enthusiastic Shope; "Sounds really nasty!'
Shope is excited about the potential for customizing the Indian Scout. "We have done a few Indian baggers, and those are great projects, but the Scout comes at such an awesome price point, and lots of parts simply bolt on and off, so it's exciting to think about future even more radical builds."
Source MCD