Indian Chief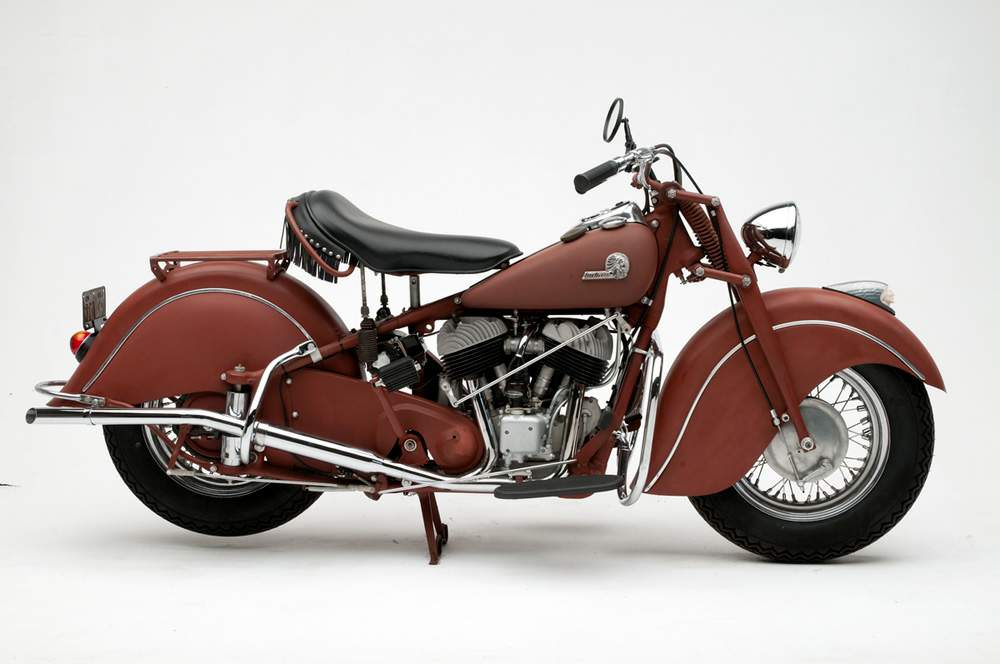 1946 Indian Chief Indian was one of the earliest American motorcycle pioneers, starting operations in 1901 when former bicycle racer George Hendee me Oscar Hedstrom, who had created a motor-powered bicycle. From this beginning, the duo built the Indian firm to be a long-lived and well-loved make of motorcycle. With Harley-Davidson, Indian pretty much defines the art when it comes to American cycles-and Indian owners are far from unopinionated about their bikes! They'll take an Indian against a Harley any day!

The Indian Chief made its debut in 1922 as a V-twin-powered touring motorcycle designed by engineer Charles B. Franklin. The Chief soon proved itself a sturdy, reliable steed. As early Indian enthusiasts once sang, "They're built like rocks to take hard knocks; it's the Harleys that cause the grief." By 1946, the Chief sported skirted fenders and a 73.62cu. in. engine, it was a beginning of a legend.

"There's Magic In The Name Indian"

The Chief was an ideal touring machine for the wide open American roads, from the Lincoln Highway to Route 66. With 40hp and lots of torque, The Chief could carry two riders from the East to the West Coast with ease. As the ads of the day stated, "There's Magic in the Name Indian." The magic lives on.
Specifications

Engine: 1205cc (73.62 cu in; 3.25x4.4375in) sidevalve 42-degree V-twin
Power Rating: 40 hp
Transmission: 3 speed gearbox; 4-speed optional
Chassis: single tube
Wheels: wire 4.50x18in; 5.00x16 optional
Suspension: (front) girder forks; (rear) coil compression
Weight: 550lb
Maximum Speed: 85 mph