Laverda Jota 1000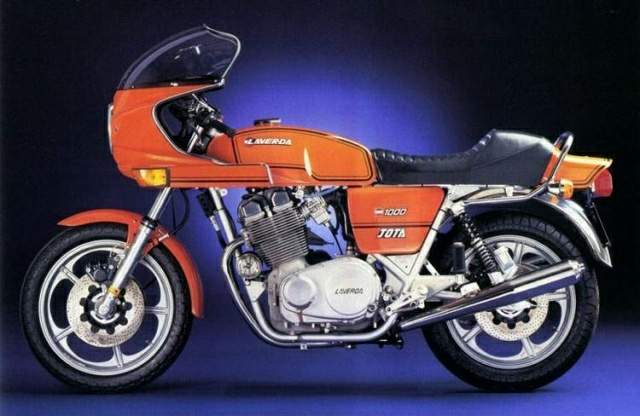 Make Model

Laverda Jota

1000

Year

1978 - 80

Engine

Four stroke, transverse three cylinder, DOHC, 2 valve per cylinder.

Capacity

980 cc / 59.8 cu-in

Bore x Stroke

75 x 74 mm
Cooling System
Air cooled

Compression Ratio

10.0:1

Induction

3x 32mm Dell'Orto carburetors

Ignition

Bosch electronic
Starting
Electric

Max power

97 hp / 70.7 kW @ 7800 rpm

Max Torque

90 Nm / 66.3 lb-fft @ 7000 rpm

Transmission

5 Speed
Final Drive
Chain

Front Suspension

Coils springs

Rear Suspension

Dual shock absorbers, 5-way adjustable coil springs

Front Brakes

2x 280mm discs 2 piston calipers

Rear Brakes

Single 280mm disc 1 piston caliper

Front Tyre

100/90-18

Rear Tyre

120/90-18

Dry Weight

238 kg / 524.7 lbs
Wet Weight
250 kg / 551 lbs

Fuel Capacity

20.5 Litres / 5.4 US gal

Consumption Average

38.5 mpg

Braking 60 - 0 / 100 - 0

- / 39.9 m

Standing ¼ Mile

12.8 sec / 106.9 mph 172.0 km/h

Top Speed

131.3 mph 211.3 km/h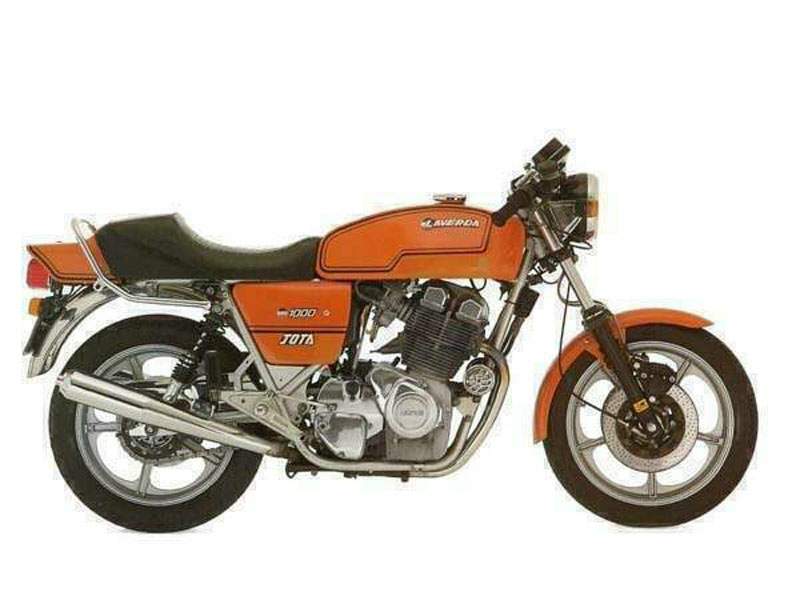 There must be something about the air in Italy that inspires Italian engineers to build cars and motor cycles that are so downright exciting. Italy's engineers seem to know instinctively how to breathe the spirit of adventure into the machines they create. Even the words Ferrari, Maserati, MV Agusta and Laverda have about them an aura of glamour and excitement.
Since the end of World War II, the Laverda company of Breganze has been making a name for itself worldwide by building machines which embody the high-spirited principles so beloved of the Italians. Indeed, Laverda's offering in the superbike stakes— the Jota—is the absolute epitome of what a super-bike should be.
Ironically, it needed a little British inspiration to produce the Jota. During the mid-1970s, Roger Slater, Britain's Laverda importer, was campaigning the Italian company's big 1000cc 3C models in production bike events with great success. Then
along came a host of Japanese multi-cylinder superbikes and Slater's need for more performance .became a pressing problem. So was born the Jota,
Like the 3C, the Jota used a three-cylinder, double overhead-camshaft layout, but it was now fitted with wider racing cams, three 32 mm Dell'Orto carburettors, a close-ratio gearbox and a modified exhaust system.
The result was that an already quick machine became even faster. In a straight line the Jota was capable of almost 140mph, while a standing start quarter mile could be disposed of in just over 13 seconds. All-out speed, however, is not really what the Jota is about. It is a riders' bike, the kind of machine that comes into its own on fast and twisty roads. The handlebars are set low and narrow and the seat well back, allowing the rider to wrap himself around the sleek 4-gallon fuel tank. On the road the Jota has all the manners of a thoroughbred. The acceleration is spectacular, the massively power-

ful — 90 bhp at 7600 rpm—engine barking out its thrilling and deafening challenge to the world. The engine is not as smooth as that of a Japanese multi, but that is part of the Jota's attraction. It is a tough, brutal and uncompromising machine. The clutch lever is numbingly stiff while the five-speed gearbox needs a positive change if any progress is to be made. The brakes—twin 11-inch Brembo discs at the front, a single disc at the rear—are fierce and positive. The net result is that the Jota is a taut and frill-free machine, definitely not the kind of bike for a gentle Sunday afternoon ride. The engine begs to be revved and the handling makes it difficult to resist throwing the Jota round every bend which the rider encounters.
In spite of its road racer personality, the Laverda sports a surprising number of refinements. It has an electric starter, a generous tool kit, electronic ignition, an easy-to-use main stand and more than adequate air horns. In addition, the final drive chain wear is remarkably low for such a potent device, a fact that many experts believe is due to the correct geometrical relationship between the centres of the sprockets in the final drive, and that of the needle bearing pivot of the swinging arm.
For sheer exhilaration, there can be little to equal the Laverda Jota. It is not a cheap bike, but neither is it prohibitively expensive. In any case, most Jota owners would say the sheer joy of riding such a spirited beast would be cheap at twice the pri