Laverda 500 Alpino S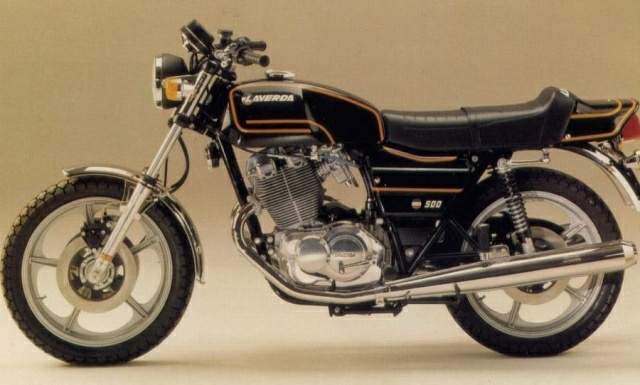 Make Model

Laverda 500

Alpino S

Year

197

8

Engine

Air cooled, four strike, parallel twin cylinders, DOHC, 180° crankshaft.

Capacity

497

Bore x Stroke

72 x 61 mm

Compression Ratio

8.6:1

Induction

2x 32mm Dell'Orto PHF carbs.

Ignition / Starting

Bosch electronic

Max Power

44 hp 32.1 kW @ 8000 rpm

Max Torque

Transmission / Drive

6 Speed / chain

Front Suspension

Telescopic forks

Rear Suspension

Swinging forks, adjustable shocks

Front Brakes

2x 260mm discs 2 piston calipers

Rear Brakes

Single 260mm disc 1 piston caliper

Front Tyre

90/90-17

Rear Tyre

110/90-18

Dry Weight

175 kg

Fuel Capacity

14 Litres

Consumption average

48 mp/g

Standing ¼ Mile

14.5 sec

Top Speed

105 mp/h
Italian 500s are delectable, exciting and pricey. Laverda's Alpino S is no exception. Test Graham Sanderson. Photography Duncan Cubitt.
IF YOU'VE succumbed to the conditioning by which you accept Japan's motorcycling values of comparatively high performance for a reasonably low price then you'll have difficulty in accepting a machine like the Laverda Alpino. It's unimpressive capacity of 500cc and unexciting performance (on paper) coupled with a price of £1675 ensures that the Alpino will come in for intense scrutiny from disbelieving bikers just off to buy their similarly performing CB400 Honda twins for little over half the Laverda's price. Or rather it won't because anyone who wants one of the counter-balanced three-valves per cylinder Japanese twins isn't likely to consider a Laverda at all.
In fact, the almost inevitable comparisons which are bound to be made between the Laverda and other 500s such as Honda's £1207 CX500 vee-twin, Yamaha's £1050 eight-valve XS500 are not only confusing but almost irrelevant. So, too, is viewing the market in search of other machines you could buy with the Laverda's £1675. Yamaha's 750cc shaft-driven triple is cheaper; highly desirable ironware such as the Kawasaki Z1000 and Suzuki CS1000 are only slightly more expensive than the little Alpino. But you have to realise that any biker in the market for the distinctive brand of motorcycling offered by the Laverda isn't likely to endure sleepless nights working out the price versus performance versus capacity equation. The Laverda is a single minded machine for similarly minded bikers whose choice of the Alpino won't be side tracked by anything other than similar high priced Italian 500s available in Britain such as the Ducati 500 Desmo (Bike, April '78) and the Morini 500 vee-twin (Bike, June '78).
But you don't have to read the Financial Times every day to realise why Italian machines are more expensive than their Oriental counterparts. The Japanese are geared to produce millions of bikes which keeps down the price of each individual machine; the Italian figure is in the thousands so production costs are inevitably higher and this is reflected in their showroom prices. But the artistic Latin temperament has always produced real motorcycles. With faults, yes, but they've generally provided our most memorable biking thrills unlike the often faceless units of production churned out by the Japanese. Folks who stare disbelievingly at the Laverda, shaking their heads in shocked disapproval at its price, will never know what a superb little motorcycle the Alpino really is.
Partly it's because the Italians offer such a welcome alternative to the all-conquering Japanese approach to building motorcycles and partly it's because Italian motorcycles of all capacities have a touch of built-in exclu-siveness. The Alpino is no exception and what it lacks in the sheer brute power of the 1000cc Jota is compensated for by its charm. I mean, the girls with the biggest knockers aren't always more fun to know than I'il chicks.
What the Alpino offers more than many other 500s is a tremendous sense of pride in ownership. Far from giving the rider an inferiority complex because of its medium capacity, the Laverda gives you the feeling that it will run with bigger, faster machinery. It may not be up to 100mph motorway cruising but in the twists and curves of real biking country where a biker's senses get attuned to the demanding roads he's navigating that's what the Alpino loves. You'll soon forget that it's a fairly conventional parallel twin and begin to enjoy motorcycling in its most pure, exciting and individual sense.
Laverda have avoided the trap which the mass-production exponents have fallen into. The Alpino feels as if it's been designed as a single entity and not like a concoction of ill-matched committee-designed proprietary parts. The package is so convincing at the outset that a ride to prove this initial impression is hardly necessary.
It's one of those rare machines which feels correct the first time you sit on its slim, thin but surprisingly comfortable seat. The handlebars have a slight rise but are flat enough to ensure that the rider leans slightly forward into wind therefore minimising the energy draining effects caused by higher, wider bars. Footrests, too, are ideally placed so I could sit naturally with boot heels pushed against the rubbers. It's such a coordinated riding position that no single part of the rider's anatomy, the arms, shoulders, neck or legs, takes a physical hammering. Only your backside takes the strain and then only after a 100-mile ride.
With a machine that felt so right initially it didn't take long to get into the positive and exciting brand of motorcycling it offered. With legs wrapped close in to the tank, shaped with a touch of the macabre like the lid off a rich man's coffin, you begin to ride the Alpino like you've owned nothing else all your life. This impression must go down to its weight or rather lack of it. The Italians have never gone on obese motorcycles, the 750cc Benelli six apart, and the Laverda weighs no more than a 500 should at 4151b on the road. The suspension is on the firm side of superb and provided by Marzocchi front and rear. It gives you a fairly lively time over the poorly metalled surfaces you're likely to encounter while country lane scratching but nothing ever gets out of hand.
. It'll occasionally shudder momentarily, and small sharp bumps arrive and depart too quick for the suspension, especially at the rear, to react, but then it'll settle down onto your intended line without the need for any Charles Atlas heroics with the bars. Elsewhere it ignores the attempts of more pronounced bumps to knock it around. You have to be prepared to use your own body to absorb the shock but unlike the soggy, more forgiving but over-compromised suspension of many a Japanese bike you won't have to contend with strange wobbles.
Other aspects of the Alpino also demonstrate Laverda's realistic approach to building motorcycles. The Italians have always built some of the most attractive and best handling machines but they have often displayed a shocking inability to produce decent chrome, electrics, instruments and switchgear. Laverda realised this several years ago, swallowed their pride and went shopping in those countries where such vital ingredients are given proper attention. As a result the superb H4 halogen headlamp is just one of the good points of the Alpino's electrical system provided by the German Bosch concern; the instruments and switchgear are Nippon Oenso more usually found on Suzukis.
The Italians have solved the chroming problem themselves since our Alpino showed a dramatic improvement in this previously shoddy area of workmanship. The Lanfran-coni silencers have thankfully attained a deep, lustrous coating of chrome mimicking the high standards often seen on concours d'elegance jobs. It's outrageously good by previous Italian standards. Even the actual exhaust pipes, although lacking the deep lustre of the silencers, cleaned up easily to a bright pock-free finish. Their only weak point was where the balance pipe, mounted a la CB500T Honda, couples the system. The clamps did show signs that it would be a breeding ground for rust.
Several changes have been made over last year's Alpino hence the addition of the 'S' for the 1978 machine.
A rotating counterweight has been added at the left side of the crank to smooth out the inevitable vibration of a twin and higher compression pistons have been added in an almost obsessive search for more speed. The headlamp is now rubber mounted and the almost obligatory annual colour change has taken place, in this case from blue, to striking Lotus-style black with gold stripes.
With previous machines producing a claimed 44bhp at 9,500rpm, it's not surprising that the Laverda 500 forms the basis of the competitive and successful Formula 500 class in which several up-coming Italian Grand Prix contenders experienced their first races. Therefore, you'd quite naturally assume that the six-speed gearbox and double overhead cams operating four valves per cylinder would help make the Alpino one of the hottest 500s around. Well, it doesn't exactly climb every performance mountain although it's no sluggard and we weren't disappointed at all. But that gorgeously sculpted motor holds several surprises. Maximum power may be thrown out high up the rev scale but maximum torque is delivered much lower down. Roger Slater, the British Laverda importer wouldn't quote figures but last year's bike thumped out 33 ft/lb at 5,200rpm and since our Alpino felt much nicer in the low and mid rev ranges than it did when searching for the last ounce of performance, we suspect a similar output for this year's Alpino.
Despite its bobweight being geardriven, the Alpino rattled like class three playing marbles and at various intervals the petrol tank and mirror launched into vibratory conversation. The all alloy engine would have accentuated the engine noise but much of this problem must have been down to a fault discovered by a disappointed Roger Slater who stripped the motor after we reported our 100.67mph top speed from the machine. Apparently the machine had been over-rewed, and all eight valves had touched the pistons, distorting the heads of six.
After the 109.9mph obtained from last year's model, a higher top speed was expected from our bike considering' the improvements. But even if the 'S' wasn't the fireball the importers expected the bike still has so much in its favour. Eight valves really improve breathing and acceleration is rapid, smooth, and constant which makes the Alpino easy to ride. Eighty to 90mph is no problem for the Laverda but more important than actual top speed is the way the bike feels. Some machines are so downright smooth and efficient that they're almost like automatons. The Alpino sends its rumbles throughout the bike giving the rider that tiger-in-the-tank feeling.
With such a slim, light motorcycle as the Alpino, Laverda needed to use a simple single top tube frame with a downtube which branches into two to cradle the engine. It works well, so well in fact that Laverda have chamfered the base of the crankcase alternator cover to prevent grounding. This could be a little self-gratification on Laverda's part but at no time did I ground anything. When you're stuffing the Laverda into corners, particularly S-bends, you realise just how well it handles. It can be hauled up from one extreme and dumped into another so easily. And if you do cock-up the line you can either lean it more or rely on the superb Brembo cast iron discs which actually work in the wet, too. They'll stop you only fractionally less efficiently than shoving your leg in the front wheel, but a damned sight more safely.
Look at the bike closely and you'll see details which may go some way to appeasing the blokes who question the Alpino's price. The five-spoke high pressure die-cast wheels are made in Laverda's own foundry; foot rests are chrome-plated; frame welds — which are largely concealed — are smooth and free from the blotchy taint of mass production; engine side casings and rocker box covers are beautifully finished; silencers are rubber mounted and a magnificent 14-piece toolkit even includes a small oil bottle.
Mainly because of its largely prohibitive price, only converted Laverda freaks are likely to give the Alpino a second glance which means that, tragically, you're not going to see many around over here. And until bikers stop equating high price with large capacity instead of motorcycling quality then Roger Slater isn't going to get rich on Alpino sales.
Source Bike 1978