Laverda Montjuic MKII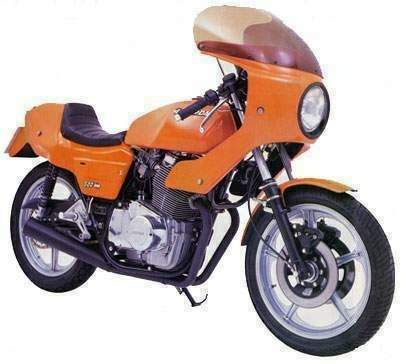 Make Model

Laverda Montjuic Mk II

Year

1982

Engine

Four stroke, parallel twin cylinders, DOHC, 4 valve per cylinder

Capacity

497 cc / 30.2 cu-in

Bore x Stroke

72 x 61 mm
Cooling System
Air cooled

Compression Ratio

10.2:1

Induction

2x 32mm Dell'Orto PHF carburetors

Ignition

Electric CDI
Starting
Electric

Max Power

58 hp / 43.2 kW @ 9500 rpm

Transmission

6 Speed
Final Drive
Chain

Front Suspension

Marzocchi forks

Rear Suspension

Marzocchi shocks with 5-way spring preload adjustment.

Front Brakes

2x 260mm disc

s

Rear Brakes

Single 260mm disc

Front Tyre

3.00-18

Rear Tyre

3.25-18

Dry Weight

NA

Fuel Capacity

11.5 Litres / 3.0 US gal

Consumption average

49 mpg

Standing ¼ Mile

13.4 sec / 87.5 mp/h

Top Speed

113 mph
The 1982 MY Laverda Montjuic MK II is a more balanced successor to the MK I.
It has been fitted with a larger, fork-mounted fairing which improves its handling and offers better protection against the elements, and a revised engine, which now has a smoother power delivery. Standard features include a Marzocchi telescopic fork and dual shocks with five-way spring preload adjustment, as a suspension package, plus a Brembo braking system, composed of a dual 260 mm discs in the front and a single 260 mm rear one. At its heart lies an air-cooled, four-stroke, 497cc, parallel twin cylinder engine mated to a six-speed manual transmission.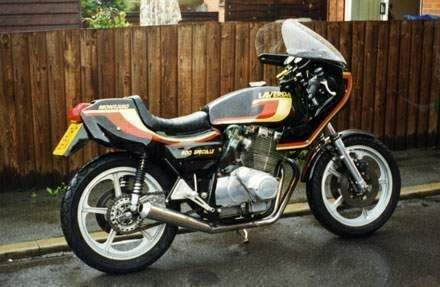 The Montjuic name ranks alongside other legendary bikes in the story of Laverda twin and triples, such as 750SFC and Jota. With its Café racer looks and bright orange paint job, the Montjuic looked like a scaled-down 750SFC, and an enlarged version of the final Ducati Desmo single. Both were bikes with a special place in the hearts and minds of sportsbike enthusiasts.
As with the Jota, it was Roger Slater who was instrumental in the creation of the Montjuic. Heavily involved in production racing at the time, Slater had a natural ability to sniff out a marketable product. He had imported a Formula 500 and, realizing that it would not be a viable competitive racer in British events, he decided to use it as the basis for a middleweight Laverda twin that he (correctly) believed British enthusiasts would want to own. He must also have realized by then that the Alpino was never going to make the grade, hampered by a combination of lacklustre styling and a high price tag.
The Montjuic was named after the famous parkland road circuit in the heart of Barcelona, where Laverda had often enjoyed success. It was essentially a Formula 500 for the street, refined just enough to be legal under the British Road Traffic Act. Its styling was gorgeous, as was the bark from its two-into-one matt-black exhaust system — note that there is no mention of the word 'silencer'! The Montjuic looked as though it was speeding even when it was standing still, and it was impossible to ignore. It grabbed sales in a way that the less adventurous and far more sober Alpino had never been able.
Using the standard Alpino tank, Slater commissioned Birmingham-based Screen and Plastics to manufacture a batch of suitable handlebar fairings and hump-back single saddles, together with more sporting mudguards, Jota-type bars posed as clip-ons and rear set foot controls; the latter were mounted on triangular alloy plates.
One of the major problems that beset the first-series Montjuic machines was that the fairing was fork-mounted and caused weaving at high speed. This was largely rectified on later machines (series 2), which employed a frame-mounted fairing designed by the Italian Motoplast concern, but manufactured in Britain.
Of course, a really critical rider could find much that was wrong with the Montjuic in comparison with other five-hundred twins of the same era - Moto Guzzi V50, Ducati Pantah, Yamaha XS500, Honda CX500 or even the Morini 500. All of these were relatively civilized, quieter and, in most cases, faster too. However none of them had the same sort of character, none were so compact and none enjoyed quite the same sort of relationship with its rider. The Laverda was far from ideal for any form of commuting or touring, but for pure enjoyment, fast road work or even a touch of club racing, or 'track days', in 1980 no half-litre machine could compare with the Montjuic. Its nearest rival was probably the 350 LC Yamaha water-cooled two-stroke twin, which was very slightly larger and heavier than the Montjuic. Both gave the feel of a 250cc, and, as I found out one day at Snetterton in summer 1984, virtually identical on lap times. The Yamaha twin was a shade quicker, but the Laverda made up lost ground on the corners and braking areas.
The 'Monty', as it became known, soon had me hooked. By the time I got to ride one, production had long since ceased; otherwise I might well have gone out and bought one!
Source Mick Walker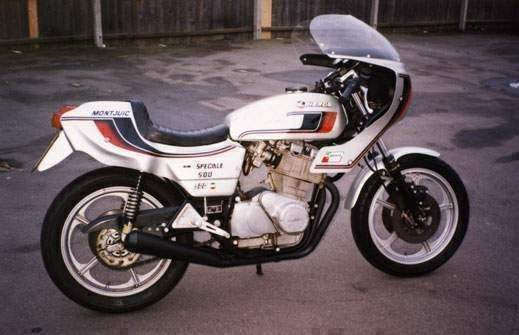 Overview
Montjuic MK2

The Montjuic MKII is undeniably an improved machine over the MK1 but to some the MKII aesthetics lack the purity of the original machine. A larger, frame- mounted fairing [modelled on the Motoplast unit fitted to the 1977 Barcelona entry ] located on a substantial tubular steel subframe cured the alleged handling issues which affected the MK1 . Longer outer cylinder head studs facilitated the use of more robust cam caps, alleviating the problems of crushed cam bushes experienced on some machines. Prior to the launch of the MK2 the Montjuic had somewhat unfairly gained a reputation for being fast but fragile. This was probably more as a result of ham-fisted maintenance rather than a design problem. Due to the willing engine it's also very easy to over rev a 500 and prolonged running at high revs can also contribute to an early demise if the crank or camshaft . Montjuics would invariably lead a hard life and an unsympathetic owner could wreak havoc with the engine if it wasn't warmed up correctly. If the cam bearing caps were over-tightened during routine maintenance then seizures could result, but this of course isn't a fault of the machine. As the saying goes, there's no such thing as a bad dog...

The 500s outstanding performance in the Barcelona 24 hour race and subsequently at the IOM TT confirms that there was nothing inherently wrong with the design of the twin, far from it in fact.

Summary

The official Montjuic production figures ran to less than 250 units, thus making them a very rare machine, rarer even than an SFC. Due to the Montjuic's scarcity, prospective purchasers are unlikely to have a wide choice of bikes available to them and therefore I would advise picking the best from whatever is on the market, MK1 or MKII. The MKII is undoubtedly the better bike and probably more civilised over long distances due to its larger fairing.
Source laverda500.cc