Laverda 500 Sport / Roadster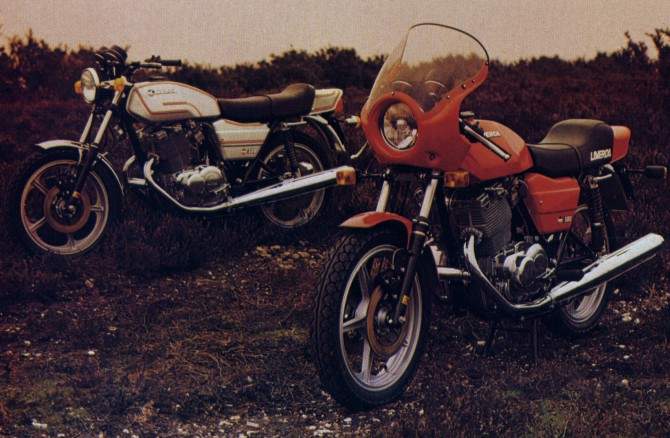 Make Model

Laverda 500 Sport / Roadster

Year

1983

Engine

Four stroke, parallel twin cylinders, DOHC, 4 valve per cylinder

Capacity

497 cc / 30.2 cu-in

Bore x Stroke

72 x 61 mm
Cooling System
Air cooled

Compression Ratio

9.0:1

Induction

2x 32mm Dell'Orto carburetors

Ignition

Electric CDI
Starting
Electric

Max Power

44 hp / 32.1 kW @ 9500 rpm

Max Torque

44.7 Nm / 33 lb-ft @ 5200 rpm

Transmission

6 Speed
Final Drive
Chain
Clutch
Multiplate wet

Front Suspension

Marzocchi forks coil springs

Rear Suspension

Dual Marzocchi shocks forks coil springs, 5 way adjustable.

Front Brakes

2x 260mm disc

s

Rear Brakes

Single 260mm disc

Front Tyre

90/90 S18

Rear Tyre

110/90 S18
Seat Height
790 mm / 30.7 in

Wet Weight

180 kg / 396.8 lbs

Fuel Capacity

14.5 Litres / 3.8 US gal

Consumption Average

48 mpg

Standing ¼ Mile

14.5 sec

Top Speed

105 mph
TO most people a 500cc Laverda twin means only one thing — a Montjuic. Several Italian sportsters have been billed as street-legalised, pure production racers but to anyone with half a brain (preferably no brain at all) a Monty was a bare essentials motorcycle par excellence. Hard, loud and pretty quick, a Montjuic was about as comfortable as a cold night lost on the Pennines and as unobtrusive as Concorde on a low level pass.
Did I say was? The Montjuic is no longer with us a last shipment of three dozen having been imported and sent out to dealers. One moment an extrovert orange motorcycle to blow away the cobwebs left by a succession of UJMs, the next another notch on a bureaucrat's noise meter. No doubt the faceless enforcers in Brussels see this as another small but welcome piece of progress towards the Sanitisation Of Everything but luckily Laverda's other half-litre twins live on.
In the past the 'ordinary' 500 Alpino twin wasn't conspicuously easy to sell. To any suitably lobotomised speed freak it was merely a cooking version of the Montjuic, while riders conditioned to Japanese standards of value (eg power and performance) for money found the Italian twin overpriced and underpowered.
Bike last tested one in September 78 when it was listed at £1,675 compared to £1,207 for a Honda CX500 or £1,050 for Yamaha's dohc eight valve XS500. Come to that it was double the price of a Honda 400-4, which matched the Laverda on weight and speed. As ever with Italian middleweights, it sold in small numbers to riders looking for a way out of the UjM mainstream and who were prepared to gamble on the charm and character of a quality product being worth a suitcaseful of extra greenies. Last year, though, Massimo Laverda told me the factory was losing £750 on every 500 made and that a 600cc version was in the pipeline.
The 600cc idea has been dropped but a fresh batch of 500s has made it to UK Laverda concessionaires Three Cross Motorcycles, based near Ringwood, Hants. Best news (from their point of view especially) is the price: £1,899 for the roadster and £1,949 for the faired Sport. Not exactly cheap, admittedly, but thanks to the rising cost of Oriental middleweights, no longer as uncompetitive as in the old days.
The Sport version is actually a model built for the Spanish market. Apart from different pistons giving a slightly higher compression ratio than the roadster's 9:1, the difference between the two is purely cosmetic. The colours you see are the colours you get an' all — silver on the roadster, red for the Sport.
As UJMs' speed in general and handling in particular continue to improve you have to look harder at Europe's more expensive alternatives for signs of extra qualities. At first sight the 500 looks pretty basic and old-fashioned for a £1900 motorcycle, lacking the usual dural plates, forged alloy bars and other general flash and tat which decorates Japanese bikes in the same price range. But a closer look at the materials and workmanship quickly shows the Laverda to be a cut above just any old mass produced bolide.
The dohc, four valves per cylinder motor is carried in a neatly welded single front downtube frame with a tubular swingarm. Suspension is by Marzocchi forks and shocks and braking is via three 10in cast iron discs with Brembo calipers. Wheels are Laverda's own cast alloy six-spoke 18 inchers wearing Pirelli Mandrakes.
The motor is a big, handsome lump. All castings are from Laverda's own foundry and the finish on the polished alloy casings and roughcast barrel and head is superb. A pressed-up 180° crank runs in ball and roller mains with needle roller big-ends, and a rotating counterweight on the left side of the crank smoothes out the inevitable parallel twin vibes. Mixture is fed in by a brace of 32mm accelerator pump Dellorto carbs and emissions taken care of by seamed Lanfranconi mufflers. At low revs they make sure no one ever mistakes the Sport for a Montjuic: emitting an off-beat mutter at idle compared to a Monty's habit of sounding like a First World War artillery barrage.
Thus farthe Laverda is traditionally Italian: a well-engineered motor in a chassis designed for speed as much as comfort. Not so long ago that would have been enough for the designer so the plot would have been finished with tin box switches, bizarre instruments, a 3-D paint job and a vinyl covered plank for a seat. Laverda broke away from all that years ago and the 500s have Japanese Nippon Denso clocks and switches (not quite the latest stuff though — remember when all Jap tachs and speedos had green faces?), Bosch electrics and halogen headlamps, firm but comfortable seats and faultless paintwork.
My only problem when we turned up at Three Cross was the obvious one. Which 500?
Well, you know, normally I'm a quiet sort of bloke who likes a beer and fag while playing at home with the cats but show me a small, red, Italian motorcycle with clip-ons and rearsets and ... I took the Sport. It's not a big motorcycle, especially with narrow Tomasselli clip-ons keeping your wrists within kissing distance. They're not the wider Laverda adjustables as used on the Montjuic but using them keeps costs down. You don't get rearsets as standard either — they're about £75 extra — but they add to the Sport's looks and riding position. Those on the test machine are Montjuic items, the pegs being attached to two-piece plates which fit neatly into the triangle formed by the passenger footrest tubes.
Laverda rarely give out power figures for their bikes but the usually accepted quota for the 500 is an undramatic44bhp at 8000rpm, though the motor's capable of spinning well past the conservative redline. It needs to be revved hard for rapid acceleration and you definitely have to snick around the six-speed gearbox to keep the mill turning at six grand-plus in the higher gears. That's not to say it's a pain below six 'cos it'll pull smoothly but quite slowly from as low as 2500rpm (30mph) in top.
The roadster seemed to be bobbing around a bit in corners but I was fully occupied getting used to the Sport's cornering. Oversteer combined with a feeling that I was going to lose the front wheel was a problem at first but I quickly realised I was just over reacting to the lack of leverage afforded by the narrow clip-ons. After a while wrist pressure and weight transferal became unconscious and the little 500 seemed to corner just the way I wanted it to without being asked.
The 500s are a delight to ride after a weighty, top heavy multi, even if they do lack the 50-60bhp punch of a Jap 550. When you fancy your chances on a set of esses they'll obey your every command but they're also designed to look after the cornering on their own if you're more in the mood for relaxing rather than 100 per cent concentration. At a shade over 4101b (185kg) ready for the road, neither 500 is heavy enough to require much more exertion than shifting slightly in the saddle in corners.
When you do want to get a move on, the spread of power between 6000 and 8500rpm, combined with the closeness of the top three gear ratios, make snapping along the backroads a pleasure. If you wanna show off to a similarly priced UJM on the straights you'll be out of luck, though. We didn't have time to speed test the Laverdas because Three Cross came up with them at the last moment (thanks lads) after Roland 'Tiny' Brown engendered a terminal unplanned auto stability situation on another test bike.
On past showing, the flat-handlebar version should manage around the ton, perhaps 105ish if you crouch down, with maybe a little extra from the faired Sport. Hooligan 350LC riders (who, me?) will have no trouble blowing away either Laverda at the lights but they may find themselves searching for words when you catch up and start whispering: 'Class . . . handling . . . individuality. . .'at them. Or they might just blast off in a cloud of blue smoke again. Even a Laverda 500 doesn't guarantee respect.
Talking of individuality, the roadster's road manners are slightly more, er pronounced than the Sport's. Although its 21 in bars make slow/medium speed steering easier, cornering is otherwise a twitchier proposition. The sport's clip-ons put more weight up front and, without it, the roadster bars sometimes seem alive in a bumpy corner. In fact it's just information coming up from the wheels: the odd twitch or shake never ever threatening to turn into something terminal. If it seems uncommonly lively at first it's probably only because Italian handling is usually judged in terms of rather overly-controlled stability brought about by short forks, long wheelbases and steering dampers on Ducatis, Guzzis and Morinis.
If you're only into fast travel the roadster must seem less attractive than the Sport but it's twice as practical in everyday terms, 'specially if you have a regular pillion. Counting the rearsets, a Sport is well over £100 dearer an' all. Both bikes come with toolkits, indicators (with awkWard thumb switch), steering locks, centrestand and standard issue Laverda flip-up/fall over spring-loaded sidestand. They also come with more ground clearance than most folks can use up this side of falling off and superb Brembo stoppers.
Most of all though, they offer a chance to get off the UJM treadmill. I'm not just saying that because it's easy to be blase about 150mph megacycles when they are thrust upon you every fortnight. Like a lot of people I've owned about half a dozen Japanese bikes in almost 10 years and I've got to the point where I don't want another one-every-30-seconds motorcycle however reasonable the price. European machinery may not necessarily be that much better than the CPz750 I rode home from Three Cross but by Cod it's different.
Neither 500 is just another bike to buy, ride and then trade in for next year's model. It's an individual that you can take pride in owning. It's a real motorcycle like a Pantah or a Morini Maestro. It's also pretty civilised and charming for an Italian middleweight, not to mention being about the only way of acquiring a brand new Laverda for under 3000 notes. If I wasn't already hocked up to the eyeballs I'd be off to Ringwood for a Sport tomorrow. And then I'd be saving and scrounging like mad for a bundle of new parts, engine bitz and a couple of cans of orange spray paint. Why? Well if you can't see that I'd buy yourself a CX500 right now.
Source bike 1983