Laverda 750 Strike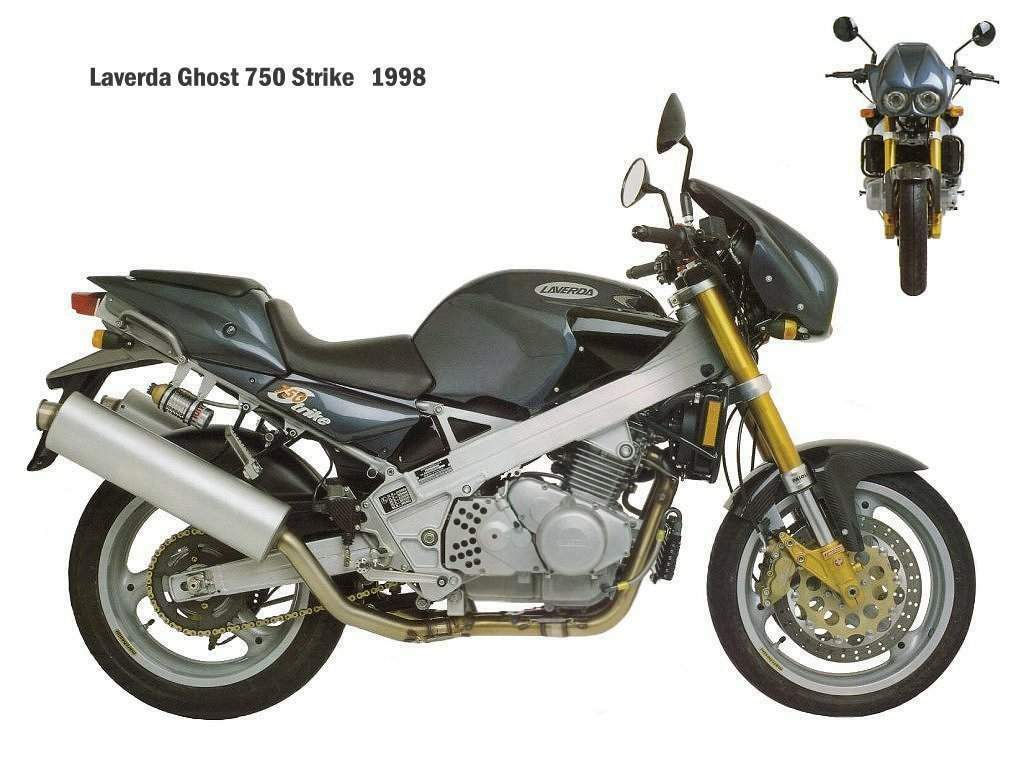 | | |
| --- | --- |
| Make Model | Laverda 750 Strike |
| Year | 1997 |
| Engine | Four stroke, parallel twin. DOHC, 4 valve per cylinder. |
| Capacity | 747 cc / 45.6 cu-in |
| Bore x Stroke | 83 X 69 mm |
| Cooling System | Liquid cooled |
| Compression Ratio | 11.5:1 |
| Induction | Twin Weber-Marelli electronic injection |
| Ignition | Weber-Marelli electronic |
| Starting | Electric |
| Max power | 85 hp / 63.3 kW @ 9200 rpm |
| Max Power Rear Tyre | 81.6 hp / 60.8 kW @ 8100 rpm |
| Max Torque | 75 Nm / 55.3 lb-ft @ 7750 rpm |
| Transmission | 6 Speed |
| Final Drive | Chain |
| Frame | Aluminium twin beam |
| Front Suspension | Paioli Racing Inverted adjustable preload, rebound & compression damping |
| Rear Suspension | Paioli Monoshock adjustable spring preload, rebound & compression damping |
| Front Brakes | 2x 320mm discs 4 piston calipers |
| Rear Brakes | Single 245mm disc 2 piston caliper |
| Front Tyre | 120/60 ZR17 |
| Rear Tyre | 160/60 ZR17 |
| Seat Height | 770 mm / 30.3 in |
| Dry Weight | 189 kg / |
| Dry Weight | 189 kg / 416 lbs |
| Fuel Capacity (res) | 19 Litres / 5.0 US gal |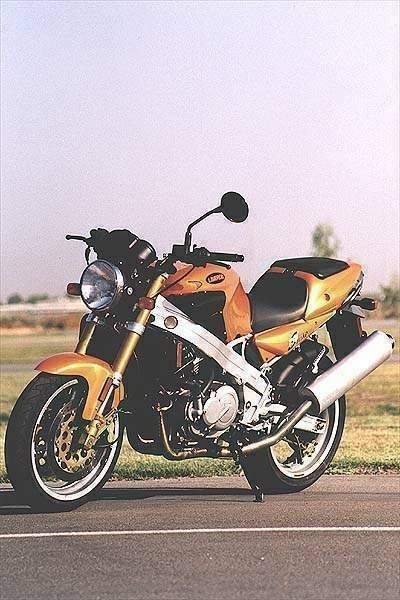 After initial press criticism of their revived 650cc parallel twin engine, Laverda developed the Mk 2 version, with a 668cc motor.

Still the same outstanding, twin spar, alloy framed chassis, with top notch suspension and brakes of course.

Available during the mid Nineties in Strike, Ghost Strike, Sport and Sport Diamante options in the UK, the 668 range offered a useful stop-gap choice for the Italian twin cylinder enthusiast who didn´t like it Vee shaped. Laverda´s real potential wasn´t really fully developed until the 750cc twin engine came along however.

So many attempted Laverda recoveries have ended in failure over the years that caution is still required, but this time the famous old Italian firm really does seem to be back on the right track. Latest owner Francesco Tognon has kept his promise to invest heavily; the factory at Zan in north-eastern Italy is busy and growing; and Laverda's team of engineers is working flat-out on a batch of new bikes to take the firm into the 21st century.

The revival that wealthy textile industrialist Tognon promised when he took over three years ago is gathering momentum nicely. Later this year Laverda will begin production of its sleek new 750 sports bike, powered by an enlarged, redesigned and watercooled version of the faithful eight-valve parallel-twin motor. And the firm's new-generation superbike, a powerful big-bore triple intended to recapture the spirit of the legendary Jota 1000 of the 1970s, is due to be revealed in prototype form at the Milan Show in November.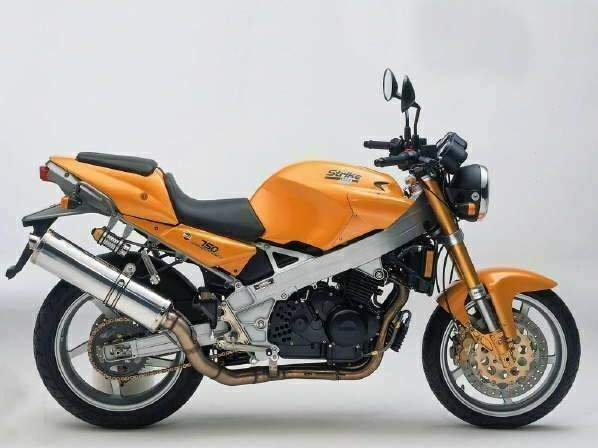 Both the 750 and the triple are intended to pass Californian noise regulations, with a view to Laverda attacking the US market in the near future. In the meantime the firm is already set to produce no fewer than three new models for other markets, all based on the 668cc Ghost roadster. There's the limited-edition Ghost Legend, with its orange-and-black paintwork and carbon-fibre parts; the Diamante, a half-faired sportster; and the Ghost Strike, featuring bright yellow paintwork, a neat twin-headlamp half-fairing and an aluminium twin-spar frame in place of the standard Ghost's traditional steel ladder.

The Strike is an interesting and neat-looking bike, but even so the obvious question has to be: Why? What was the point of building another parallel twin roadster, this time with an aluminium frame, when the Italian firm already had the perfectly capable standard Ghost model with its steel trellis?

Laverda's answer is simply that some riders prefer the style of a twin-beam frame. And as they already had an ideal aluminium alternative used by the faired 668 sportster the Strike was cheap to produce. If you think of the Strike as an easy way for Laverda to expand its range without diverting too many resources from longer-term projects, the new bike makes plenty of sense.

Laverda claims there's no difference in either weight or geometry between the Strike's alloy beam frame and the steel trellis. Suspension is shared, too: 40mm upside-down Paioli forks and a shock from the same Italian firm. The Strike's engine is also unchanged: a 668cc DOHC, eight-valve parallel twin cooled by a mixture of air and oil, and fed by a Weber-Marelli fuel-injection system.

The Strike's wide, slightly raised clip-ons give a riding position midway between sporty and upright. At 190kg the bike is pretty light, and at a standstill it felt short and low. The seat is well-padded, although its shape means the rider can't move about. At very low revs the engine was snatchy but it smoothed out by the time 3000rpm came up on the white-faced tacho.

The fuel-injection system (complete with a revised chip that is also fitted to the standard Ghost) was excellent, giving a crisp midrange response that meant I generally short-shifted instead of thrashing the Strike towards its 9100rpm redline. At 90mph in top the Strike felt relaxed and reasonably smooth, with acceleration in hand to a top speed of about 130mph. For a parallel twin the Laverda ran well when revved higher, too. There's enough vibration to let you know the motor's working hard, but in normal road use it's not a problem.

I was less impressed by the test bike's Termignoni carbon-fibre cans, a factory optional extra, which drowned out the engine's mechanical rustling with a thunderous boom. The free-breathing pipes add a few horsepower to the standard peak output of 70bhp at 8000rpm. But apart from being illegal in most markets they're simply too loud for the road and besides, the Ghost's standard pipes make a very pleasant twin-cylinder throb.

The fairing did a good job of keeping the wind off my chest and didn't make the bike weave at speed. But because I'm tall, the fairing's tip obscured my view of the warning lights. Other niggles were the heavy clutch and a notchy six-speed gearbox that made finding neutral a pain. The parallel-twin engine unit has been extensively modified over the last few years, with recent improvements including new piston rings, tougher valve seats and guides, plus an uprated oil pump, but it can't help feeling a little crude at times.

There's certainly nothing old-fashioned about the Strike's handling. Paioli's suspension is excellent: firm but not harsh, giving a superbly taut and stable ride. The Strike's steering isn't super-quick but the short, light bike's neutral feel encourages you to throw it around in the corners.

Despite the often slippery roads the Laverda's Pirelli Dragons gave plenty of grip, too. And even repeated braking into downhill hairpins couldn't faze the Brembo braking blend of 320mm discs and four-pot calipers. Plenty of bikes would leave the Strike far behind on a straight road, but there are few that would have the edge over it on the steep, switchback-strewn pass that leads over the mountains near the Zan factory.

Even Laverda admits that there's basically no difference in engine performance or handling between the original Ghost model and the Strike, whose standard-fitment fairing makes it slightly more expensive. Most riders will probably opt for the cheaper and more traditional standard model, but the Strike is good enough to justify its existence. It's a quick and enjoyable roadster that will help keep Laverda's recovery on course while development of that new-generation three-cylinder superbike continues.

Source Insidebikes.com Added on Thursday 15th May 2008 at 14:54