| | |
| --- | --- |
| Make Model | Laverda 750S Sport |
| Year | 1997 |
| Engine | Four stroke, parallel twin. DOHC, 4 valve per cylinder. |
| Capacity | 747 cc / 45.6 cu-in |
| Bore x Stroke | 83 X 69 mm |
| Cooling System | Liquid cooled |
| Compression Ratio | 11.5:1 |
| Induction | Twin Weber-Marelli electronic injection |
| Ignition | Weber-Marelli electronic |
| Starting | Electric |
| Max power | 85 hp / 63.3 kW @ 9200 rpm |
| Max Power Rear Tyre | 81.6 hp / 60.8 kW @ 8100 rpm |
| Max Torque | 75 Nm / 55.3 lb-ft @ 7750 rpm |
| Transmission | 6 Speed |
| Final Drive | Chain |
| Frame | Aluminium twin beam |
| Front Suspension | Paioli Racing Inverted adjustable preload, rebound & compression damping |
| Rear Suspension | Paioli Monoshock adjustable spring preload, rebound & compression damping |
| Front Brakes | 2x 320mm discs 4 piston calipers |
| Rear Brakes | Single 245mm disc 2 piston caliper |
| Front Tyre | 120/60 ZR17 |
| Rear Tyre | 160/60 ZR17 |
| Seat Height | 770 mm / 30.3 in |
| Dry Weight | 185.0 kg / 407.9 lbs |
| Wet Weight | 202 kg / 445 lbs |
| Fuel Capacity | 16 Litres / 4.2 US gal |
| Consumption Average | 15.8 km/lit |
| Braking 60 - 0 / 100 - 0 | 13.7 m / 39.4 m |
| Standing ¼ Mile | 11.9 sec / 180.8 km/h |
| Top Speed | 217.2 km/h |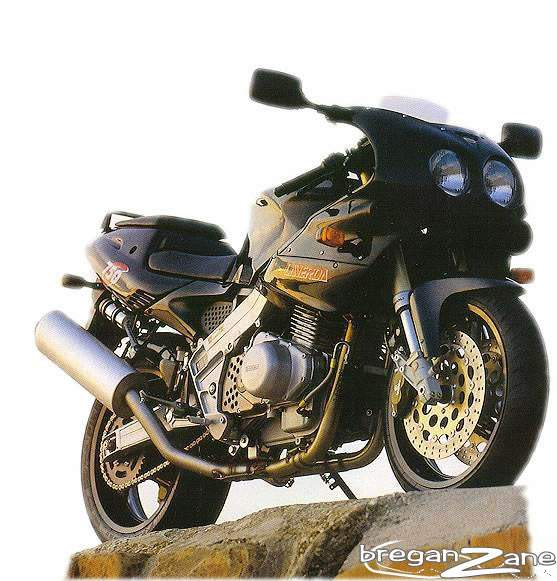 One quick blast up the road is all it takes to confirm that the 750S is the start of something big for Laverda. At a glance the bike is very similar to the firm's previous parallel twins. Its chassis is almost identical, its styling owes much to earlier models, and despite being watercooled the new, grey-finished motor fires up with a mechanical whir and a familiar chuffing from its twin pipes.
But the 750S motor responds more quickly to a blip of the throttle, its clutch is notably lighter than before, and the new twin has a distinctly smoother feel as it pulls away. There's still plenty of Laverda twin character, but the whole bike seems more refined. Then you crack open the throttle in first gear, and the front wheel heads for the clouds to show that, despite its sophisticated manners, this bike is much more of a hooligan than any of its predecessors.
If that hasn't convinced you that the 750S is a brilliantly enjoyable motorbike, the first tight bend will do the trick. Squeeze the Laverda's big front Brembo discs and you slow with tackle-crunching ferocity. Flick the clip-ons and the bike cranks onto its side with suspension and tyres carving a precise line through the corner. Wind open the throttle and the twin-pot motor revs smoothly and hard towards its redline at just over nine grand.
Those first few hundred yards are what stick in my mind after a day spent thrashing about on the new Lav mainly because I hadn't expected the bike to be anything like this good. Laverda have been steadily refining the age-old parallel twin format since bike-mad local textile baron Francesco Tognon took over and began rebuilding the firm a little over three years ago. But despite that, the oil/aircooled parallel twin motors have always felt a bit crude, and I'd expected the 750S to be just another small step in the process of evolution.
Instead the new bike takes Laverda a big leap forward, thanks largely to a watercooled engine whose basic layout is similar to that of its predecessors, but which shares few components and is a far more sophisticated piece of work. The 750S is the first bike that the new company regards as its own design. Tognon says it represents the second phase of Laverda's recovery and riding it shows that he ain't exaggerating.
The five-strong design and engineering team at Laverda's base in Zan in north-eastern Italy left no stone unturned in their attempt to uprate the twin-cam, eight-valve parallel twin unit that has helped put the firm back on the map. Boring out the motor from 78.5 to 83mm increases capacity to 747cc from the old lump's 668cc.
The 180-degree crankshaft's stroke remains at 69mm, but changes including a new balancer shaft are intended to reduce vibration. A new pair of camshafts sit in a narrower cylinder head that also features the novelty of watercooled seats for the exhaust valves. Compression ratio is up from 9:1 to 10.5:1 which, along with the new twin-pipe exhaust system, helps increase the claimed peak output from 70 to 82.5bhp at 7000rpm. The six-speed gearbox incorporates revised teeth and dogs; changes to the clutch include a new master cylinder designed to give a lighter feel at the lever.
The chassis is essentially that of the 668cc twins, based around a twin-spar aluminium frame built for the original 650 model that appeared back in 1992. Laverda have never skimped on cycle parts, and the new bike carries on the tradition. Paioli supply the 41mm upside-down forks and the rear shock, both multi-adjustable. Brembo provide brakes (four-pot calipers and 320mm discs up front); wheels are three-spoke Marchesinis wearing Pirelli Dragons.
Fork-tops are pushed well through the yokes to quicken the steering compared to the Ghost models (rake is still a less-than-racy 26.5 degrees, even so). At 192kg dry the Lav weighs a bit less than Ducati's 748, the same as Honda's VTR1000 and slightly more than Suzuki's TL1000. But the 750S is very slim and low, and its under-seat fuel tank helps make for a very light and manoeuvrable bike that immediately makes you feel at home.
The motor's new-found smoothness is obvious, and you soon discover that there's extra power through most of the rev range too. At very low revs the bike judders like a road drill, shaking the mirrors that are mounted to the flimsy fairing. But the vibration fades by 3000rpm, and from then on the Laverda punches with a force that is not exactly earth-shattering (Ducati's 900SS probably has slightly more midrange), but which is more than enough to make you grin.
Previous Laverda twins certainly don't wheelie like this bike does given a first-gear crack of the throttle and they don't tempt you to keep thrashing them in the same way either. Response from the revised, faster-reacting Weber fuel-injection system is ace. And the motor's added smoothness is just as important as its extra power, because you're more tempted to keep the revs in the sweet zone between 6000 and 8000rpm.
Same goes for the new gearbox, which is a big improvement on previous Laverda efforts. The box shifted cleanly at speed, and was let down only by an occasional reluctance to find neutral at a standstill. Word from the factory is that this was caused by this pre-production bike's slightly dragging clutch, and that a modification has already been found to prevent the same thing happening to production machines. (What's more, Laverda seem so on-the-ball these days that it's probably true...)
Provided it's kept revving the 750S is respectably quick as it heads for a top speed of close to 140mph. Granted, that makes it by no means the fastest sports bike in the world. Acceleration above 120mph is pretty gentle, and many riders would doubtless prefer a bit more poke for track days and serious Sunday morning scratching. But the rest of the time that performance gives the perfect excuse for plenty of full-throttle craziness.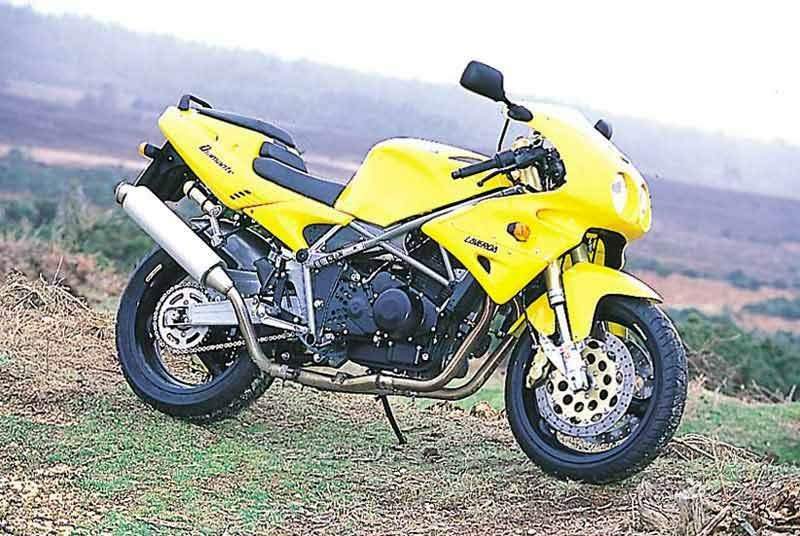 Predictably the chassis copes effortlessly with everything the engine and rider can throw at it. Laverda really got it right with the 668cc models a few years ago, since when they've merely added a few refinements. The hefty twin-spar frame doesn't have to break sweat to keep 80 horses under control. Forks and shock are firm enough to jar a bit over big bumps, and the riding position means you wouldn't want to ride in traffic for long (steering lock is pretty tight too). But suspension control is superb and the bike feels better the harder it's ridden.
Despite its less than radical geometry the short, light 750S steers pretty quickly. And it also has a stunningly stable, well-planted cornering feel, with no sign of TL1000-style twitchiness. The rear Dragon is a fairly narrow 160-section cover on a five-inch rim, but for road use the 750S has heaps of grip, and enough ground clearance to need it. The front tyre has to work hard, too, when Brembo's excellent stoppers are used in anger.
Not that I needed the brakes to slow down when, only a few miles after setting off from importers Three Cross, the bike suddenly lost all life and coasted to a halt at the roadside. It turned out that the sidestand cut-out switch was killing the sparks, although the stand was fully retracted. A few turns of a spanner from the toolkit soon had it sorted, but this is the sort of silly problem that Laverda need to avoid if they're going to steal sales from the big boys.
Another electrics-related niggle was that the 19 litre fuel tank's low warning light had a habit of flashing on far too early, in typical Italian fashion. But quality generally seemed good. Laverda boss Tognon has made a serious investment in an attempt to improve reliability. Finish of parts such as the frame, bodywork and paint (any colour you like as long as it's black) is well up to standard.
When you consider that only a few years ago Laverda seemed to be in a terminal crisis, following the collapse of yet another attempted revival, the appearance of the firm's first truly new bike is a result in itself. That the 750S is so good is a minor miracle. And what's more, the normal Italian bike sting in the tail a price several thousand quid higher than the Japanese competition doesn't apply.
Three Cross have pitched the 750S at a very competitive £7499 on the road, hardly more than the 668cc Lavs and substantially cheaper than the TL1000S and VTR1000, let alone Ducati's 748. If you're looking for a twin-cylinder sports bike with a bit of character, the 750S is worth checking out. One quick blast up the road is all it takes...
Source Insidebikes.com