Laverda 750GT "America Eagle"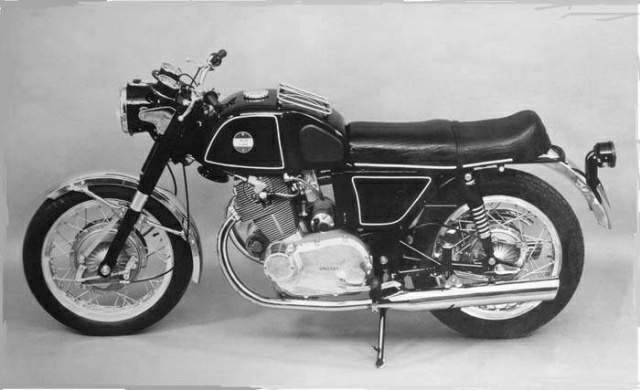 | | |
| --- | --- |
| Make Model | Laverda 750GT "America Eagle" |
| Year | 1968 |
| Engine | Air cooled, four stroke, parallel twin cylinder. |
| Capacity | 753.9 |
| Bore x Stroke | 80 x 74 mm |
| Compression Ratio | 7.7:1 |
| Induction | 2x 30mm Dell'Orto vhb30 |
| Ignition / Starting | |
| Max Power | 52 hp @ 6900 rpm |
| Transmission / Drive | 5 Speed / chain |
| Front Suspension | Marzocchi telescopic forks |
| Rear Suspension | Swinging arm dual shocks |
| Front Brakes | Single 230mm drum |
| Rear Brakes | 200mm Drum |
| Front Tyre | 3.50-18 |
| Rear Tyre | 4.00-18 |
| Wet-Weight | 218 kg |
| Fuel Capacity | 19 Litres |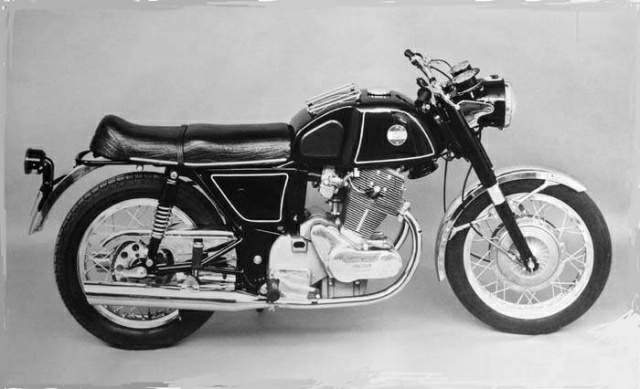 The American Eagle Saga
Jack McCormack was the man who first brought Laverda's big twin to the United States. In mid-1968, McCormack, together with three or four ex-Triumph and ex-Suzuki distributors (including Johnson Motors, West Coast), founded American Eagle International Motors Incorporated. Their aim was to offer year-round leisure vehicles, which were to come not only from Laverda, but also from the likes of Sprite and Kawasaki. There were also plans for beach buggies, snowmobiles and vehicles for other leisure-time activities. (The enterprise was largely funded by a payout made to McCormack and his partners, after they had successfully sued Suzuki's Japanese parent company, which had taken over Suzuki's US distribution.)
McCormack had also earlier worked for both the Triumph and Honda American distribution networks. In an article on the American Eagle project, Classic Bike in its October 1997 issue described McCormack, as 'an ex-Marine and golden-tongued salesman'. In the same feature, McCormack himself stated that the Laverda 650 twin 'struck me as a very advanced motorcycle. When I went to Italy and met with Massimo to discuss the idea of importing it, I persuaded him to make it a 750.'
McCormack's claim to having invented the 750 is doubtful, as the machine (with a Laverda, rather than an American Eagle badge) had already gone on sale in Europe in May of that year. He certainly could, however, claim to have at least influenced Laverda, inspiring them to build a super sport for the US market.
The first Stateside test report of the Laverda 750 twin was published in the August 1968 issue of Cycle World. McCormack's PR machine was in full flow when Cycle World claimed that 'the 750 is
produced solely for America, after McCormack International requested this move. The McCormack International group also obtained other modifications for the express benefit of US riders.' Close study of the 1968 European Laverda 750 and its American Eagle brother shows them to be virtually identical except for the handlebar bend.
The story of the American Eagle was to be cut short by the launch of the Honda CB750 four only a few months later. Effectively, the
AMERICAN EAGLE 750cc SUPER SPORT
Japanese giant shut out McCormack's big twin, being $200 less than the American Eagle (at $1495), and also offering two more cylinders and a disc brake into the bargain.
The result was that few of the big Laverdas actually arrived in the USA, maybe no more than 150 in total. McCormack and his men were soon struggling financially, and were ultimately forced into liquidation. For many years, the saga has been related as an example of how not to establish a bike importing business...