Laverda 750 SF1
Make Model

Laverda 750 SF1

Year

1973

Engine

Air cooled, four stroke, parallel twin cylinder, SOHC, 2 valve per cylinder.

Capacity

743

Bore x Stroke

80 x 74 mm

Compression Ratio

8.9:1

Induction

2x 36mm Dell'Orto PHF carbs.

Ignition / Starting

Bosch / electric

Max Power

66 hp @ 7300 rpm

Max Torque

Transmission / Drive

5 Speed / chain

Front Suspension

Ceriani telescopic forks

Rear Suspension

Swinging fork, Ceriani adjustable shocks

Front Brakes

2X

230mm drum

Rear Brakes

200mm drum

Front Tyre

3.50-18

Rear Tyre

4.0-18

Dry Weight

Fuel Capacity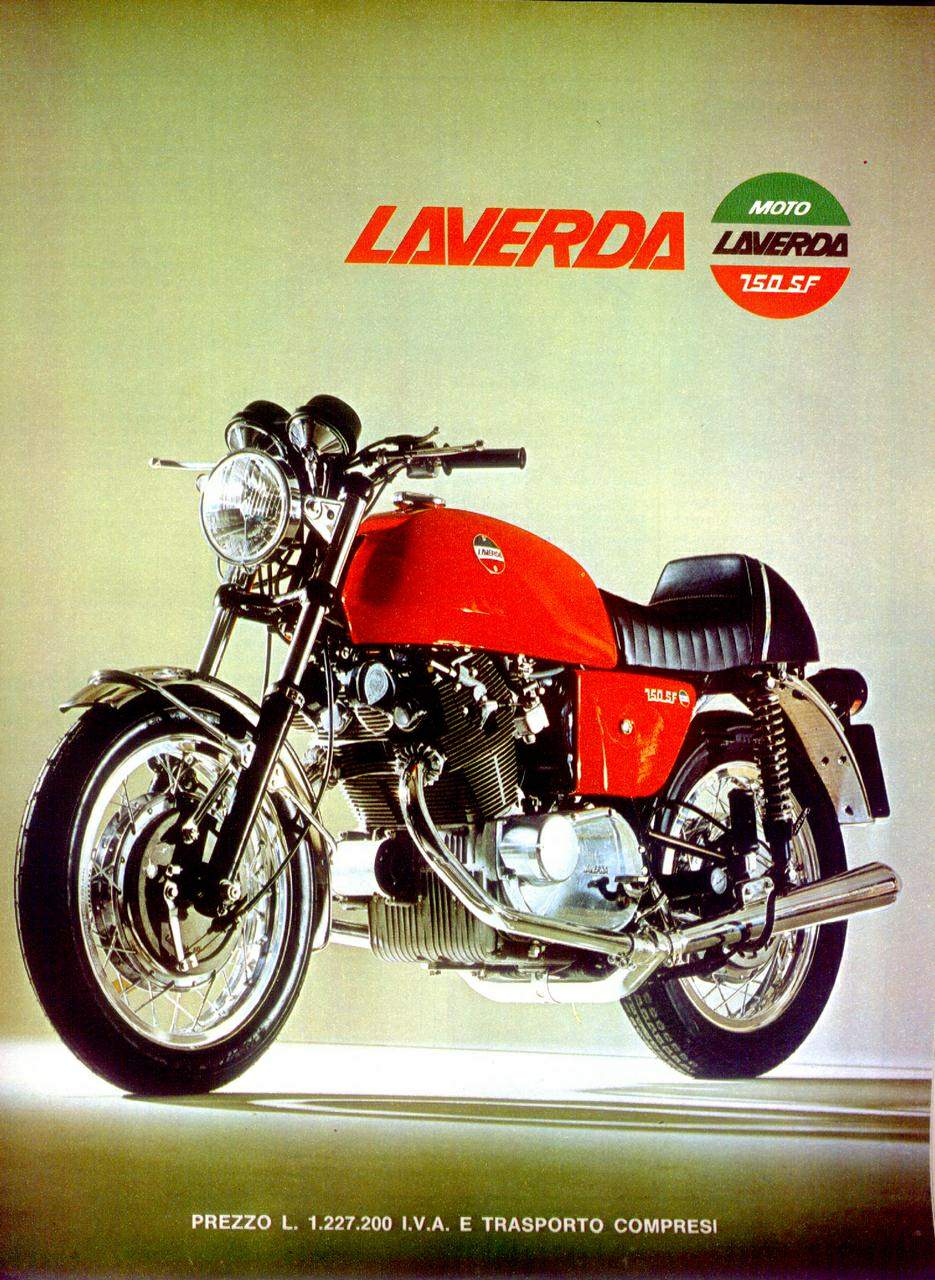 SF1 (1972)
Several mechanical changes were introduced on this model, including a new cylinder head and crankshaft, and the replacement of the 30mm VHB Dell'Orto with larger 36mm PHF instruments with accelerator pumps. The exhaust balance pipe was not only vastly increased in size but its location was also transferred, to underneath the engine. Conti replaced Lafranconi as the silencer supplier, which also meant an entirely new shape. Lucas switchgear replaced the earlier Italian-made assemblies, while a mechanical piston (incorporated within the casting) was fitted between the two cams on the brake to ensure improved operation.
The first Italian manufacturer to have faith in the revival of big motorcycles was Laverda. In 1967 the company produced a two-cylinder, four-stroke 650-cc. model, which was immediately followed by a 750-cc. version that was available in both a touring and a sports model.
When the Italian Motorcycle Federation organized its first 500-kilometer race for production vehicles in 1970, Laverda introduced the latest version of its 750, the SF, at the Monza track. The 750 SF had large-diameter drum brakes that were built at Laverda's Vicenza plant.
The official Laverda racers, Augusto Brettoni and Angiolini, won the race, and both men urged the company to continue racing in the 750 class. In 1969 the Laverda 750 S won the Oss 24 Hours, a tough race that was run in Holland. The motorcycle won again in 1970 with Brettoni and Dossena. From that point on, the Laverda was
a regular at Coupe d'Endurance races.
In 1971 the Laverda 750 SFC was put on sale. It was a top-notch racing motorcycle, winning its debut race at Zeltweg with Brettoni in the saddle. It won tht Oss 24 Hours and entered the Bol d'Or at Le Mans, but without success. Despite this setback the SFC went on to win many races because of its resistance to stress.