Laverda OR600 Atlas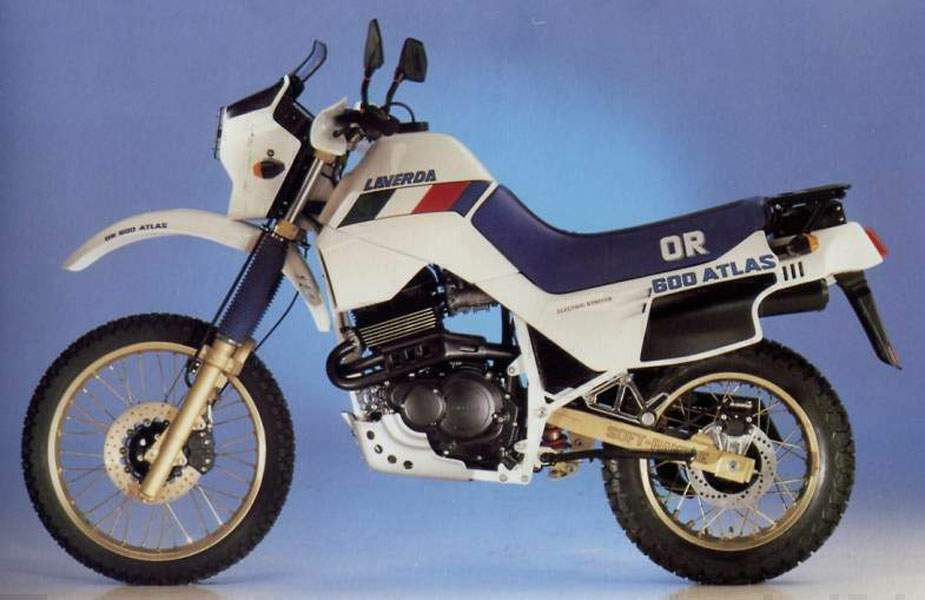 | | |
| --- | --- |
| Make Model | Laverda OR600 Atlas |
| Year | 1986 - 88 |
| Engine | Four stroke, parallel twin cylinders, DOHC, 4 valve per cylinder, 180° crankshaft. |
| Capacity | 571.6 cc / 34.8 cu-in |
| Bore x Stroke | 76 x 63 mm |
| Compression Ratio | 9.1:1 |
| Induction | Dell'Orto twin choke |
| Ignition | Bosch electronic |
| Starting | Electric |
| Max Power | 50 hp / 36.4 kW @ 7500 rpm |
| Max Torque | 50 Nm / 36.8 lb-ft @ 4800 rpm |
| Transmission | 6 Speed |
| Final Drive | Chain |
| Front Suspension | Air assisted telescopic forks |
| Rear Suspension | Single shock |
| Front Brakes | Single 260mm disc 2piston calliper |
| Rear Brakes | Single 230mm disc 1 piston calliper |
| Front Tyre | 90/90-21 |
| Rear Tyre | 130/80-17 |
| Dry Weight | 151 kg |
| Fuel Capacity | 25 Litres / 6.6 US gal |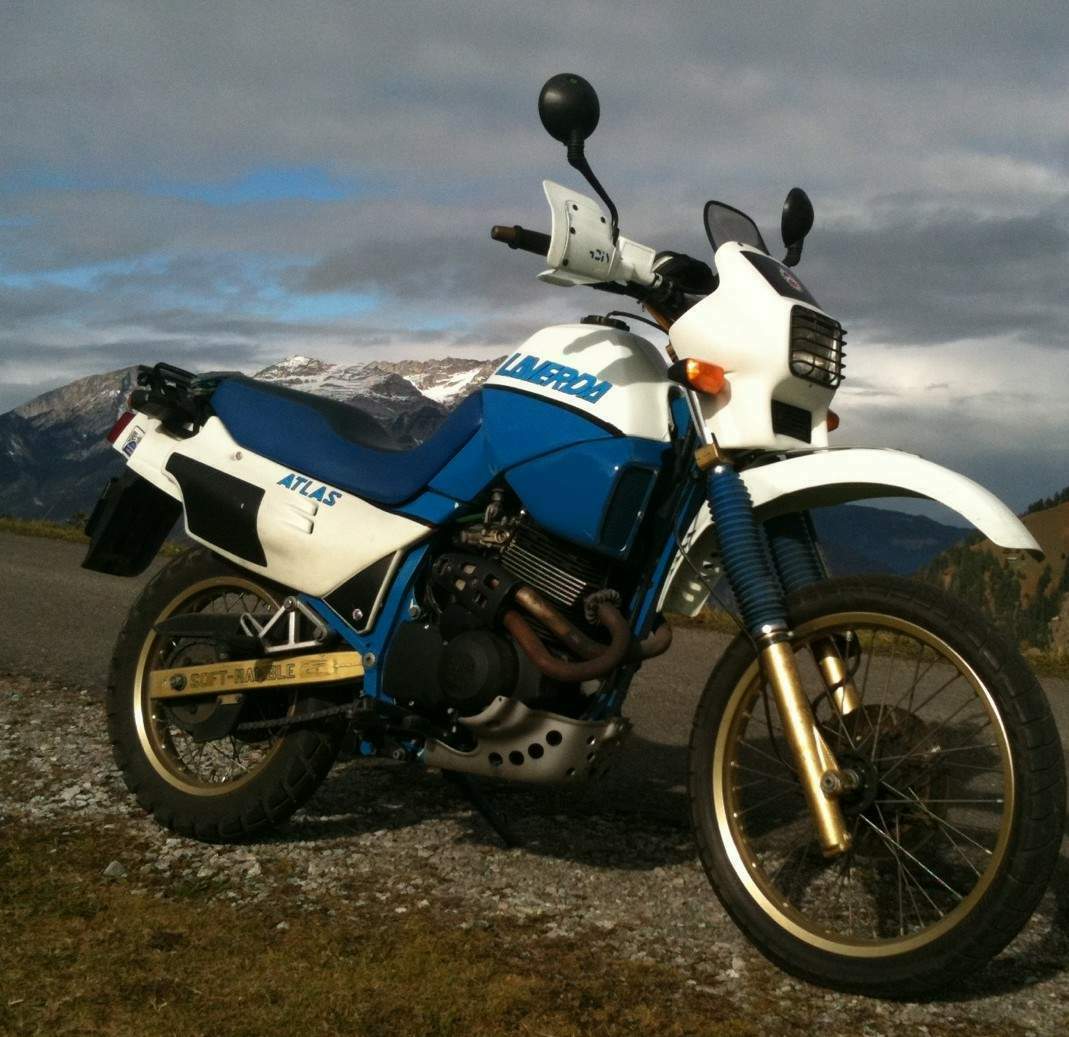 Laverda OR600 Atlase has been built from 1986 until 1989, with a total of about 470 built.
In 1989, after the factory went bankrupt, the cooperative built another 70 Atlas'. They had all new designed sidepanels rear mudguard etc., also hydraulic clutch and two oil coolers under the petrol tank instead of one under the headlamp on the first model.
They were sold Switzerland and some to Belgium.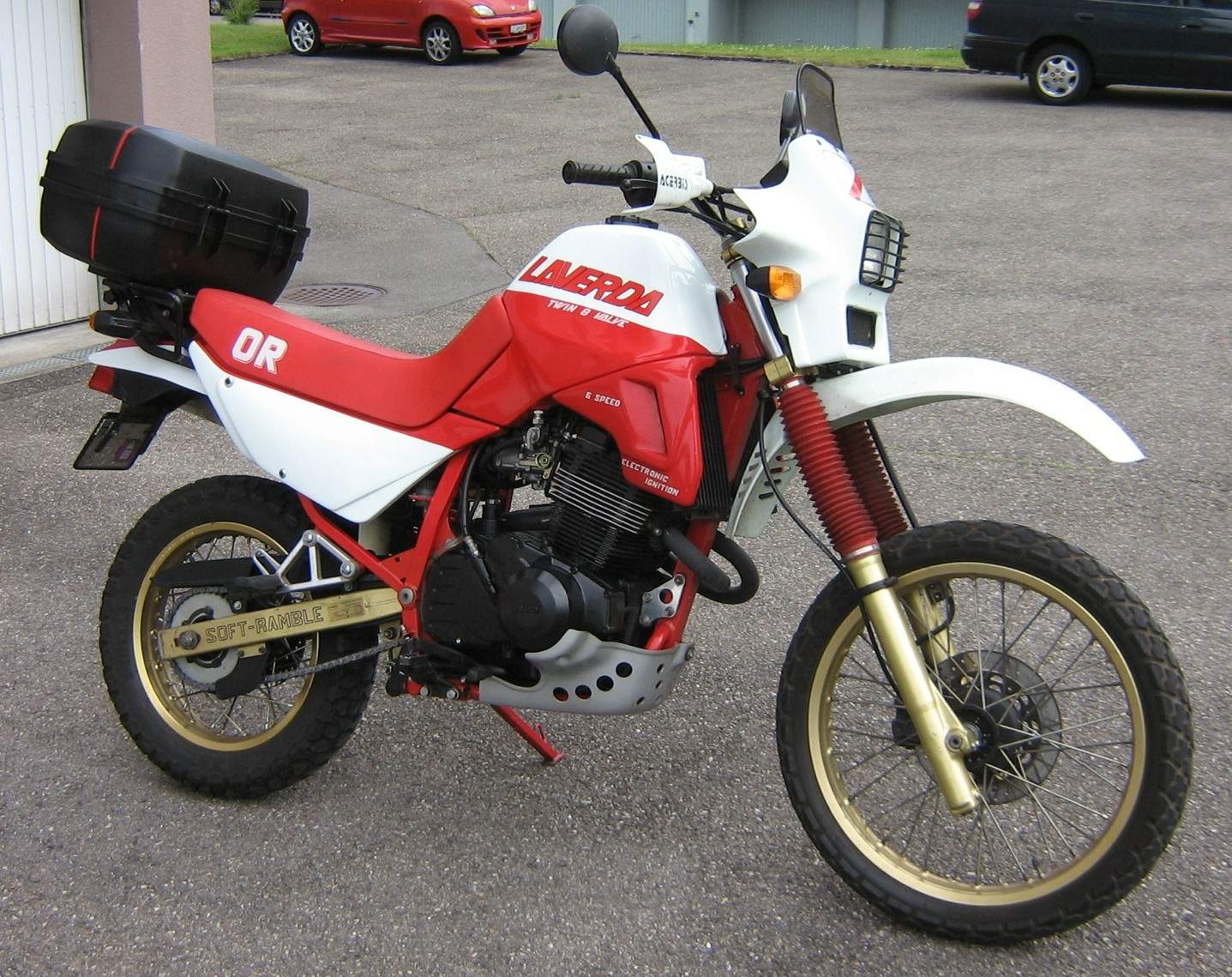 Overview

The Laverda Atlas OR 600 is an unlikely gem amongst the many fine bikes produced by Laverda over the years. At first it appears as something of an oddity within the model range but closer investigation reveals that it was a perfectly logical progression for the company to enter what was to become known as the 'big trailie' sector. BMW undoubtedly created the genre with their G/S range [Gelande Strasse, which, very loosely translated, means trail and street]but what is a little known fact is that Laverda had been deeply deeply involved with BMW's G/S project and had been engaged as development engineers by the Bavarian concern .

One can only assume that Laverda , who already had numerous successful off road bikes within their range, must have looked at the subsequent success of the G/S and felt that they too should be in the burgeoning uber trail bike sector. At first glance the relatively peaky 500cc powerplant seems an odd choice as the basis for the OR 600 engine but Laverda , no doubt using their considerable experience of preparing the 500cc engines for endurance racing, created a strong and torquey motor ideally suited to the task in hand. An increase in bore size to 76mm retaining the 63mm stroke raised the capacity to 571cc , low compression pistons and softer Atlas spec cams gave it a more user friendly power delivery better suited to the new bike.

After showing a prototype at the Milan show in 1985, Laverda went into production in 1986 with the Series 1 Atlas, identified by its blue and white livery. A re- designed gear selector quadrant with a neater low profile positive stop system made neutral selection easier. The new generation Laverda twin had many improvements such as strengthened crankcases, bigger valves, helical gear primary drive [to reduce noise] revamped pistons, heads and barrels, re-profiled cams all helping to create a tough, reliable machine ideally suited to the long haul.

The Atlas also gained a second balance weight at the end of a long shaft which traversed the front of the engine. With a riding position that seats the rider in, rather than on the machine, the Atlas is a comfortable all-day riding proposition , especially with a useful 6 gallon tank which provides a useful touring range of well over 230 miles between refills. The intriguingly named 'Soft Ramble' monoshock rear suspension is an effective system providing plenty of travel whilst ensuring good chassis composure on bumpy back roads. Breathing is slightly compromised by the convoluted intakes created by the Dellorto twin choke car style carburettor. Despite this, the Atlas is still capable of 105mph which is more than adequate for a machine of this nature.

Possibly the most significant improvement to the engine was the simple provision of an oil cooler, coupled with a larger 10mm oil pump, two essentials which all but the racing versions of the 500 motor lacked. With its 3l oil capacity, the 500c unit was always marginal in the oil cooling department and the new cooling system and pump provided some much needed relief for the earlier motor's slightly overstretched lubrication system.

Atlas production lasted just four years ['86 to '90] and included a model revamp partway through the production run. From an initially encouraging first year production of 300 units, Atlas manufacturing output ran to only 60, 40 and finally 50 units in the last year of production. The low volumes are perhaps more of a reflection of the troubled times the factory had found itself in rather than an indication that the Atlas was misjudged in the market place. The series 2 Atlas is identified by its red and white colour scheme and its distinctive side mounted oil coolers. There were minor alterations to the side panels and tail unit [which housed the new Motoplat ignition module] and the exhaust now exited on the left but fundamentally there was little difference between the two models. The total production of approximately 450 units makes the Atlas quite a rarity nowadays. This is great pity because the Atlas, perhaps more so than any other classic Laverda, is a truly viable everyday bike and a genuinely versatile machine.

Source laverda500.cc