Laverda RGS 1000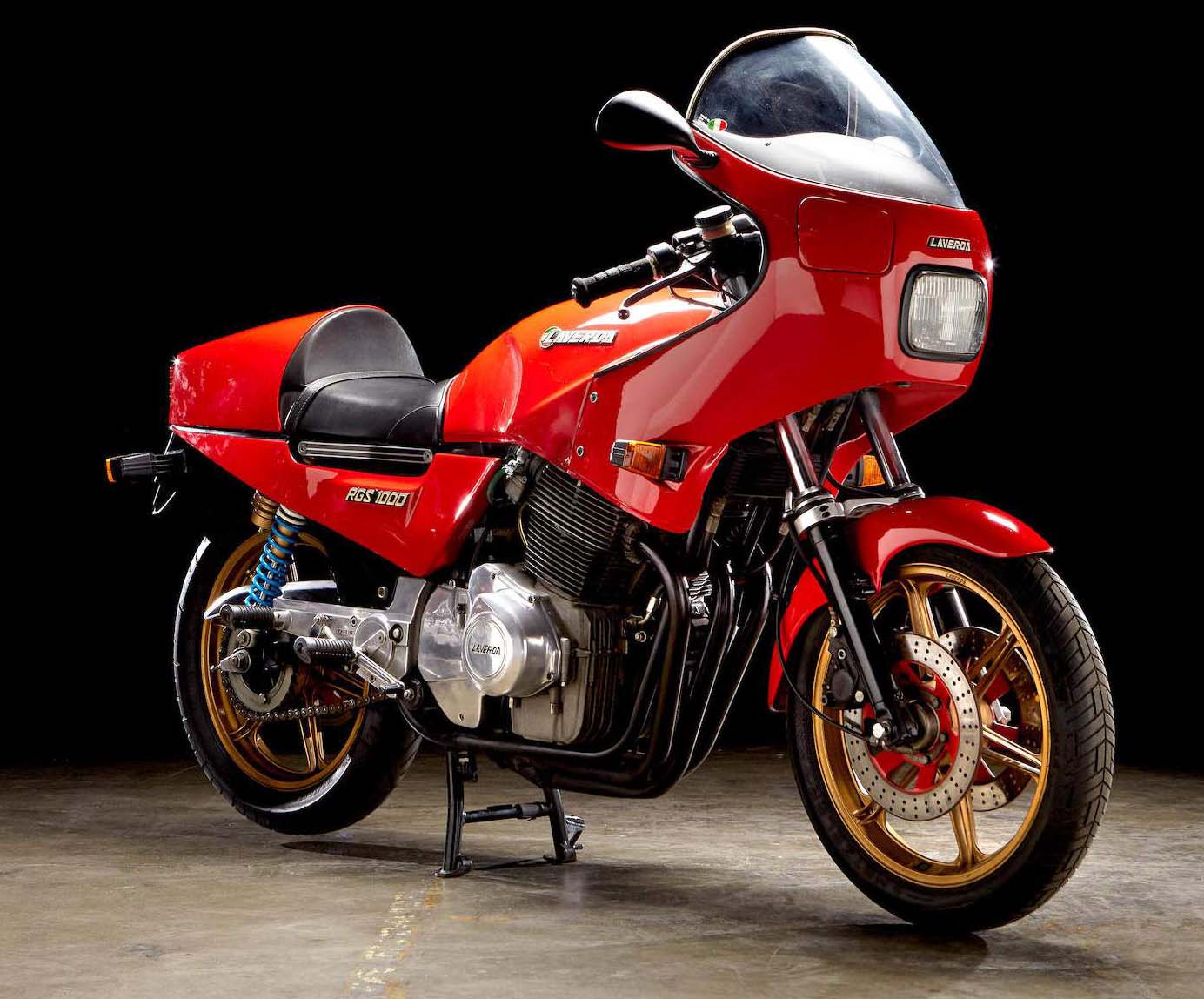 | | |
| --- | --- |
| Make Model | Laverda RGS 1000 |
| Year | 1983 - |
| Engine | Four stroke, transverse three cylinder, DOHC, 2 valve per cylinder. |
| Capacity | 981 cc / 59.8 cu-in |
| Bore x Stroke | 75 x 74 mm |
| Cooling System | Air cooled |
| Compression Ratio | 8.8:1 |
| Induction | 3x 32mm Dell'Orto carbs |
| Ignition | Borsch electronic |
| Starting | Electric |
| Max Power | 83.3 hp / 61.2 kW @ 8000 rpm |
| Max Torque | 77.9 Nm / 57.4 lb-ft @ 7000 rpm |
| Transmission | 5 Speed |
| Final Drive | Chain |
| Front Suspension | Marzocchi air assisted forks |
| Rear Suspension | Dual Marzocchi air assisted forks, 5-way spring preload |
| Front Brakes | 100/90 -18 |
| Rear Brakes | 120/90 -18 |
| Front Tyre | 2x 280mm discs 2 piston calipers |
| Rear Tyre | Single 280mm disc 1 piston caliper |
| Wet Weight | 253 kg / 558 lbs |
| Fuel Capacity | 22 Litres / 5.8 US gal |
| Consumption Average | 41 mpg |
| Standing ¼ Mile | 12.5 sec / 107.8 mph |
| Top Speed | 137 mph |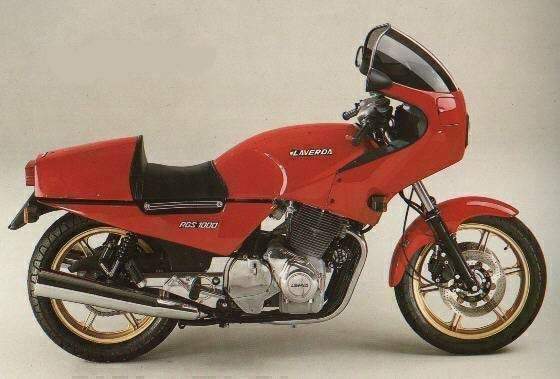 Source MCN of 1982
IT'S with a hushed and choked voice that I announce a classic has been born - the Laverda RGS. Hushed because the machine's class speaks for itself and choked because I had to give it back! Truethetriple has lostthe raunchy reputation that the marque's purist's hanker after, but like a seasoned boxer it has learned to deliver grace with its punch.
Smooth civilised lines, quiet exhaust and near faultless handling make the 981 cc RGSa thing of rare beauty and refinement. It vies closely with Honda's hand made CB1100R for top place in my 'best bike ever ridden' list. But even the Honda didn't have the charm which the Laverda delivered by the bucketful. It's a shame the factory didn't give her a proper name rather than the uninspired "RGS" tag.
For a'she'this bike definitely is, demanding all your attention before treating you to a superb blend of performance and handling that will send your head spinning. At her heart lies the tried and proven 120 degree triple, pushing out around 85bhp. But now the vibes that remain are less noticeable with the motor hung on huge rubber mounts. There's never a trace of discomfort to the rider.
She's lost the bark of her older Jota brothers but instead has an offbeat taunting hum from her exhausts that eggs on even the most sedate rider. She is wicked as well, hiding the fact that you're travelling much quicker than you think, shielded by an excellent ha If fairing. Her motor, fools you with its seemingly effortless power, coming on smoothly from just 2,000rpm and yet able to take the tacho needle deep into the red zone.
Our test model had just 700 miles on the clock and yet didn't seem tight, recording an indicated 145mph. Even allowing for speedo optimism that's going some. As most Laverda enthusiasts will be quick to point out, these motors need at least 5,000 miles under their rings before they are fully run-in. A genuine top speed of 135mph is certainly on the cards.
On the road she gave very high cruising speeds, thanks jointly to tall top gear ratio and a wind cheating fairing, resulting in excellent fuel economy - 44mpg at touring speeds of 90mph! Gearbox internal ratios have been lowered on first, second and third to promote take-off -an area where the old 120 suffered and required much slipping of clutch forquick getaways.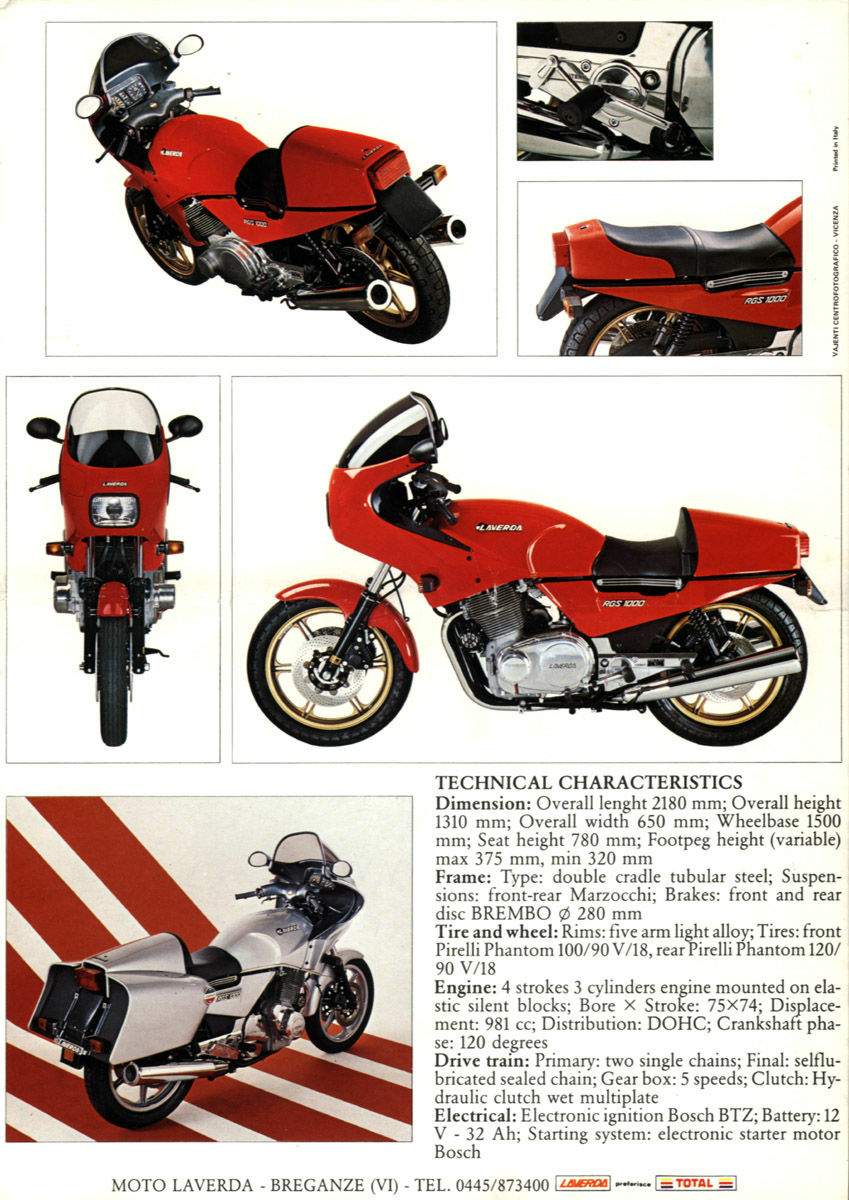 That clutch is still too heavy but at least the hydraulic operation enables smooth delivery of power. The RGS was at its happiest above 50mph where mid-range stomp is phenomenal and power surges in and just doesn't seem to stop.
But the bike constantly reminds the rider that she begs attention from the left foot -which must delicately match gear shifts with engine speeds if noiseless changes are required. Once you're used to the box, changes are positive and there are no false neutrals to send the motor screaming.
Similarly you must want to ride her or she'll treat you bad in high speed corners. These have to be driven through. No matter how fast you're going if you keep her on the boil she'll reward you with faultless handling. Ignoring bumps or changes inline she'll let the masterful hand abuse her.
But show any weakness, any unmanly uncertainty, and she will feel cheated, weaving in protest as she tries to assert dominance. However, like any good women she won't argue in public, allowing a more casual style of riding when she plays host to a pillion rider,
One of the biggest changes with the RGS is the lower rear section of the frame, which allows a seat height of just 30ins, about two inches lower than previous Laverdas. This has the effect of placing the rider "in" the bike where Jota riding meant sitting on top of the machine.
The machine now also feels less sensitive to wear on the rear tyre which caused earlier models of the Italian triple to weave through high-speed corners.
Despite the RGS's long 59.8-in wheelbase and 537lbs weight it remained remarkably flick able through country lanes. Ground clearance was good the footrests could never be touched down - the shoulders of the ultra efficient silencers were the first things to kiss tarmac at extreme angles of lean.
These rather large items have extra holes drilled in their ends to cure carburation problems discovered when ridden in countries with high temperatures.
People with posteriors softened by years of Japanese riding will not appreciate the rock hard Marzocchi suspension. The oil-damped forks on the RGS felt just right. But the air-assisted Marzocchi Strada rear shocks were just too hard for solo riding even on the softest spring setting.
Nonetheless, they did work and at high speed never gave up the ghost even if the rider paid a little in lack of comfort. But the engine's speed and the chassis' high-speed stability would all be redundant over long distances if not for the excellent sport half-fairing.
Superbly designed, the flowing lines of the fairing channel air away from the rider- even the hands are fairly well protected thanks to the fairing's shape and positioning. Fairing, side panels and convertible single/ dual seat unit are made from Bayflex, a plastic which will not shatter on impact and assumes its original shape after severe bending.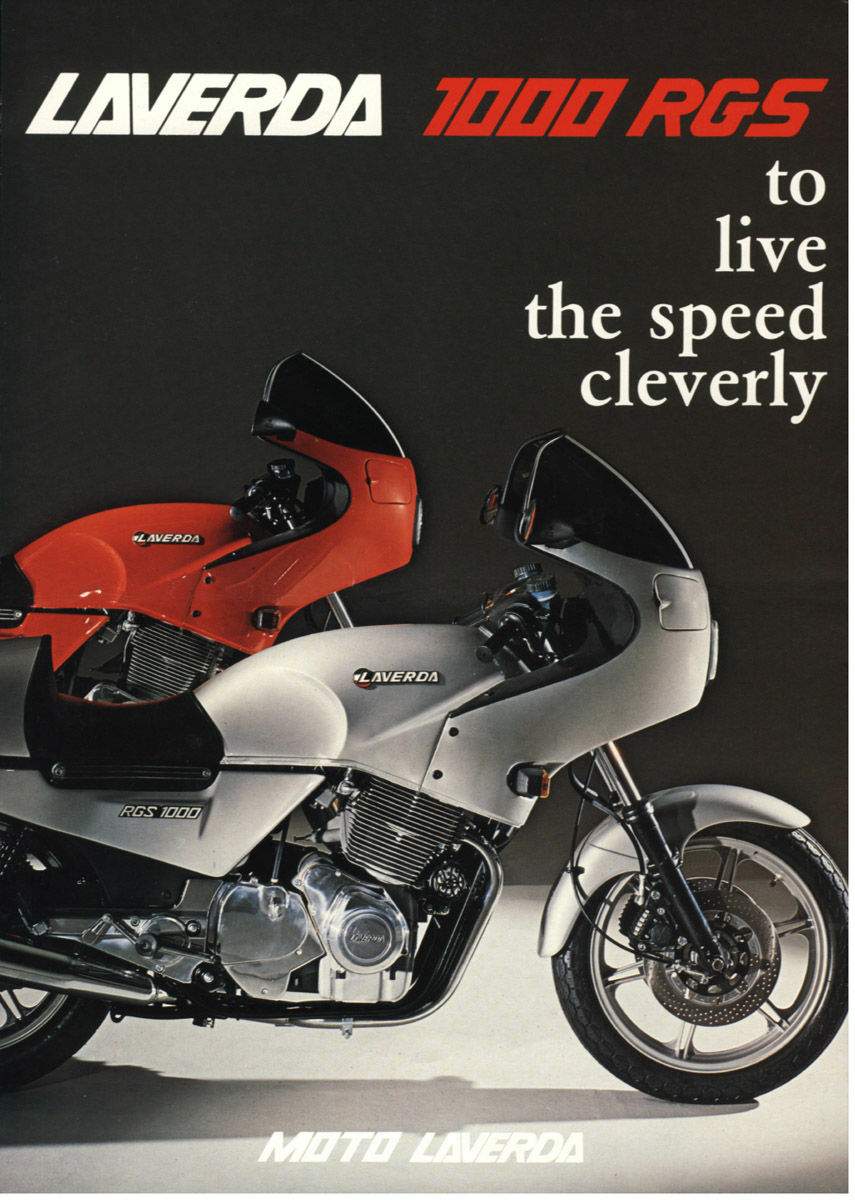 These items come coated in a skin of specially developed paint with similar bending qualities and the RGS comes in racer red or stately silver.
The tinted bubble screen provides un-distorted vision when tucked in out of the elements. But the fairing did present two problems. Firstly, it tended to judder a little at speed, blurring the twin rear view mirrors that would otherwise be crystal clear.
Apparently the factory are tackling this problem with beefed-up fairing brackets, and in any case the juddering isn't violent. Secondly, the fairing's integral design, incorporating a front filling petrol tank and a special fuel overflow tank, can cause headaches for they all have to be removed to get at the hidden spark plugs.
This shouldn't unduly worry prospective owners though because everything is retained by a few Allen bolts and can be taken off in a matter of five minutes.
Nestling in front of the rider's eyes is a rather nice instrument panel featuring an electonic tacho by Veglia. Unfortunately, in the attempt to civilise their older boxer, Laverda have installed a fuel gauge, totally redundant on any motorcycle. Indeed this one even has a silly little warning light which, with the gauge's pessimism, serves to signify you've got nearly half a tank left.
The top yoke is covered by a moulded rubber pad which hides the fact that the handlebars are no longer as adjustable as they were on Jotas.
But the riding position didn't call for much adjustment - the rider leans far forward over the long 4.8 gallon tank and immediately thinks he's a racer as he grabs the slight down-turned bars.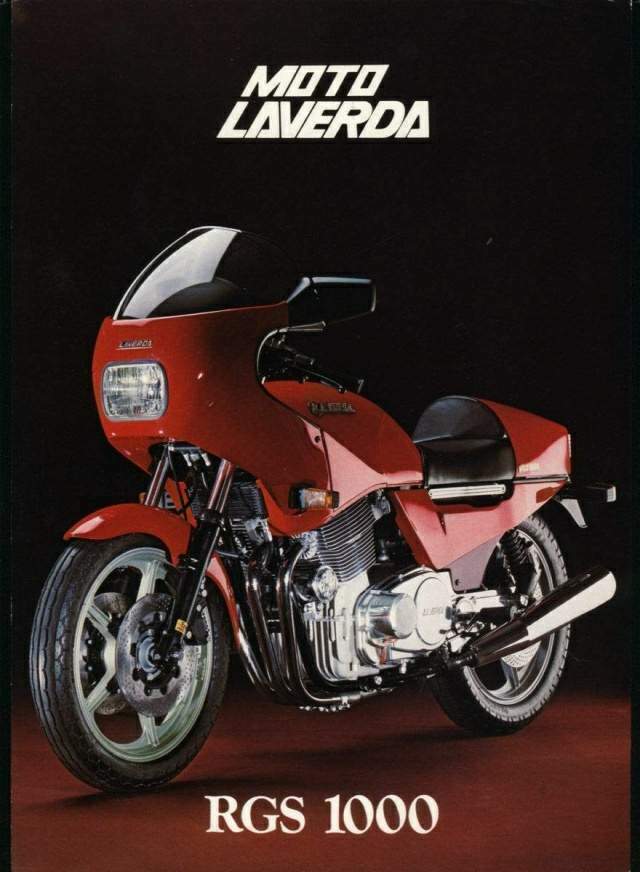 His feet naturally locate on the rear set type foot rests which offer adjustment through a complete 360 degree turn!
The rests are mounted on circular swivels and linkage rods just have to be swapped between gear change and brake pedals.
The result is a sporty but very comfortable long-distance riding position enhanced bythe wide supportive seat which got my pillion's vote as tops in the cruising stakes.
This seat itself is a superior piece of designing, offering a conversion from a single seat hump with back stop to a dual seat at a turn of a key.
You've probably noticed that up to now just about everthing on the RGS is new or revised, proving how completely Laverda have been dedicated to snatching the top spot in the sports tourer market.
So I won't bore you with descriptions of the Pirelli Phantom tyres or Brembo discs front and rear which constantly battled for supremacy - the brake fought to shred the tyres through sheer deceleration while the tyres threatened to leave the wheel rims before squealing.
The quartz halogen headlight by Bosch was adequate rather than brilliant, lacking a little in the way of penetration.
Sure, there can never be a perfect motor cycle and you'll find a number of Japanese machines easier to ride through town and requiring less in the way of brain power.
But for the biker who wants performance, handling, ability to tour, scratch or just be downright crazy and yet know the machine will always be safe, there can be no alternative to the RGS.
She's a thing of accurate beauty - which is amazing in mass production. If you want the best you will find the £3,999 necessary to own one and you will dash out and buy it. You will. PM
Source MCN of 1982