Maico 490 Alpha E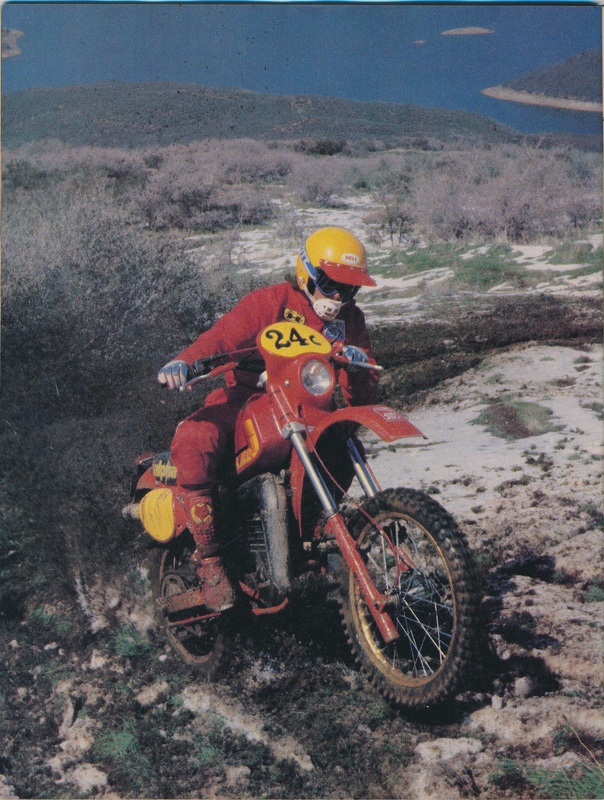 | | |
| --- | --- |
| Make Model | Maico 490 Alpha E |
| Year | 1982 |
| Engine | Single cylinder, two stroke |
| Capacity | 488 cc / 29.8 cub in. |
| Bore x Stroke | 86.5 x 83 mm |
| Cooling System | Air cooled |
| Lubrication | Wet sump |
| Recommended Oil | Bel-Ray MC3 |
| Oil Capacity | 0.60 L / 0.63 US quarts |
| Exhaust | Upswept, right side |
| Fuel System | Bing, V54, 40 mm carburetor |
| Spark Plug | Champion N-2, NGK B9ES |
| Ignition | Bosch, pointless |
| Starting | Kick start |
| Max Power | 36.8 kW / 50 hp |
| Clutch | Wet, multi-disc |
| Transmission | 5-Speed |
| Final Drive | Chain |
| Gear Ratio | 1st 2.28 / 2nd 2.17 / 3rd 1.65 / 4th 1.25 / 5th 1.00:1 |
| Frame | Dual down tube, full cradle, chrome-molydenum |
| Front Suspension | Leading axle, Maico forks, 42 mm, Corte & Cosso |
| Front Wheel Travel | 310 mm / 12.2 in. |
| Rear Suspension | Single shock |
| Rear Wheel Travel | 325 mm / 12.8 in. |
| Front Brakes | Single leading shoe, drum 136 mm |
| Rear Brakes | Single leading shoe, drum 160 mm |
| Wheels | Aluminum alloy, laced spokes |
| Front Tyre | 3.00 x 21 in., Metzeler |
| Rear Tyre | 4.50 x 18 in., Metzeler |
| Rake | 28.5° |
| Trail | 126 mm / 4.96 in. |
| Wheelbase | 1510 mm / 59.5 in. |
| Ground Clearance | 372 mm / 14.6 in. |
| Seat Height | 960 mm / 37.8 in. |
| Wet Weight | 116 kg / 256 lbs |
| Fuel Capacity | 15 L / 4 US gal |
| Review | Dirt Bike, June 1982 |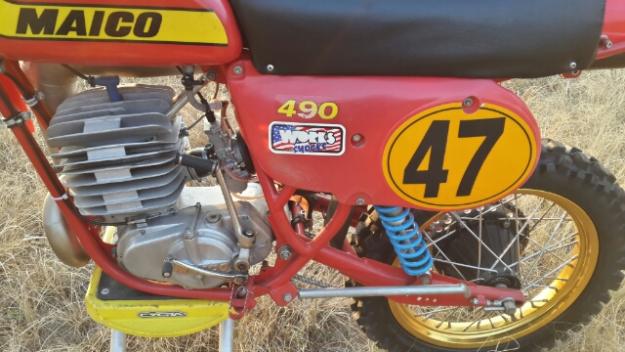 For most enduro riders, just the thought of a 490 in the woods strikes fear into their hearts. Here you have the basic power-plant from one of the fastest, meanest motocrossers to date—the Maico 490. If this awesome beast was unleashed in stock motocross trim, the violent pulses would surely spell doom for the majority. The problem is the rider's reaction time. Fifty horsepower in very tight, slippery woods catapults you from point A to point B too quickly. Result: you spend the entire time cutting your own trails, all with arms pumped up to the size of rather large trees. Not a pretty picture.

Maico's alpha E 490 isn't hurting for power. Thank the heavens Maico had the good sense to tame the 490 down a bit. By using a wide-ratio gearbox and a heavier ignition, the alpha E can be ridden controllably in very tight woods. It will pull from negative revs and go just as fast as you need. With the spaced-out gearbox there is much less shifting. Most enduros will only require the use of 2nd, 3rd and 4th gears.
Although the alpha is civilized compared to its motocross counterpart, it is not slow. With the 490, any terrain can be conquered as long as the rider's ability is there. The 490 will cut a swath with power pulses un-equaled by any enduro machine.

Maico could have used last year's suspension, frames, etc., to save some bucks for the enduro version, but they didn't. The alpha is fitted with all the latest-generation goodies from the motocross bike— same forks, single-shock rear end and chassis. This is one of the reasons that the Maico works—the bike handles. It will cut a fine line through and around just about anything. The rear looks very much like Honda's Pro-Link. It has lots of travel—12.8 inches. A Corte & Cosso shock handles the dampping chores. Dialing in the rear isn't too complex. It has 60 rebound damping settings on the shock. For our first ride we set the clicker at 20 (zero it by turning it clockwise until it stops clicking, then back off 20 clicks) and the preload at 9,5 inches (spring length). After an hour or so, the shock actually breaks in and becomes softer. Add 1/8 inch more preload and 4 more clicks on the damping (putting it at 24). For us, this seemed to be the best setup.

Up front, the forks are the same beefy 42mm jobs shared by the motocrosser - the forks work darn good. They may not be as supple as Yamaha's 43s, but they're close.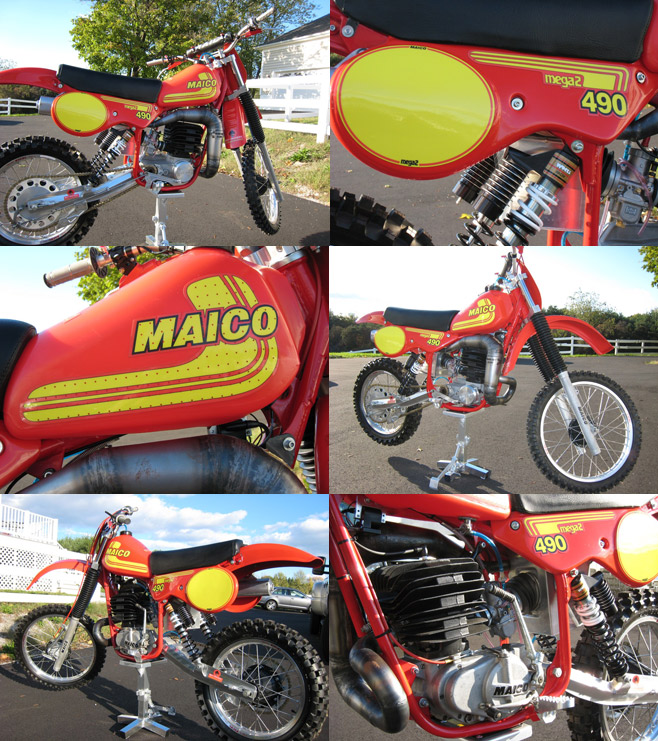 With the suspension dialed, the Maico is like a new razor—sharp. No fault can be found with the way the bike turns, tracks or handles. Woods riders might fear the fact that it has a long wheelbase (59.7 inches). Don't. The bike turns quickly when set up for your type of terrain. We'd suggest leaving it somewhat soft for the woods. Make sure that the suspension complements itself—meaning both front and rear stroke on the same level. Don't have one stiff and the other soft. The stock 9.5 inches of preload should be perfect for the rear. Up front run a little less air, probably 6 to 8 pounds.

Some riders might feel that the Maico is overly tall. This is one of the prices that must be paid for having nearly 13 inches of travel. Nonetheless, the alpha sits (with the suspension completely unloaded) at 37.5 inches. That's a half inch shorter than the Husky XCs. The Maico settles enough so that riders over 5 feet 9 inches won't have a problem touching their feet to the ground.

Use the compression release to start the bike. Sure, it looks bogus, but once the bike is warmed up all that's needed for fire is an easy stab at the lever. The engine is a 5-speeder wide-ratio unit. This, with the heavier ignition, actually enables the alpha to pull through sections in a gear higher than normal. The result is a mellow feel, almost like an automatic. But, by simply keeping the throttle pinned, blinding acceleration takes over. This lets the rider lug through tight sections, and once the terrain opens up he can keep it nailed until the fear factor sets in. Unlike most open bikes, the Maico will rev. Because of this, shifting is kept to a minimum.

Groans
Except for the front brake cable (which is a Terrycable), all the others should be thrown away before even riding the bike. They stretch and contort easily and are a sure cause for a DNF. We like the VDO speedo. What we don't like is the grim, confusing speedo drive unit and a cable that's not fit to beat your dog with. Find a speedometer shop and have some good cables made. Toss the stock grips in the garbage disposal. If you have a size 19 glove they'll be fine, otherwise forget it. While you're tossing, do the same with the spark plug cap.

The silencer is held on the pipe with a hose clamp. Even with 8 jillion pounds of torque on it, the silencer wiggles. We popped for a piece of Gates hose and a couple of clamps and rubber-mounted it. End of wiggling.

The finale....
Sure, there are a few glitches with the 490 alpha E, but we have yet to find a bike that is perfect. Basically, the package is complete. A few odds and ends need to be wrapped up, that's all. What the Maico does have is a nearly perfect chassis and suspension that allow the rider to attack any condition or situation known to man. The Maico also has handling that keeps the other manufacturers up late at night trying to duplicate it. There is an ease of riding, meaning total concentration can be spent negotiating the terrain instead of worrying whether the bike can make it. And it has a motor that completely blows the shoes off of any other enduro bike going; a motor that, by its unmatched power characteristics, literally takes the Maico alpha E right to the top of the heap in the open bike enduro wars. □