Matchless Model X Reloaded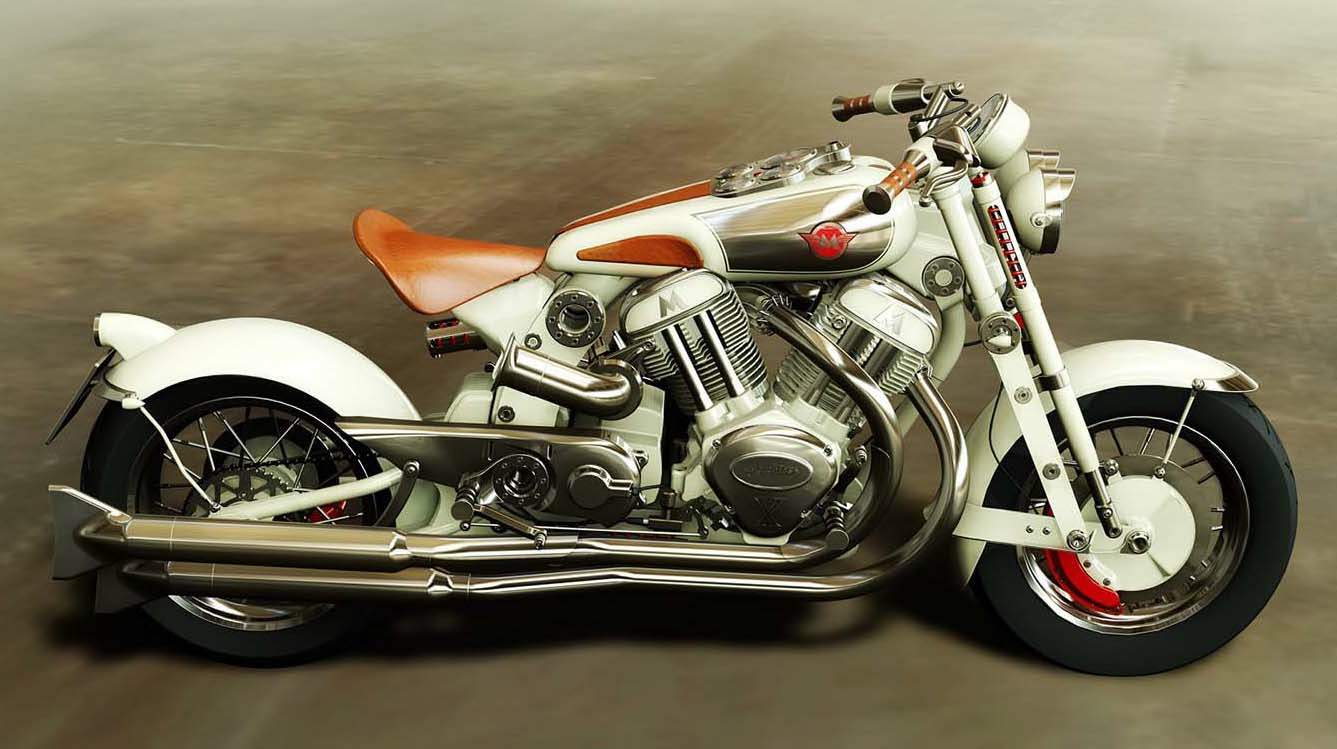 Matchless Model X Reloaded, a design inspired by the legendary Model X originally built over 80 years ago. Reloaded has been designed by renowned industry stalwart Franco Malenotti, along with the Matchless design team.
Designed to embody the much of the spirit and tradition of Matchless, Malenotti even consulted the descendants of the original founder to garner their approval for the new bike, which uses a 1916cc S&S motor at its heart.
While the styling is evocative of a bygone age, the design detail and technical solutions are anything but. The closer you look, the more the design strengths reveal themselves. The most obvious of the unique features are the dual controls, allowing the rider to have their feet firmly beneath them for spirited riding, or stretched out feet-first, without needing to make any adjustments. The seat unit can be moved up or down (from 740 to 800mm) to match peg choice to leg position, while the bars are also adjustable for height and angle. Nice touches include the tank-mounted dials, mini shock absorber for the 'floating' seat, underbelly rear shocks, and a 12-piston single front brake caliper.


Key highlights

Engine
American firm S&S will be supplying the 1916cc motor for Model X. The air-cooled V-twin will have pre-unit construction with chain primary and final drives.
Brakes
Just a single disc up from, gripped by a Discacciati 12-piston caliper with forced air-cooling. The rear is also a single disc, this time with a 6-piston caliper by the same firm.
Frame
The material isn't mentioned in the spec, but we'd assume the sectional frame to be of steel construction, while the main bridge section also doubles as an oil tank.
Seat
The single seat, and the suspended section it sits on, slides up and down by 60mm, giving a seat height of 740 to 800mm. There appears to be no possible provision for a pillion. Note the cute underslung monoshock to add some bounce to the perch.
Clocks
The face of the large central bar-mounted binnacle isn't visible in these images, but we'd assume this to be an analogue Smiths-style unit, possibly incorporating a digital readout. Four further dials are mounted on the top of the broad tank.
Controls
There is clear provision for both feet-under, and feet-forward controls on Reloaded, each being permanently linked and apparently adjustable, thus giving the rider an instant choice between riding stances.
Suspension
The fork is a Castle type unit, mimicking the original Model X. It's unclear whether the springs will be visible on the actual bike, or it the cut-outs are purely for illustrative purposes. The rear suspension is 'pull type' operating two under-belly shocks.
Wheels
The front tyre is a fat 130/90 R16, while the rear sports a 200/55 R17, both running Borrani rims, and clearly aimed more at cruising than any pretentions of sportiness. The tyre choice hasn't been disclosed, and there's no hint from the drawings.
The Facts
Matchless Model X Reloaded
Engine: 1916cc, air-cooled V-twin
Frame: Steel monocoque, integral oil tank
Fork: Castle type with shock absorber
Rear shock: Twin underbelly pull-system shocks
Front wheel: 130/90 R16
Back wheel: 200/55 R17
Front brake: 12-piston caliper, single disc
Rear brake: 6-piston caliper, single disc
Seat height: 740-800mm
Source MCN