Matchless G11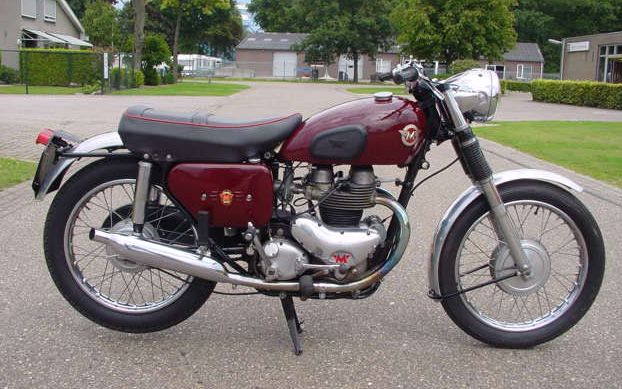 Make Model

Matchless G11

Year

1955

Engine

Parallel twin cylinder

Capacity

593 cc / 36.2 cub in.

Bore x Stroke

72 x 72.8 mm

Cooling System

Air cooled

Compression Ratio

7.5:1

Lubrication

Dry sump

Engine Oil

Hot: SAE 50

Cold: SAE 30

Extremely Cold: SAE 20

Oil Capacity

2.5 L / 5.3 US pints

Exhaust

Twin, chrome

Fuel System

Amal 376/78

Ignition

Magneto, Lucas K2F

Starting

Kick

Battery

Lucas, 6V 12 Ah

Spark Plug

KLG FE80, 14mm thread

Maximum Power

24.3 kW / 33 hp @ 6800 rpm

Transmission

4-Speed

Final Drive

Chain

Gear Ratios

1st 2.67 / 2nd 1.77 / 3rd 1.35 / 4th 1.0:1

Frame

Single top and down pipe, double cradle

Wheelbase

1403 mm / 55.25 in.

Front Suspension

Teledraulic

Rear Suspension

Swingarm, twin shocks and coil springs, oil damped

Front Brakes

Drum

Rear Brakes

Drum

Wheels

Steel, wire spokes

Front Tyre

3.25 x 19 in.

Rear Tyre

3.50 x 19 in.

Dry Weight

181 kg / 400 lbs

Fuel Capacity

17 L / 4.5 US gal

Colours

Black, Red

Source
Real Classic.co.uk
The G11 was a development of AMC's 500cc twin; in late 1955 the Matchless G9 was stretched to produced the G11, while its counterpart AJS Model 20 became a Model 30. The new 600s shared a 593cc engine (72 x 72.8mm) running 7.5:1 compression, which output around 33bhp at 6800rpm.The 600s were something of a stop-gap model, replaced three years later in the AMC line-up by the 650 Model 31 and G12. As a result, the G11 is normally over-shadowed by its larger counterpart and many folk dismiss it. 'They were interim machine that do not fall into recognised capacity limits and do not fit our accepted thinking' is how one buyer's guide dealt with the 600s.
However, these days the affordable and reliable 600s shouldn't be discounted - they're 'very pleasant to ride, with a generous spread of power and a distinctive style. They sound good, too. The 600 engine is fairly unstressed, proving little quicker but more flexible than its smaller stablemate. When new, a G11 would reach just under the ton, and the tweaked sports version was the first sports-roadster bike to travel 100 miles around MIRA's test track within one hour.
'I had the first ride out -- some 25 miles cruising along at 40 to 55mph,' reported Neil immediately after the ride. 'This is the first time in two years the bike has been ridden and she ran beautifully. Lots of 'firsts' here as it was the first time I had ridden a Matchless… and my first impressions were very favourable. This is a machine which epitomises what classic motorcycling with CBP is all about. A relaxed riding speed, comfortable seating position, nice burble to the exhaust without being obtrusive, easy starter... and a great looking machine to boot!
'I thought the gearbox was smooth and felt positive with no unexpected neutrals. The clutch was light and progressive with no slip or drag. The handling was a little heavier than some of my other machines -- particularly the BSAs -- but it instilled immediate confidence. I've yet to scrape the footpegs but give me a few more miles…!
'It's a smooth engine with no vibration to speak of either through the footrests, seat or handlebars (but then I was taking it easy for running in). The engine appears to be oil tight so far: thank goodness, because that was the reason for the strip down!'
Neil finished the day by tightening down the cylinder head, then set off the next morning on the second leg of the shake down - a further 120 gentle miles. He discovered that, as with many AMC bikes of this period, the primary chaincase is prone to leaking (you can try to fix it until the cows come home, or chalk it up to being 'one of those things'!), and noticed that a couple of the tank mounting bolts and rubbers had worked loose with the vibration. Nothing unusual there - which is why it pays to clean down the bike after a decent ride and just check that nothing has worked itself free…
So what does Neil think of the Matchless 600, now that he's clocked up some more miles? 'The good news is that she always starts first or second kick... most important. And I've decided the handling is NOT 'heavy' as I first described. The bike feels sturdy and robust, and so the handling is predictable and reassuring. Choose what words one will, but it's unfair to say that it's heavy!'
So the G11 passed its entrance exam, and is now a full time member of the Classic Bike Provence team.