Matchless G12 (all models)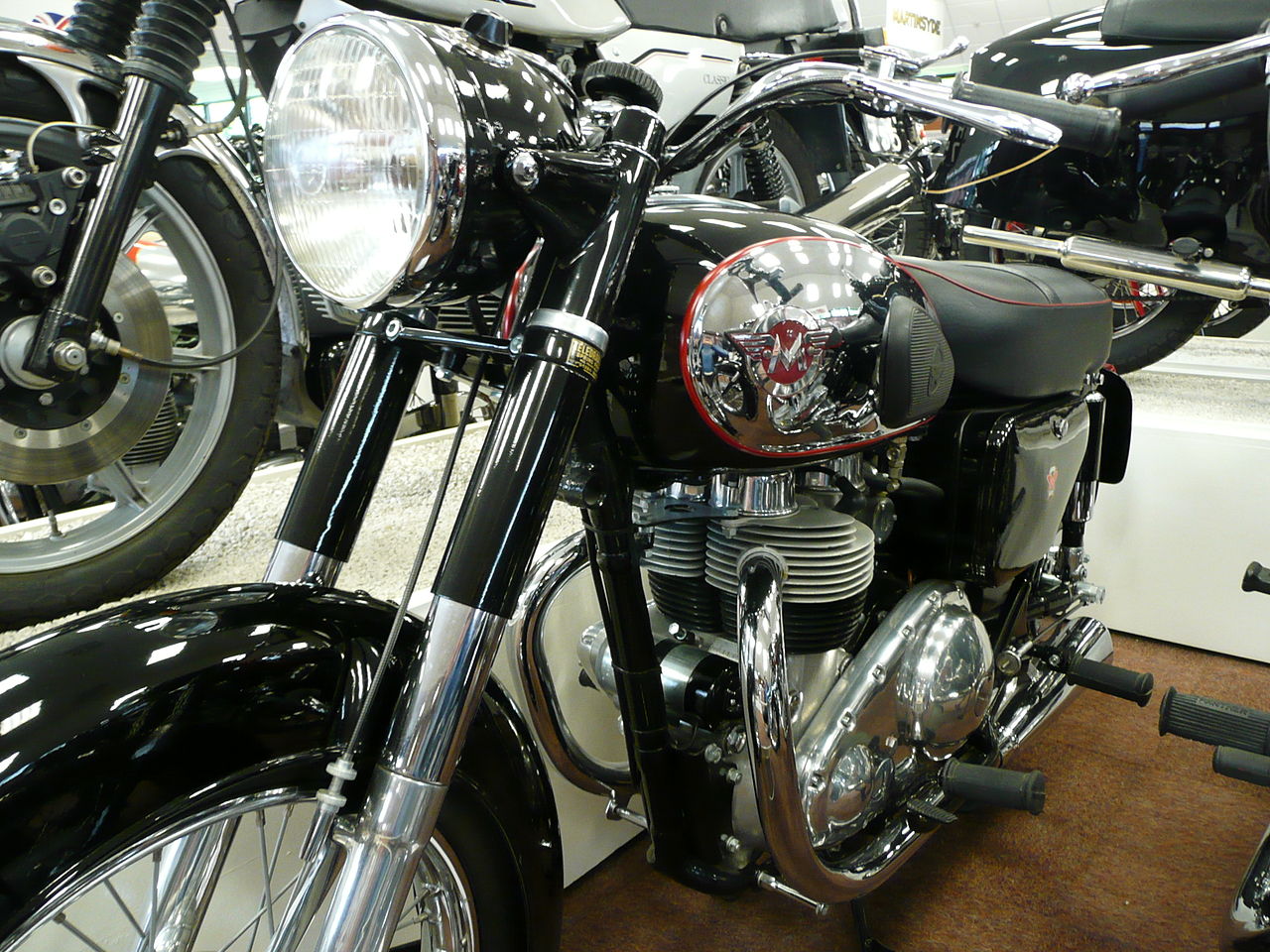 Make Model

Matchless G12 (all models)

Year

1958 - 66

Engine

Twin cylinder

Capacity

646 cc / 39.4 cub in.

Bore x Stroke

72 x 79.3 mm

Cooling System

Air cooled

Compression Ratio

G12/de Luxe: 7.5:1

CS/CSR: 8.5:1

Lubrication

Dry sump

Engine Oil

Hot: SAE 50

Cold: SAE 30

Extremely cold: SAE 20

Oil Capacity

2.5 L / 5.3 US pints

Exhaust

Twin, chrome

Fuel System

Amal 389, 1-1/8

Ignition

Lucas K2F

Starting

Kick

Battery

Lucas 6V, 12Ah

Spark Plug

G12/de Luxe/CS: KLG FE80, 14 mm thread, ¾ in. reach

CSR: KLG FE220, 14 mm thread, ¾ in. reach

Transmission

4-Speed

Final Drive

Chain, 97 links

Internal Gear Ratios

1st 2.56 / 2nd 1.70 / 3rd 1.22 / 4th 1.00:1

Maximum Power

26 kW / 35 hp @ 6500 rpm

Frame

Double cradle

Front Suspension

AMC teledraulic fork

Rear Suspension

Swingarm with twin shocks, Girling

Front Brakes

Drum, 7in. sls

Rear Brakes

Drum, 7in. sls

Wheels

Steel, wire spokes

Front Tyre

3.25 x 19 in.

Rear Tyre

3.50 x 19 in.

Dry Weight

180 kg / 396 lbs

Fuel Capacity

17 L / 4.5 US gal

Average Consumption

4.3 L/100 km / 23.4 km/l / 55 US mpg

Top Speed

153 km/h / 95 mph

Colours

Black with chrome tank panels

Source

Wikipedia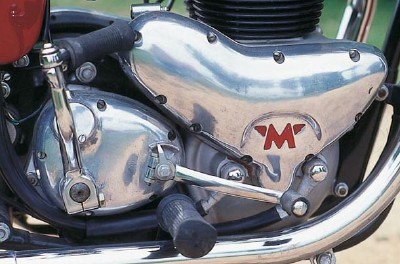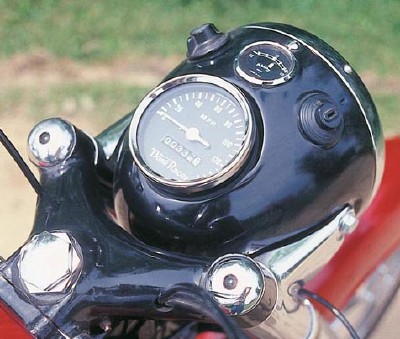 Developed in 1958 specifically to capture the potentially lucrative US market, the last G12 was produced in 1966.

The Matchless G12 was one of the last motorcycles under the Matchless name and was also produced as the AJS Model 31 by the same company. Designer by Phil Walker, AMC knew that it had to be a 650 cc (39.7 cu in) but wanted to use as many parts from the Model 11 as possible. The cylinders could not be bored out further so the stroke was lengthened from 72.8 to 79.3 mm (2.87 to 3.12 in), resulting in a capacity of 646 cc (39.4 cu in). This meant developing a new crankshaft and primary chaincase, which also provided the opportunity to add a Lucas alternator. Volume production began in September 1958.

Matchless G12 De Luxe
In 1959 the G12 was redesigned and modernised as the De Luxe with a new full cradle tubular duplex frame and a new cylinder head. Vibration had always been a problem, so the crankshaft was upgraded to nodular iron. Capable of 100 mph (160 km/h) performance, the G12 became popular with the American market.

Matchless G12 CS
The Matchless G12 CS (sometimes referred to as the CS X) was an off-road version of the Matchless G12 with improved ground clearance and a slightly upswept exhaust and an 8.5:1 compression ratio. It was not a trials competition machine but instead aimed at the 'desert racer' market in the US. While never as popular as rivals Triumph and BSA 650's in Open Class desert competition, the Matchless was powered by a torquey and reliable motor and was suspended with the superior Teledraulic front fork.

Matchless G12 CSR
The Matchless G12 CSR designation officially stood for "Competition/Sprung/Roadster," the same nomenclature used with the G80 and G50 models. It is mistakenly referenced as Competition/Sport/Road. It was dubbed the Coffee Shop Racer by its rivals. With its distinctive two-into-one 'siamese' exhaust system and upgraded camshafts the CSR was a high performance motorcycle with what was, at the time, a high compression ratio of 8.5:1, distinguishing it and the G12 CS from the other G12 models, having a 7.5:1 compression ratio. The factory diverted Chief Engineer Jack Williams from AJS 7R development to address the problems with leaks and vibration and modify the bikes for racing - with the result that Ron Langston and Don Chapman won the prestigious Thruxton 500 long distance endurance race on the AJS Model 31 counterpart to the G12. Encouraged by this victory in 1963 the G12 CSR gained the name Monarch and twin carburetors (the AJS version was renamed the Hurricane).