| | |
| --- | --- |
| Make Model | Piaggio BV 250 |
| Year | 2006 - 10 |
| Engine | Four stroke, single cylinder, 4-valve, SOHC |
| Capacity | 244 cc / 14.9 cub in. |
| Bore x Stroke | 72 mm / 60 mm |
| Cooling System | Liquid cooled |
| Compression Ratio | 10.1:1 |
| Fuel System | Electronic fuel injection |
| Starting | Electric / kick |
| Max Power | 16.4 kW / 22 hp |
| Transmission | CVT, twist and go |
| Front Suspension | Hydraulic telescopic fork |
| Front Wheel Travel | 102 mm / 4 in. |
| Rear Suspension | Dual, preload adjustable shocks |
| Rear Wheel Travel | 90 mm / 3.5 in. |
| Front Brakes | Disc, 260 mm, 2-piston caliper |
| Rear Brakes | Disc, 260 mm, 2-piston caliper |
| Wheels | Alloy rims and spokes |
| Front Tyre | 110/70 - 16 in. |
| Rear Tyre | 140/70 - 16 in. |
| Wheelbase | 1470 mm / 57.9 in. |
| Seat Height | 787 mm / 31 in. |
| Dry Weight | 149 kg / 328 lbs |
| Fuel Capacity | 10 L / 2.6 US gal |
| Colours | Midnight blue, Cortina grey |
| Review | Motor Scooter Guide, Christine Malazarte in Two Wheeled Tourist |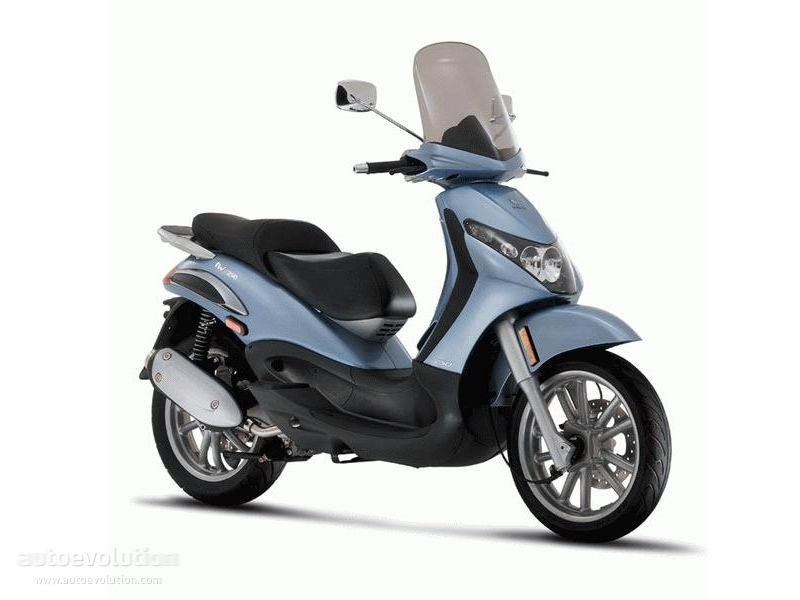 Local roads: Quick acceleration is this bike's biggest strength. It takes off immediately and reaches 40MPH with the speed of a mid-range motorcycle. If you don't watch the position of your right hand you might find yourself doing 55MPH and not even realize it. A butter-smooth automatic transmission can do that to you! Keeping up with traffic isn't even a question.

Highway use: At first I was doubtful that a 250cc scooter would be able to hold its own on the freeway, but I was quickly proven wrong as the machine screamed to 70MPH on I-270 and managed to hold 70-80MPH stably for my 25-mile commute back home. However, with a maximum speed of about 82-87MPH, I felt that a little bit more engine would be ideal for longer journeys and would be a lot less stress on the bike.

Rain: This scooter is equipped with 16" Pirelli Diablo tires that have awesome grip on wet pavement in both straightaways and in turns. Additionally, the bike remained rock solid in steady crosswinds at full highway speed. The majority of the scooter's weight is very low to the ground which also helps with its overall stability and nimbleness.

Storage space: This Piaggio is equipped with a Givi 46-liter topcase that complements the cavernous underseat storage that the bike already has. It's more than enough for a grocery trip or a long-distance journey. Additionally, the scooter also has a 12V power port under the seat to charge that cell phone or power your heated riding gear. To add to the fun, there are factory optional color-matched sidecases that bolt onto the sides of the scooter. With that much holding room, there's no reason to take the car to go to the store pick up the essentials (or a do lunch run to Chipotle for four of your co-workers and yourself)!

Fuel economy: How does 65-75 MPG sound? And that's even with highway travel! I will have to say, the BV250 is a bit of a connoisseur with gas; it likes the premium stuff. However, your wallet won't hurt much after giving it a little over two gallons for a full tank.

Conclusion: The Piaggio BV250 has been a worthy commuter that combines both the ease of twist-and-go automatic transmission and the stability of a full-sized motorcycle in a stylish package. When one thinks about the word "scooter," the first words that come to mind are "small," "slow," and "not a motorcycle." The BV250 trumps all of these views and easily proves that automatic bikes still have an essential place in the motorcycle market.

I wish more motorcyclists would go beyond that negative perception of scooters and give this bike a chance. It is a true automatic motorcycle and a spirited machine that is easy to learn and ride. I am curious, however, about its big brother, the BV500. That bike, like this one, has the potential of being a long-distance tourer, that is, if you have a lead wrist...