Make Model

Piaggio BV 350 ST

Year

2014

Engine

Four stroke, single cylinder, SOHC, 4 valve

Capacity

330 cc / 20.1 cub in.

Bore x Stroke

78 x 69 mm

Cooling System

Liquid cooled

Lubrication

Dry sump

Ignition

Electronic

Starting

Electric

Max Power (at shaft)

24 kW / 32.8 hp @ 8250 rpm

Max Torque

32.3 Nm / 3.29 kgf-m / 23.8 lb-ft. @ 6250 rpm

Clutch

Multi-disc centrifuge in oil bath

Transmission

CVT, with torque server

Final Drive

Shaft

Frame

Twin cradle, high-strength steel tubes

Front Suspension

Telescopic fork, 35 mm

Rear Suspension

Dual hydraulic shock absorber

Front Brakes

Single, 300 mm disc

Rear Brakes

Single, 240 mm disc

Front Tyre

110/70 - 16 in.

Rear Tyre

150/70 - 14 in.

Dimensions

Length: 2111 mm / 83.1 in.

Width: 759 mm / 29.9 in.

Wheelbase

1560 mm / 61.4 in.

Seat Height

787 mm / 31 in.

Dry Weight

177 kg / 390 lbs

Fuel Capacity

12.9 L / 3.4 US gal

Consumption average

3.6 L/100 km / 27.6 km/l / 65 mpg

Top Speed

138 km/h / 86 mph

Colours

Ocean blue, Matte silver

Review
Motorbike Writer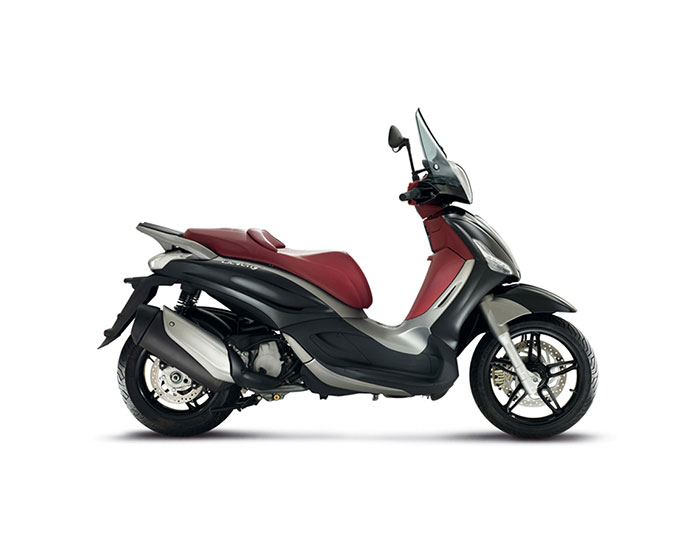 Before you get in your car on Monday morning, ask yourself this: Are you looking forward to your commute? Get yourself a BV and you will. Twist the throttle and traffic disappears behind you. The BV 350ís innovative technology provides agility, efficiency and riding pleasure at the highest levels. The BV 350 features a state-of-the-art, single cylinder 350cc engine. With the power of a 400cc and the compact dimensions and light weight of a 300cc, the BV 350 sets a new standard in the maxi-scooter segment, making it the most powerful scooter in its class. The BV 350 is complimented with Italian design and the highest attention to detail and finishing.

The new Beverly Sport Touring is the first scooter on the market which can be equipped with the ABS/ASR package for optimum vehicle management even in the most delicate situations, such as in the event of a sudden loss of grip in emergency acceleration or braking.

Both the wheels are equipped with a tone wheel and a sensor for instantaneous detection of rotation speed. The sensors are connected to a two channel hydraulic control unit which, through servo valves regulates the pressure to the braking system, activating the ABS at the moment in which the wheel tends to lock up.

The final result is total and constant grip for the tyres, with a consequent decrease in the braking distance.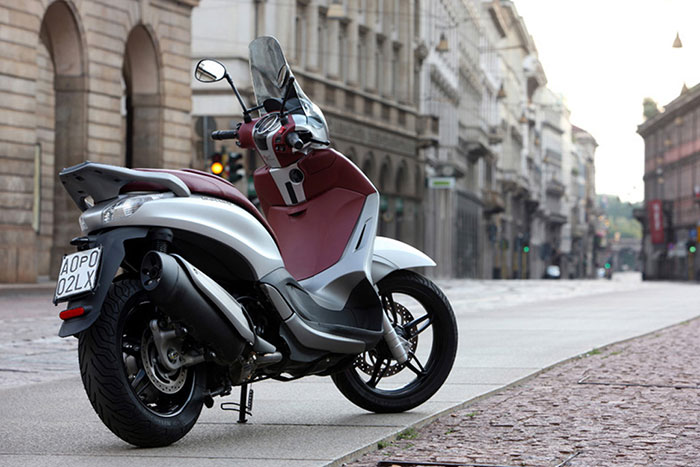 The Piaggio BV 350 is Italian, so it has plenty of style and grace. Itís not the conventional Vespa retro shape, but a more modern, aerodynamic design with a big windscreen providing plenty of protection, although there is a little buffeting for tall riders at highway speeds. Modern touches are the LED running lights up front and LED taillights down the back.

The Piaggioís cockpit is also very modern and stylish with three large dials for speedo, temperature and fuel which are all very easy to read. Inside the speedo is an LCD screen that has a big clock display plus odo, two trip meters, batter charge and ambient temperature which you can toggle through with the mode button on the right handlebar. There is also a passing switch on the bottom of the headlight switch.

Riding position on the Piaggio is neutral; like sitting at a table with your hands resting on the top. The seat is high at 795mm, but it is narrow at the front so short riders can slide forward and put one or even two feet on the ground at the lights. Taller riders can shift back and prop their backside into the lumbar support. Itís comfortable around town but on the highway, I just feel like Iíd like to move my feet forward a touch. Shame they didnít chisel the footwells out a little more.

In between your feet is a hump for the 13-litre fuel tank. It prevents your feet sliding around, but more importantly it keeps the centre of gravity low for greater stability and maneuverability. Many scooters have the fuel tank in the under-seat storage area which is inconvenient as fuel can spill over the contents. If you spill any fuel on the Piaggio it just dribbles into the footwell where you can easily wash it away. Unfortunately, the lockable fuel cap is not hinged so you have to find somewhere to place it while you refuel.

Riders and pillions will enjoy the thick, contoured seat cushion which gets wider toward the back. Rear foot pegs fold away when not in use so the BV350 looks sleek when riding solo. There are wide grips on the rear rack for the pillion, but tying luggage to the rack is difficult. Instead, you should buy the optional top box which will also act as a pillion back support. The side stand is short, but very sturdy and is suitable for most applications. On downward slopes, you can easily deploy the centre stand.

Like most scooters, it has a twist-and-go transmission with no gears to shift. Donít be alarmed when I say it has a wet clutch. Itís still a continuously variable transmission (CVT) as found in many automatic cars these days, but the wet clutch just means the clutch plates are bathed in oil so it runs quieter and should give longer life and reliability. Open up the throttle and you will be surprised how quickly it leaps away at the lights. Once you hit 40km/h there is a surge of acceleration which hurtles you to 80km/h before you realise. On many occasions, I sprinted off the line in the traffic-light derby only to have to apply the brakes and bring it back to the urban 60km/h limit.

The fuel-injected 330cc single is not only meaty with plenty of low and mid-range torque, but it is smooth and quiet. At idle it makes the windscreen and mirrors vibrate, but as soon as you twist the grip, that disappears. The single will also spin up to maximum power of 24.5kW at more than 8000 revs without a tingling or buzzing sensation.

Unlike many scooters, this scoot has engine braking, which means you wind off the throttle and it slows down without having to brake hard. It should help save on disc pads. The linked brakes are well up to the task of bringing the 177kg (dry) scooter to a halt thanks to a single 300mm disc up front and a 240mm disc in the rear. Squeeze the right lever and two of the three front calipers operate. Squeeze the left lever as well and the third caliper activates as well as the two pistons in the rear. I grabbed both brakes as hard as I could in one test and felt like I was about to snap my wrists, it pulled up so quickly. Even then, only the back brake activated the ABS which was very smooth and gentle, rather than feeling like a rusty ratchet. In future emergency braking I ensured I braced myself with my feet first.

Handling is similar to a motorcycle once you get used to not wrapping your legs around bodywork. Up front are 35mm telescopic forks like youíd expect on a motorcycle, rather than a leading-link set-up found on most scooters. Together with the wide handlebars, it provides a very positive feeling in the steering and rock-solid stability on the highway. Likewise, at the rear are motorcycle-style double shock absorbers with adjustable preload to take account of a passengerís weight.

Up front is a 16-inch wheel as has been used in Grand Prix races. It is shod with a high-profile tubeless tyres which the engineers have matched to the forks for a very competent front end. Piaggio BV350 scooterThe first time I hit a big pothole I gritted my teeth, but the Piaggio just ran over it without a headshake or violent shock through the bars. Equally, the rear coped well with the hazard, neither hitting the bump stops nor unloading in a pogo action. Through corners the Piaggio flicks in quickly, carries a high lean angle hampered only be the centre stand on left turns and there is plenty of grip from the wide tyres. It isnít at all perturbed by mid-corner bumps and irregularities with none of the wallowing or bar shimmy we expect from scooters. Exiting a corner, just wind on the throttle and the CVT keeps the engine in the optimum powerband for lively acceleration.

It also has quite a long wheelbase for a scooter which provides high-speed stability while the aerodynamic body shape means it isnít shaken around by truck buffeting on the highway. I zapped up a highway on-ramp, giving the Piaggio plenty of throttle as I looked over my shoulder and picked my spot to bravely merge in front of a Mack truck. When I looked back at the speedo I was going almost 130km/h, so highway overtaking is not an issue.
On test, I achieved similar figures to the claimed 3.9L/100km which means more than 300km of range, making a mockery of the city limits.
Review: Mark Hinchliffe