Piaggio LT 50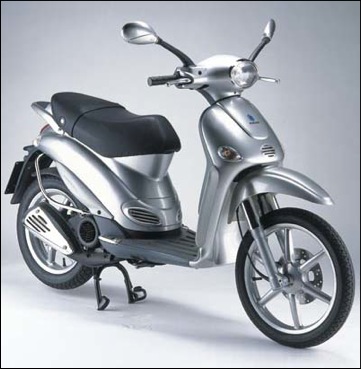 | | |
| --- | --- |
| Make Model | Piaggio LT 50 |
| Year | 2003 - 2004 |
| Engine | Two stroke, single cylinder |
| Capacity | 49 cc / 3.0 cub in. |
| Bore x Stroke | 40 x 39.3 mm |
| Cooling System | Air cooled |
| Compression Ratio | 10.3:1 |
| Fuel System | Carburetor |
| Starting | Electric / kick |
| Max Power | 3.8 kW / 5.1 hp |
| Transmission | CVT, twist and go |
| Front Suspension | Hydraulic telescopic fork |
| Rear Suspension | Single hydraulic shock absorber |
| Front Brakes | Disc, 220 mm |
| Rear Brakes | Drum, 140 mm |
| Wheels | Alloy rims and spokes |
| Front Tyre | 70/90 - 16 in. |
| Rear Tyre | 90/80 - 16 in. |
| Wheelbase | 1306 mm / 51.4 in. |
| Dry Weight | 88.5 kg / 195 lbs |
| Fuel Capacity | 5.5 L / 1.5 US gal |
| Top Speed | 62 km/h / 39 mph |
| Colours | Pearl, Platinum, Aquamarine, Royal blue, Black |
| Review | Motor Scooter Guide |
Piaggio's quirky LT scooter series was first offered in the USA for the 2003 model year, which was the same year Piaggio entered the USA market under their own name (as opposed to the Vespa name). The LT 50 and LT 150 were offered again for 2004, but after that both models were dropped.

The LT 50 is quite a peppy scooter since it's a 2-stroke. Acceleration is good and top speed is about 40mph. Should you desire, top speed can be increased quite a bit if you venture into the aftermarket parts scene. Higher power does come at the price of reliability and fuel economy though, so the choice is yours.

The LT scooters offer good handling with their large wheels adding stability and smoothness over uneven road. This is particularly noticeable with the LT 150 since you can read higher speeds where the limitations of other smaller wheeled scooters are more obvious. The suspension is also considered to be fairly good.

Stylistically, the LT scooters are somewhat of a quirky twist on Vespa's ET scooter which was designed around the same time. The LT almost looks like an ET scooter with huge wheels added and a more open rear end. The headlight and legshield area shows obvious ties to this sibling. Large wheeled scooters are a tough design to pull off, and Piaggio did a reasonable job with the LT50 and LT150. One thing that can be said about the LT scooters is that they definitely have personality, which is something some people argue is lacking in Piaggio's newer Fly scooters.

In terms of amenities, the LT 150 falls a bit short. It has a glovebox, but the underseat storage area is quite tiny due to the large rear wheel eating into this space. You can't fit any sort of a helmet under there, so you'll need to find another safe storage spot for it on rainy days. The LT 50 fairs a bit better in underseat storage because it has less emissions stuff on top of the engine. Accordingly, the LT50 has a bit larger underseat bucket.

Overall, the LT scooters are unique rides from Piaggio. They are nicely powered, unique and reliable. It's too bad this line of scooters didn't live on, but overseas these scooters are still sold (in newer versions) called the Piaggio Liberty.