| | |
| --- | --- |
| Make Model | Piaggio MP3 250 |
| Year | 2006-09 |
| Engine | Four stroke, single cylinder, SOHC, 4 valve |
| Capacity | 244 cc / 14.9 cub in. |
| Bore x Stroke | 72 x 60 mm |
| Cooling System | Liquid cooled |
| Fuel System | EFI |
| Ignition | Port Injected Alfa/n type with closed loop system, Lambda sensor in exhaust pipe and three-way double catalytic converter |
| Starting | Electric |
| Max Power | 16.5 kW / 22.5 hp @ 8250 rpm |
| Max Toque | 21 Nm / 2.14 kgf-m / 15.5 lb-ft. @ 6750 rpm |
| Transmission / Drive | CVT, Twist and go |
| Frame | Twin cradle, tubes in high tensile steel |
| Wheelbase | 1488 mm / 58.6 in. |
| Seat Height | 780 mm / 30.7 in |
| Front Suspension | Parallelogram composed of four aluminium arms supporting two steering tubes cantilevers. |
| Front Wheel Travel | 85mm / 3.3 in. |
| Rear Suspension | Two dual effect hydraulic shock absorbers and adjustable spring pre-load. |
| Rear Suspension | 110mm / 4.3 in. |
| Front Brakes | 2x 240mm discs 2 piston caliper |
| Rear Brakes | Single 240mm disc |
| Front Tyre | 2 x 120/70 -12 |
| Rear Tyre | 130/70 -12 |
| Dry Weight | 204 kg / 450 lbs |
| Fuel Capacity | 12 Litres / 3.2 US gal |
| Colours | Graphite black, Cortina gray |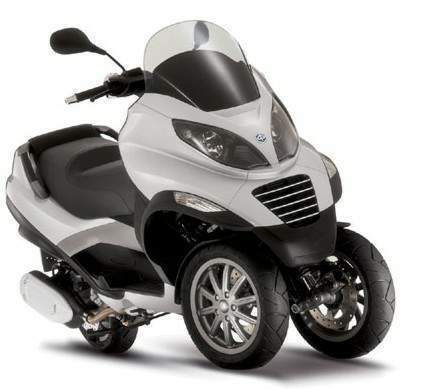 Piaggio Mp3 - First Ride
Seduced Into a Threesome - Only Italy Could Make Three Wheels Cool
Writer: Dexter Ford
Photographer: Courtesy of Piaggio

Scooters don't get much respect in the testosterone-stoked world of 160-horsepower superbikes. And they're not known for representing the pointy end of the moto-tech spear either. Until now.

The Piaggio MP3 is designed to be a kinder, gentler Euro-scoot, for fashion-forward folk who despair of getting grease on their Guccis. Its fully leanable, three-wheeled architecture is intended to take the fear out of latt-fetching while dealing with crazed traffic, cobblestones, spilled diesel, greasy street-car tracks, etc.

That was the goal. But the result might just change motorcycling.

To make its dual front wheels feel and act as one, Piaggio's engineers devised a complex parallelogram steering/suspension system that forces the front wheels to lean together yet remain independent over bumps. A slick electro-hydraulic system locks the leaning linkages when stationary to keep the MP3 upright, and you can manually trigger the lock so you don't have to extend a foot when you stop. If Britney had been aboard one of these instead of riding shotgun in Paris' Mercedes that night, we'd have seen a lot less of her nether regions.

When the light turns green, just crank the throttle and go-the tilt lock switches off automatically, leaving you with what feels like a conventional scooter. The CVT transmission lets the liquid-cooled, fuel-injected, 244cc single whir away unsupervised beneath all that curvilinear bodywork, exhaling sweet nothings through its three-way catalytic converter.

The MP3 is motorcycle-narrow, so you can cut and thrust through traffic. The claimed top speed is 75 mph, but I saw an indicated 80 on the freeway. The comprehensive bodywork and short windscreen keep you dry, the plush seat is comfortable and there's plenty of legroom. You may look-and feel-silly, but at least it's a comfy silly.

Braking is amazing. With two sticky contact patches and no fear of falling, you can decelerate like an F-18 hitting the three-wire. But it's in the corners that this thing really makes history. You can run it in hot, hammer the brakes, bank it like a P-51 at the Reno Air Races and proceed to make mincemeat of mortal sportbike riders. Going downhill, it's a non-stop grin-fest. Knowing that the front end will merely slide allows you to ride with giddy freedom, no matter what the road conditions.

The MP3 is not designed for this kind of foolishness, but somebody forgot to tell it. Front suspension travel is short, at just over 3 inches, and the ample unsprung mass of two separate leading-link suspension arms, complete with individual brakes, can produce quite a thump when running over sharp ridges or potholes. But other than that, it's just a whole lot of giggling, centerstand-grinding fun. Word has it there's a 500cc version in the works, which would make this puppy nearly as much fun going up as it is going down.