Make Model

Piaggio X8 250

Year

2006 - 07

Engine

Four stroke, single cylinder, SOHC, 4 valve

Capacity

244.3 cc / 14.9 cub in.

Bore x Stroke

72 mm x 60 mm

Cooling System

Liquid cooled

Lubrication System

Separate with automatic mixer

Fuel System

Injection

Ignition

Inductive

Starting

Electric

Max Power

16.2 kW / 22 hp @ 8250 rpm

Max Torque

20.2 Nm / 2.06 kgf-m / 14.9 ft-lbs @ 6500 rpm

Transmission

CVT, twist and go

Final Drive

Belt

Clutch

Automatic, centrifugal, dry

Front Suspension

Hydraulic telescopic fork, 35 mm Ĝ

Rear Suspension

Dual, preload adjustable shocks

Front Brakes

Single disc, 260 mm, 2-piston

Rear Brakes

Single disc, 240 mm , 2-piston

Wheels

Alloy rims and spokes

Front Wheel

3.50 x 14 in.

Rear Wheel

3.00 x 12 in.

Front Tyre

120/70 - 14 in.

Rear Tyre

130/70 - 12 in.

Frame

Double cradle, high strength tubular steel

Dimensions

Length: 2070 mm / 81.5 in

Width: 760 mm / 29.9 in.

Wheelbase

1490 mm / 58.7 in.

Seat Height

785 mm / 30.9 in.

Dry Weight

171 kg / 377 lbs

Fuel Capacity

12 L / 3.2 US gal

Tank Reserve

1.8 L / 0.48 Us gal

Consumption Average

3.4 L/100 km / 29 km/l / 68 US mpg

Top Speed

126 km/h / 78 mph

Colours

Black, Light grey, dark grey and blue

Review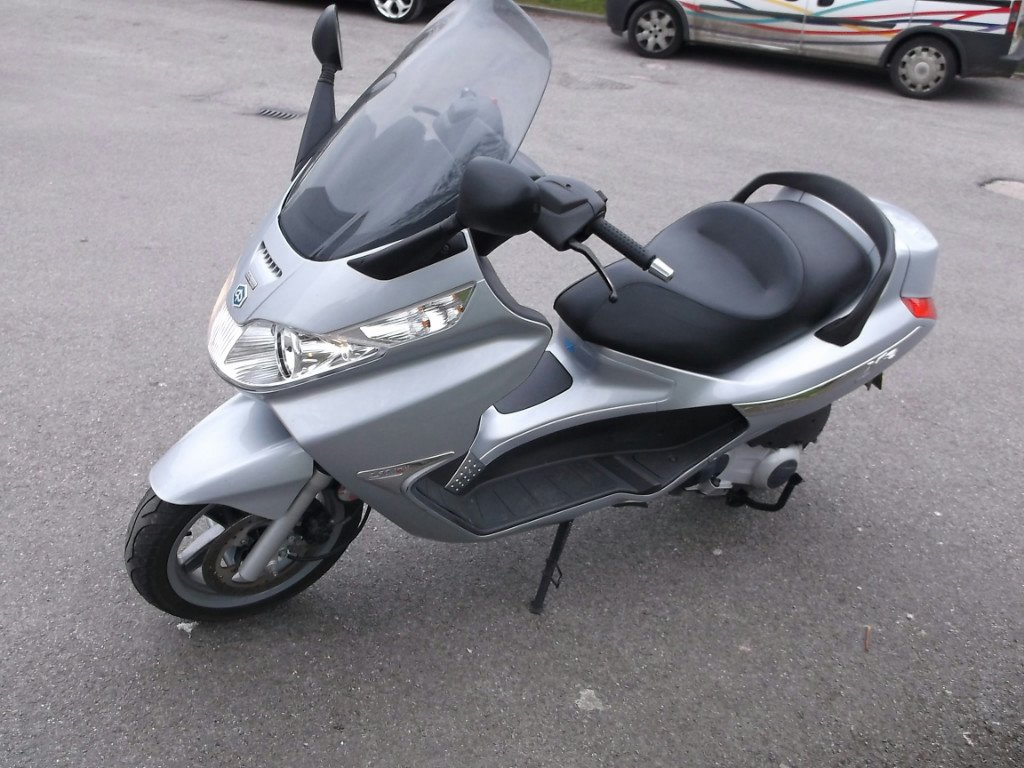 It's a 250cc touring scoot, with quite a few features that you won't find on many other 250s, A stylish face adds to the X8's classy appearance. including electronic fuel injection (the reason behind the 'i.e.' at the end of its model name).

It offers pretty decent protection from the elements courtesy of its large screen and encapsulating bodywork, and its instrumentation is comprehensive, comprising fuel level, engine temperature, trip meter, odometer and speedo. There's also a clock next to the speedo, which looks massive, but then I guess it's of more use than a tacho given the automatic scooter transmission.

There's a massive 56lt underseat storage area, which can be accessed either by raising the seat or opening the rear 'boot' - both these actions accomplished either by pressing a button on the handlebars, lifting a catch near the fuel cap or - in a surprising touch of gadgetry - a remote key fob.

The seat height has been dropped from the X9'sDetailInstruments 790mm to 785mm, but those on the shorter side could still struggle a little, as its seat is quite wide.

The X8 is nicely put together and has a high quality finish, and combined with all the practicality its bodywork and storage space afford, I was really hoping I'd enjoy it through and through.

The trouble is, I didn't. Let me say this: there's absolutely nothing wrong with this scooter, it's just that I struggled to find any aspect of its performance that excited me. Its liquid-cooled, four-valve single-cylinder engine is peppy enough on paper, but combined with its 171kg claimed dry weight, I found it a lacking. Punch from a standing start is where a scooter comes into its own in city traffic, but the X8 simply felt flat up until the 20km/h mark, where a decent surge of torque kicked in.

Embracing it in its GT brief and getting it out on the open road revealed that highway-speed overtakes simply weren't on the agenda - once you're above 60 or 70km/h there just isn't much oomph left to push that speedo needle on, although it'll roll along happily at 110km/h all day long.

Its touring-oriented bodywork means that from mirror tip to mirror tip it's actually pretty wide for a 250cc scoot, which means you won't slip through peak hour traffic quite as easily as perhaps you'd like.

Other niggles included a slightly recessed ignition I couldn't actually see while sitting on the bike (making it hard to actually get the key in and start the thing), and a self-retracting sidestand, which in my mind is simply an embarrassing moment waiting to happen.

Right - having got all that off my chest, I can concentrate on the positives. It's really very stable at open road speeds, and there's very little in the way of turbulence in general for the rider. Its stepped seat with lumbar support is comfortable too, so if its lack of speed isn't an issue, this really is a scoot you could quite easily tour on, providing you're not on the taller side (I'm 6", and I found it a little cramped).

It's economical, returning 26.8 km/lt during the time it spent in my care, which means you're looking at close on 300 km before stopping for fuel. It stops well enough and it handles nicely too, which a good amount of ground clearance meaning you shouldn't ever need to grind anything.