| | |
| --- | --- |
| Make Model | Piaggio X9 Evolution 500 |
| Year | 2005 - 13 |
| Engine | Four stroke, single cylinder, SOHC, 4 valve |
| Capacity | 460 cc / 28.1 cub in. |
| Bore x Stroke | 92 mm x 69 mm |
| Compression Ratio | 10.5:1 |
| Cooling System | Liquid cooled |
| Fuel System | Electronic fuel injection |
| Starting | Electric |
| Max Power | 29.1 kW / 39 hp @ 7250 rpm |
| Max Torque | 43 Nm / 4.4 kgf-m / 31.7 ft-lbs @ 5500 rpm |
| Transmission | CVT, twist and go |
| Final Drive | Belt |
| Front Suspension | Hydraulic telescopic fork |
| Rear Suspension | Dual, preload adjustable shocks |
| Front Brakes | Double disc, 260 mm, 2 -piston, Brembo (ABS from 2006) |
| Rear Brakes | Single disc, 240 mm, 2-piston caliper, Brembo (ABS from 2006) |
| Wheels | Alloy rims and spokes |
| Front Tyre | 120/70 - 14 in. |
| Rear Tyre | 120/70 - 14 in. |
| Dimensions | Length: 2130 mm / 83.9 in. |
| Wheelbase | 1529 mm / 60.2 in. |
| Seat Height | 780 mm / 30.7 in. |
| Dry Weight | 206 kg / 454 lbs |
| Fuel Capacity | 15 L / 3.9 US gal |
| Colours | Silver, Black, Imperial blue |
| Review | Motor Scooter Guide, Motorcyclist Online |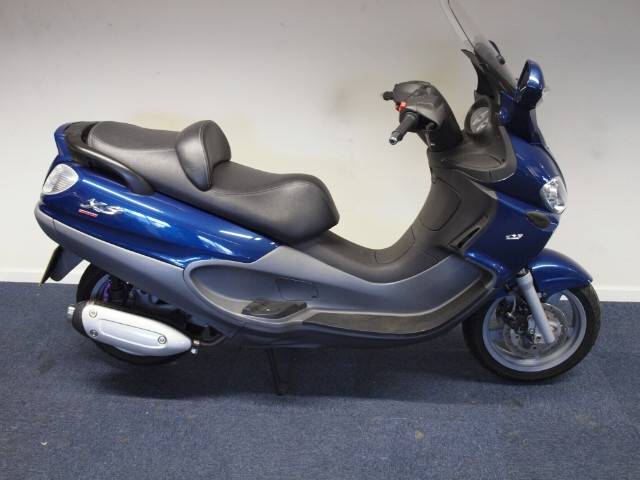 Providing the propulsion for the X9 was a variant of Piaggioís MASTER engine. The motor is Piaggioís go-to engine for their larger models including the X9, MP3 400, MP3 500 and BV 500. This motor is a nice liquid cooled, 4-valve design that features fuel injection as well. Itís a nice advanced motor that provides good power, while being a little sluggish off the line. Itís also quite reliable and easy to start. Overall itís a very nice engine but with mediocre fuel economy. Piaggio claimed the X9 manages 65mpg, but real world mileage is typically about 45-50mpg which isnít that much better than a small fuel efficient car. While the X9 never really caught on in the USA, you can rest assured that OEM and aftermarket parts are going to be available for decades to come thanks to its popularity overseas.

Storage & Convenience
Like a good maxi should, the X9 offers a great array of convenience features. There is a three way adjustable windshield, a comfy backrest, a 12v socket to charge your electronics and a great storage area with automatic lighting inside. The brakes are also excellent with this scooter thanks to a wise decision to equip Brembo disc brakes front and rear. Braking duties up front are handled by dual 260mm Brembo discs that do an excellent job bring this large (but not overly heavy) scooter to a nice stop. Itís impressive that Piaggio managed to offer all of these features at the same price point as the scooter value champ Kymco. Competitors from Honda, Yamaha and Suzuki are all more expensive.

Comparison
Overall, the X9 slots in as a nicely equipped maxi scooter that should appeal to anyone wanting full maxi-scooter convenience. Like Apriliaís Atlantic 500, the X9 never sold that well which is a bit surprising considering itís reasonable MSRP and thoughtful design. Prospective maxi-scooter buyers would do well to browse the classifieds for an X9. A few years old X9 in nice shape could provide a whole lot of maxi scooter enjoyment for a very reasonable price.

If you are looking at a maxi-scooter as a way to save on gas costs, then you may want to look at a smaller 250cc model. However if you are looking for a maxi-scooter from an enthusiasts perspective and see a maxi-scooter as a great way to travel the open road, then the X9 is a fine machine.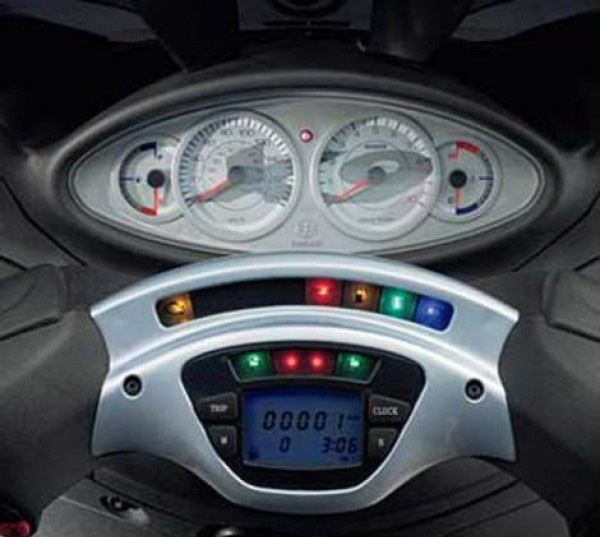 Extract from Motorcyclist Online:
At first glance, the thing that stands out about this bike is its size. While some scooters weigh less than 200 lbs., the 2005 Piaggio X9 weighs in at a solidly built 470 lbs., to go along with its 84.3 inch length, and 34.7 inch width. The scooter's 30.7 inch seat height gives the owner a clear view of his or her surroundings on the open road. One-piece passenger seating also allows for a companion to join for the ride. The 2005 Piaggio X9 comes in two different colors: Steel Gray, and Imperial Blue.

Yet despite its massive size, the 2005 Piaggio X9 features a variety of specs that help provide a smooth ride when its wheels hit the pavement. This scooter's telescopic front end suspension with 3.5 inches of front travel, combine with its steel, single sided swing arm rear suspension and 3.5 inches of rear travel, to allow for easy riding on all terrain. The bike is also equipped with a pair of tubeless, aluminum wheels that measure in at 14 inches in diameter and 3.5 inches in width, while the scooter's Pirelli tires further enhance the riding experience. A pair of rear shock absorbers help the bike to remain stable, regardless of the road surface.

No conversation about the 2005 Piaggio X9 would be complete without discussing its powerful, single cylinder, 4-stroke engine. The fuel injected engine has a 460cc displacement, 3.62 x 2.71 inches of bore and stroke, with a 10.51 compression ratio, all of which combines to create 7500 RPM horsepower and 37 ft. lbs. of torque. This bike also has a continuously variable transmission with primary belt drive, and comes with an electric/kick starter. Because of its unique specs, the 2005 Piaggio X9 requires premium fuel.