Make Model

Piaggio Zip 50 2T

Year

2014

Engine

Two stroke, single cylinder, Hi-PER2

Capacity

49.4 cc / 3.0 cub in.

Bore x Stroke

39 mm x 41.8 mm

Cooling System

Forced air cooled

Lubrication

Automatic mixer controlled by engine speed

Fuel System

Carburetor

Ignition

Electronic

Starting

Electric / kick

Max Power

3.3 kW / 4.5 hp @ 6700 rpm

Max Torque

4.3 Nm / 0.44 kgf-m / 3.17 lb/ft @ 6500 rpm

Transmission

CVT, with torque server

Clutch

Automatic centrifugal dry clutch

Frame

Single cradle, high strength tubular steel

Front Suspension

Hydraulic telescopic fork

Front Wheel Travel

75 mm / 3.0 in.

Rear Suspension

Hydraulic single shock absorber

Rear Wheel travel

74 mm / 2.9 in.

Front Brakes

175 mm disc

Rear Brakes

110 mm drum

Front Tyre

100/80 - 10 in.

Rear Tyre

120/70 - 10 in.

Dimensions

Length: 1700 mm / 66.9 in.

Width: 680 mm / 26.8 in.

Wheelbase

1200 mm / 47.2 in.

Seat Height

Adjustable 750 - 780 mm / 29.5 - 30.7 in.

Dry Weight

89 kg / 196 lbs

Fuel Capacity

7.3 L / 1.9 US gal

Consumption Average

2.3 L/100 km / 44 km/l / 103 US mpg

Colours

Midnight blu, Nero Lucido, Bianco Ottico

Review
Ace Scooters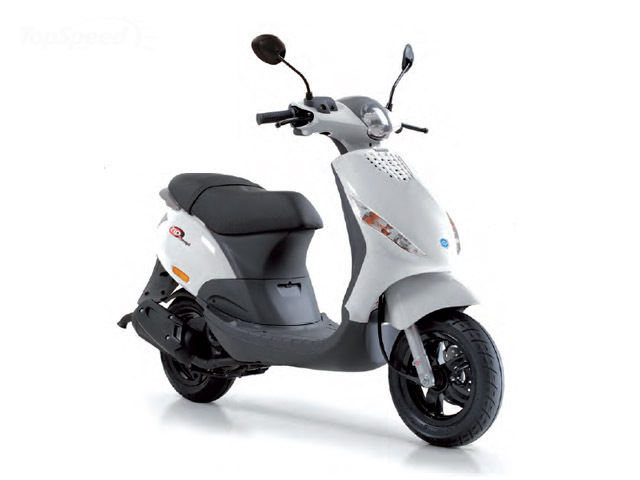 The Piaggio Zip 50 2T is a no-nonsense scooter designed with efficiency and practicality in mind.

The City is its Natural Habitat

Think Easy, Think Zip. Discover a new route to fun with the new Zip 50cc. Born in 2003, The Zip 50cc has been revolutionised with a two stroke Hi-Per2 Piaggio engine making it more environmentally friendly and fuel efficient. Light, agile and extremely easy to ride, the city will appear so different; more colourful, more enjoyable and more liveable.

With its height-adjustable seat to ensure comfort, underseat storage for a full face helmet, lockable glovebox and mobile compartment, wide footrest and bag hook, getting around has never been so easy.

Key features:
• 50 Hi-Per 2 2-stroke engine
• Maximum respect for the environment and low consumption
• Comfortable seat adjustable to three different heights
• Large helmet compartment accommodates a flip up helmet
• 10" wheels for nimblest handling in town traffic
Extract of a review by Ace Scooters
So why is it so special? Well, because the motor that powers the Zip 50 2T is the very same motor that powers the Vespa LX 50. That's right, the Vespa HiPer engine – smooth, easy to start and utterly dependable – but available in a package half the price of the Vespa!! But most importantly, its the power of this motor that keeps customers coming back. It's not surprising that they race Zips in Europe. Moreover unlike some of the other brands on the market, there are plenty of tried and tested (and affordable) performance upgrades available – for racetrack purposes only of course.

If you are looking for a 50cc scooter, then this one should be on your shortlist. Sure, go and check the competition, but there is a very good reason why having done the rounds, customers keep coming back and buying Zips. You just can't go wrong. It's the reason why we've already sold so many of these to different motorcycle instructors/schools. Indeed one has a fleet of 4 to run their specialist 50cc Scootercraft group course. Because that's what professionals are looking for – reliability and value – and the Zip 50 delivers these in spades.

Sure, the looks might not attract your boy racer, but we think that this is very much in its favour, particularly when you'll have the power to blow them away on the roads, and it will also prevent a lot of the unwelcome attention whilst parked that you want to avoid.

In our opinion this is simply and easily the best quality 50cc scooter in the budget end of the market.