Piaggio MP3 500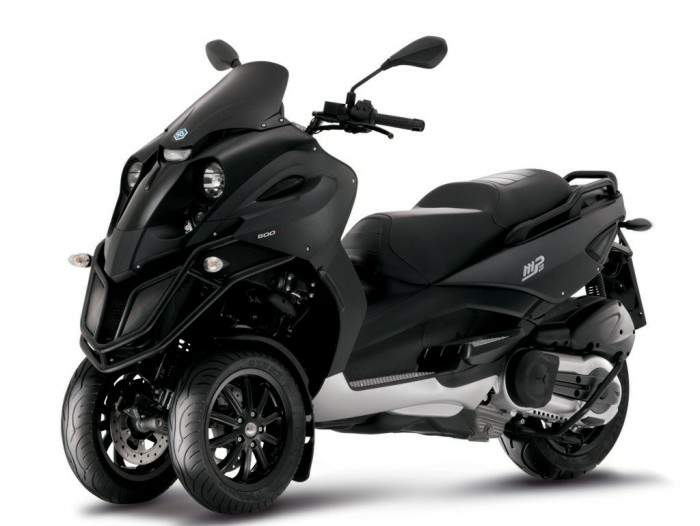 Make Model

Piaggio MP3 500

Year

2006 - 07

Engine

Four stroke, single cylinder, SOHC, 4 valve

Piaggio

MASTER,

catalysed

Capacity

492 cc / 30 cub in.

Bore x Stroke

71.1 x 94 mm
Cooling System
Liquid cooled

Compression Ratio

11.0:1

Fuel System

EFI

Ignition

Electronic

inductive

discharge,

integrated

variable

timing

Starting
Electric

Max Power

29.4 kW / 40 hp @ 7250 rpm
Max Toque
42.23 Nm / 31.2 ft.lbs @ 5550 rpm

Transmission

CVT, Twist and go
Frame

Twin cradle, tubes in high tensile steel

Front Suspension

Parallelogram composed of four aluminium arms supporting two steering tubes cantilevers.
Front Wheel Travel
85 mm / 3.35 in.

Rear Suspension

Two dual effect hydraulic shock absorbers and adjustable spring pre-load

Rear Wheel Travel
110 mm / 4.3 in.

Front Brakes

2 x 240 mm discs, 2-piston caliper

Rear Brakes

Single 280 mm disc, 2-piston caliper

Front Tyre

Dual 120/70 - 12 in.

Rear Tyre

130/70 - 14 in.
Dimensions
Height: 1350 mm / 53.1 in
Length: 2160 mm / 85.0 in
Width: 775 mm / 30.5 in
Wheelbase
1549 mm / 61.0 in
Seat Height
790 mm / 30.9 in.

Dry Weight

244 kg / 537.9 lbs

Fuel Capacity

12 Litres / 3.2 US gal
Colours
Demon black, Passion red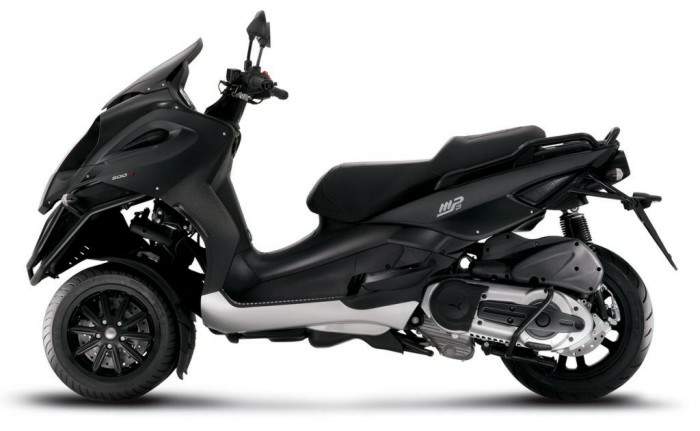 Way back in 2006, Piaggio invented a new category in motorcycling: the three-wheeled leaning scooter. It turns out that they were really on to something - the MP3 has been selling so well that Piaggio has decided to introduce two new versions of the machine to the American market. Joining the original 250cc MP3, Piaggio has officially announced their plans to release both a 400cc version and a 500cc version.
With 34 horsepower, the 400 offers a useful increase in power to the original MP3, but we're more interested in the 500. Boasting 40 horsepower, the MP3 500 is capable of about 90 miles per hour. We also prefer the Mad Max ready-for-anything look of the 500 to the swoopy plastic look of the 250 and 400. A Ducati it's not, but if your Italian cycling passion is a bit more rational, Piaggio may have exactly what you are looking for.
New 2008 MP3 500 and MP3 400 Three-Wheel Scooters Continue the Personal Transportation Revolution
NEW YORK, January 31, 2008 – Italian manufacturer Piaggio launched a revolution in the personal transportation category when it rewrote the rules with the three-wheel MP3 250 scooter. For 2008, the company again raises the bar with the introduction of two all-new MP3 models, the MP3 500 and MP3 400 maxi scooters. Based on the trademark technical innovations that transformed the MP3 250 into an immediate best-seller, the higher-displacement MP3 500 and 400 offer riders the added benefit of high-performance four-stroke engines, aggressive styling and a new level of premium safety, comfort and convenience equipment. Designed to go the distance, the newest MP3 models are uniquely suited to enjoying the diverse terrain of America's highways and byways.
All MP3 models feature Piaggio's innovative three-wheel configuration. Unique in the category, each MP3 delivers unparalleled stability, road grip and parking ease thanks to two independent tilting, articulated front wheels and an electro-hydraulic suspension locking system that allows the scooter to remain locked upright while at a standstill. At the same time, the MP3 sacrifices nothing when it comes to riding thrills – with a 40-degree lean angle, every MP3 delivers all the maneuverability, agility and entertainment of a motorcycle. Dry or wet conditions, smooth asphalt highway or pot-hole studded city streets, the MP3 models are resilient travel companions.
Whether effortlessly carving through a set of twisties or confidently navigating pockmarked urban terrain, the 2008 MP3 500 is the personal transportation choice most likely to get your adrenaline into high-rev mode. Distinguished by top-of-the-line performance and aggressive styling, the MP3 500 has the strongest appetite for aggressive riding of the three available models.
Even standing still, the MP3 500 looks ready for action. A double steel tube bumper with metal mesh inserts give the vehicle a rugged look, as do a sleek black metal handlebar and black ten-spoke wheel rims. A five-lamp headlight unit is not only visually striking, but highly functional – the two biggest head lamps are equipped with off-road-style shockproof covers. But, despite its race-inspired design, the MP3 500 doesn't skimp on rider comfort. From an aerodynamically efficient front fairing to a wide, comfortable footrest panel, generous seat and handy rear rack, the MP3 500 offers total riding comfort to both the rider and passenger.
At the heart of the MP3 500's performance is a liquid-cooled, electronically-injected 492.7cc four-stroke powerplant with peak horsepower of 40 hp at 7,250 rpms. The MP3 500's torque curve is ideal for strong, smooth acceleration with plenty of power available at low and mid-range revs. A peak 31.12 ft.-lb. of torque is available at 5,550 rpm. With a top speed of 89 mph, this maxi scooter is ready to go – but it will do so with minimum noise and reduced emissions, thanks to its twin spark system.
Strong performance potential depends on an equally strong chassis and superior brakes and the MP3 meets all the criteria. The MP3's innovative parallelogram front suspension technology provides category-leading stability and impeccable road holding, while large 240 mm triple steel disk brakes ensure fast stopping power. The MP3 requires 20% less braking distance than best-in-class two-wheel scooters.
The 2008 MP3 500 is available for a manufacturer's suggested retail price (MSRP) of $8,899. Color choices include Passion Red and Demon Black. A full range of travel and security accessories, including a Tom-Tom satellite navigation system, are available.