Ducati Pantah 600 TL "Bol D´OR" by XTR Pepo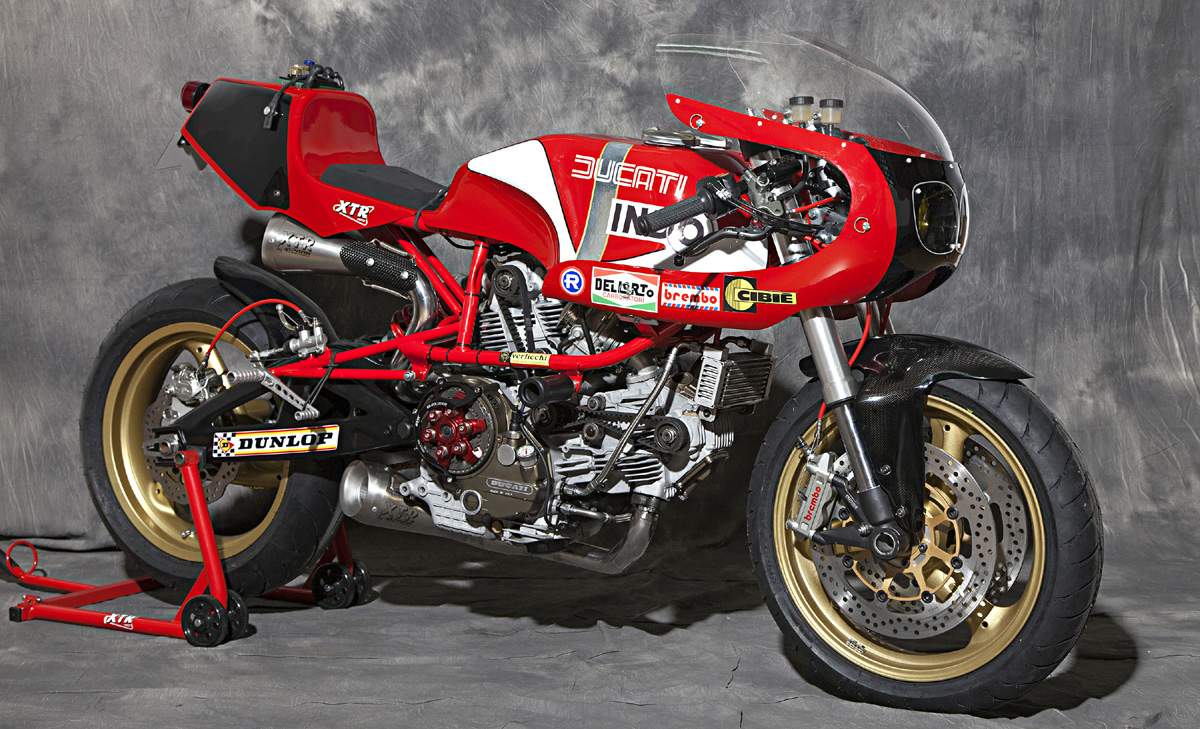 Pepo Rosell is actually living the dream, building bikes to both look and go fast and this Bol D'or racer is based on his all time favourite brand, Ducati. The XTR Pepo workshop in Madrid is turning out bikes a pace to match their looks and this 1983 Ducati Pantah 600 TL trellis frame was modified to accommodate a rear side cantilever suspension system and the swing-arm is a modified version from a Ducati Monster 696. The front suspension was sourced from a Monster S4RS and the wheels were pulled from the Monster that donated its swing-arm. Braking has been significantly improved over stock, with NG rotors used up front with Brembo radial calipers.
The engine was sourced from a 1992 Ducati 900 SS, and it now has ported and polished heads, higher compression, an anti-hooping clutch and the fly-wheel has been eliminated. A pair of matching 40mm Dellorto carburettors replaced the stock units and the new lithium battery feeds power to Dyna electronic ignition.
That eye-catching front fairing is a custom design by XTR Pepo, along with its unique twin headlight arrangement, custom fibreglass fuel tank and hand-laid fibreglass seat.The completed bike has a strong endurance theme with is befitting of its name: Bol d'Or after the famous French motorcycle endurance race.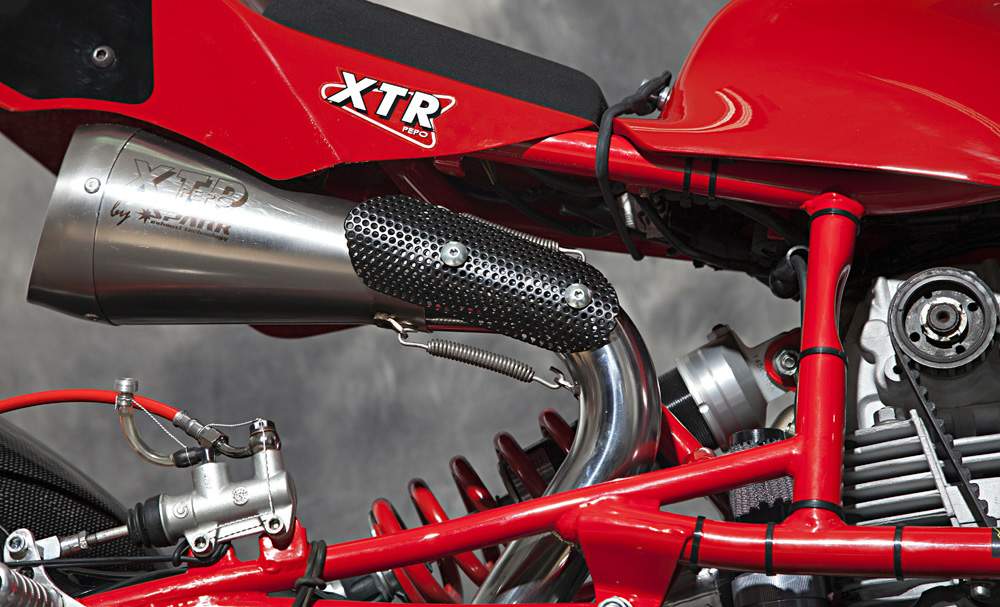 Pantah 600 TL spec
Chassis: Side cantilever suspension system. YSS rear schock. Monster 696 modified swingarm. NG rear brake rotor. Monster S4RS front fork. Brembo radial calipers. Red Frentubo brake and clutch lines. Monster 696 wheels. NG front brake rotors. 1098 brake and clutch radial pumps. Mechanics: Ducati 900 SS'92, ported heads, high compressed, Antihooping clutch , SPH dry racing alternator and cover, eliminated flywheel. Dell'Orto PHM 40 carburators. Tsubaki gold chain. XTR "Il trombone" megaphones with Supermario exhaust lines. Electrics: LIPO battery. NGK high power spark lines. Dyna electric ignitions (no CDI). TT rev counter. XTR double front lights. Montesa rear light. Bodywork: XTR front fairing bracket. XTR footrest. XTR "Endurance" front fairing with XTR double front lights fittings. XTR fiber glass 900 NCR fuel tank type. XTR fiber glass modified TZ seat type . XTR neoprene cushion. XTR carbon fiber front fender. XTR carbon fiber rear fender. Artenruta painting
Source XTR Pepo.