RSD KTM 690 Enduro R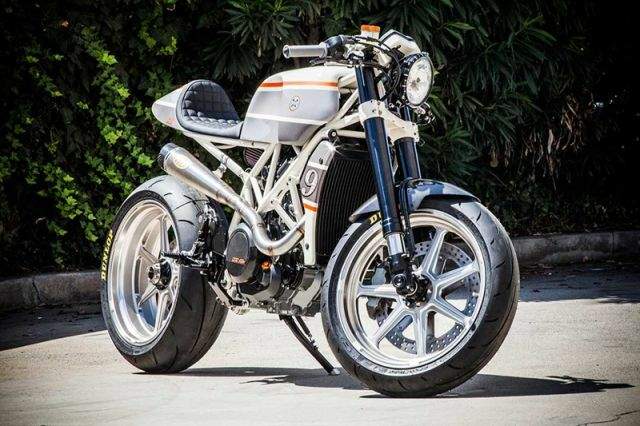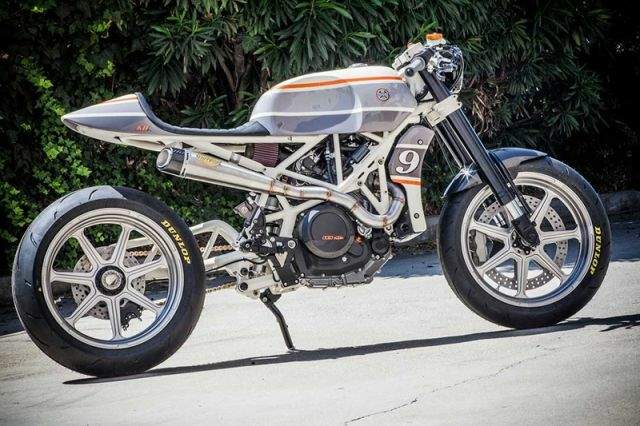 Roland Sands rebuilt a KTM 690 Enduro R, made it a sleek café racer. As a standard bike the weight of KTM 690 Enduro R 2013 is 138.5 kg, while the engine produces 66 hp and it is the ideal performance for the cafe racer.
Roland had to work hard with the suspension and chassis to adapt it to the selected class, because the 910-mm Seat height can hardly be comfortable on a road bike.
Key features

Aluminum parts body kit, made by hand (painted Chris Wood of Airtrix)
RSD EVO set 2, including a cam race and a filter K & N
Exhaust RSD Slant
17-inch wheels anodized Morris (instead of the original 21 – and 18-inch off-road wheels)
Fork KTM 690 Duke, shortened + parts Race Tech
Pendulum, developed under the frame design, made by hand + Customize shock Race Tech
Tires Dunlop Sportmax Q3