SYM Joyride 200i evo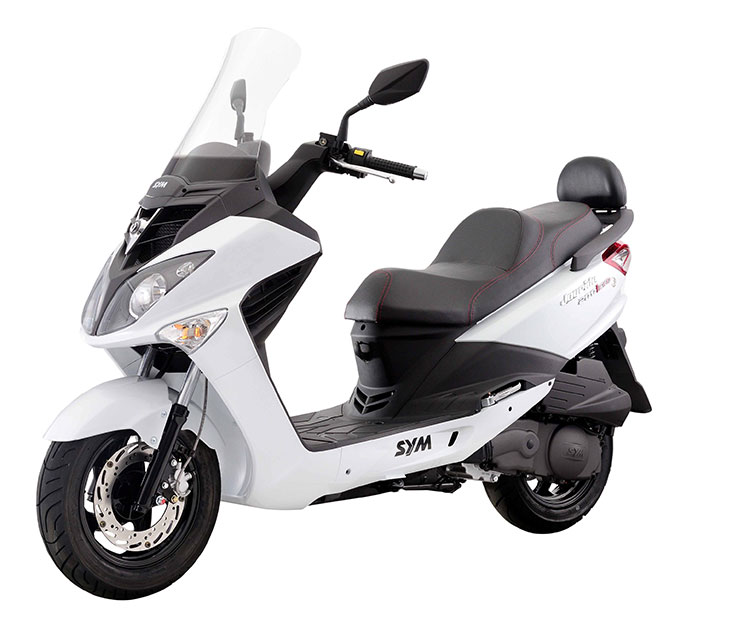 Make Model

SYM Joyride 200i evo

Year

2014

Engine

Single cylinder, 4-stroke, 4V, SOHC

Capacity

171.2 cc / 10.4 cub in.

Compression Ratio

10:1

Cooling System

Air cooled, forced air

Engine Oil Capacity

1.0 L / 2.1 US pints

Transmission Oil Capacity

0.11 L / 0.23 US pints

Lubrication

Dry sump

Exhaust

Single

Fuel System

EFI (C.L)

Induction

Electronic

Ignition

CDI

Battery

12V, 8 Ah (MF)

Starting

Electric

Spark Plug

NGK CR 8E

Clutch

Centrifugal

Maximum Power

11.03 kW / 15.0 hp @ 8000 rpm

Maximum Torque

13.2 Nm / 1.35 kgf-m / 9.76 ft/lb @ 6500 rpm

Transmission

CVT

Final Drive

Belt

Frame

Steel, monocuna split steel tube

Front Suspension

Telescopic fork

Rear Suspension

Twin sided swing arm, adjustable dampers

Front Brakes

Single hydraulic disc, 273 mm

Rear Brakes

Single disc, 200 mm

Wheels

Aluminium alloy

Front Tyre

100/90-12 56P

Rear Tyre

130/70-12 64L

Dimensions

Length: 2100 mm / 82.7 in.

Width: 760 mm / 29.9 in.

Height: 1390 mm / 54.7 in.

Wheelbase

1440 mm / 56.7 in.

Ground Clearance

140 mm / 5.5 in.

Seat Height

760 mm / 29.9 in.

Wet Weight

156 kg / 344 lbs

Fuel Capacity

7.6 L / 2.0 US gal

Average Fuel Consumption

2.8 L /100 km / 36 km/l / 85 US mpg

Top Speed

109 km/h / 68 mph

Climbing Capacity

28°

Colours

Mat black, White/mat grey, Black, Silver/grey, White, Mat grey

Review
I've been riding a Sym Joyride Evo scooter for abut 6 months (7000 kms.) and I used to have a KYMCO Grand Dink 150 before this one. When I first saw this bike I really liked the look.

I've done pretty long trips and city rides. My rating for this bike would be 6/10.
Let's start with the comfort. The sitting position is fine and there is plenty of space for legs even for a tall man but the seat is not very comfortable and it tires you especially in long distances.

Suspension system is not good at all. It neither gives you a very comfortable smooth ride nor high performance and stability when it comes to sharp turns. Handling doesn't make me feel safe. Especially passenger feels a big spine pain when the road is bumpy.

Performance of the engine is not bad for its size. Acceleration and top speed are acceptable. Between 40 km-100 km acceleration is fine. The highest speed I've achieved with this bike on a flat road was 130 km/h.

The under seat space is fine but comparing it to my Kymco it's still small. My laptop doesn't fit in the Sym which is no problem with the Kymco. It has some security systems which I regard as useless. A button under the seat that cuts electric off.

As a result a beautiful bike but not a very good one to ride. Now the 2010 YAMAHA X MAX 250i seems to be my next one. For the ones who are interested in buying SYM JOYRIDE 200i EVO my advice would be spend some more money and go for a better one.
Review by Erman.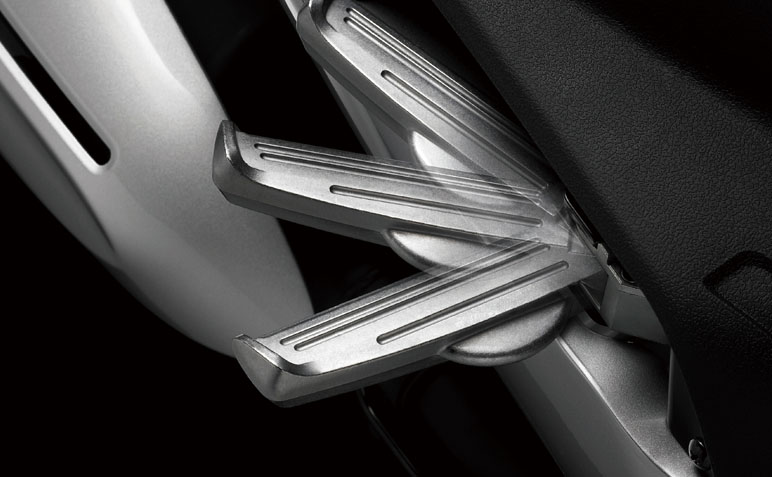 The Sym Joyride 200i Evo, isn't cheap, but it justifies that price tag. The Sym Joyride 200i Evo is nice and narrow and well balanced at low speed ideal for traffic busting. You can see a few maxi scooters in Bangkok traffic, most are grey imported Japanese scooters and some are officially imported 500cc maxi-scooters with a half-million price tag. The Sym Joyride 200i Evo will be the first maxi-scooter under 250cc officially available in Thailand.

The Sym Joyride 200i Evo comes with all the latest technical gadgets, 4-valve, electroplated ceramic cylinder, highly efficient liquid-cooling, 171.2cc engine capacity and a state-of-the art electronic fuel injection system. The Joyride 200i Evo easily meets the Euro III and Thai exhaust emissions regulations, actually with the specially shaped combustion chamber and ceramic cylinder coating the engine could pass much higher exhaust emission standards. The near perfect fuel combustion is also something that you see in the fuel efficiency of the scoot.

Thailand should be a perfect market for maxi-scooters, which is why it's so surprising that Sym has taken so long to enter the maxi-scooter market. They've sold enough 125cc scooters live the Fiddle II, Cello, Jet4 125, Tini, and Radar-X over the years, but none of them bigger than 125cc. You'd think that for an industry leader like this, with access to such a massive market, marketing a maxi-scooter would be an obvious move.

Sym maxi-scooters aren't the cheapest, price won't be a big factor to the the typical buyer, who probably has a car in the garage as well. But loves to have a quick not to big scooter for some city and beyond travel. What they demand is the sort of quality and sophistication that they've become used to on four wheels, and on the Sym Joyride 200i Evo, it looks as though they get it.

The Sym Joyride 200i Evo is based around a substantial steel dual cradle step-through frame. The liquid-cooled four-stroke single is fuel injected, there's the usual efficient CVT transmission and the digital/analogue instrument panel offers more information than most of us will ever need. The seat is very comfortable. Front and rear hydraulic disc brakes are more than capable in stopping the scoot at any speed.

You might think that a 172cc scooter will not perform much better than some 125cc or 150cc scooter, but the Sym Joyride 200i Evo is very powerful, some claim that the engine produces up to 25 horsepower, highly efficient and it uses all modern technology available to reduce engine friction. On the open road, overtaking from 115 to 120km/h takes a fair bit of space, and it's clear that Sym's engineers have worked this scooter's transmission to emphasize quick in-town go.