SYM Symba 125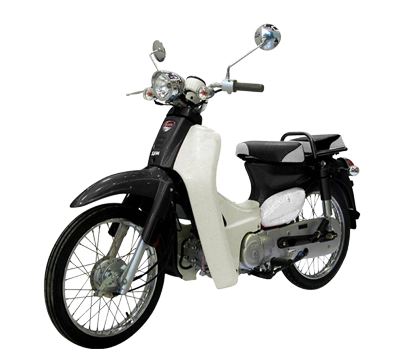 Make Model

SYM Symba 100

Year

2014

Engine

Single cylinder, 4-stroke, 2-valve, SOHC

Capacity

101.4 cc / 6.2 cub in.
Cooling System
Air cooled, forced
Lubrication
Dry sump
Exhaust
Single

Fuel System

Carburetor (CV)

Ignition

CDI
Battery
12V 5 Ah
Starting
Electric & kick

Max Power

5.0 kW / 6.8 hp @ 8500 rpm

Max Torque

6.8 Nm / 0.69 kgf-m / 5.0 ft/lbs @ 6500 rpm
Clutch
Centrifugal

Transmission

4-Speed manual
Final Drive
Chain
Gear Ratios
1st 2.83 / 2nd 1.71 / 3rd 1.24 / 4th 0.96:1
Frame
Steel, monocuna split steel tube

Front Suspension

Telescopic fork

Rear Suspension

Twin hydraulic shock absorber adjustable preload

Front Brakes

Drum, 110 mm

Rear Brakes

Drum, 110 mm
Wheels
Steel, laced wire spoke

Front Rim

2.50 x 17 in, 38L

Rear Rim

2.50 x 17 in, 38L

Dimensions

Length: 1910 mm / 75.2 in.

Width: 690 mm / 27.2 in.

Height: 1055 mm / 41.5 in.

Wheelbase

1225 mm / 48.2 in.

Ground Clearance

120 mm / 4.7 in.

Seat Height

760 mm / 29.9 in.

Wet Weight

95 kg / 209 lbs

Fuel Capacity

4.1 L / 1.1 US gal

Fuel Consumption

1.5 L / 100 km / 65 km/l / 153 US mpg
Top Speed
80 km/h / 50 mph
Climbing Capacity
20į
Colours
Red/white, Black/white, Blue/white
Reviews
sfmoto, Just Gotta Scoot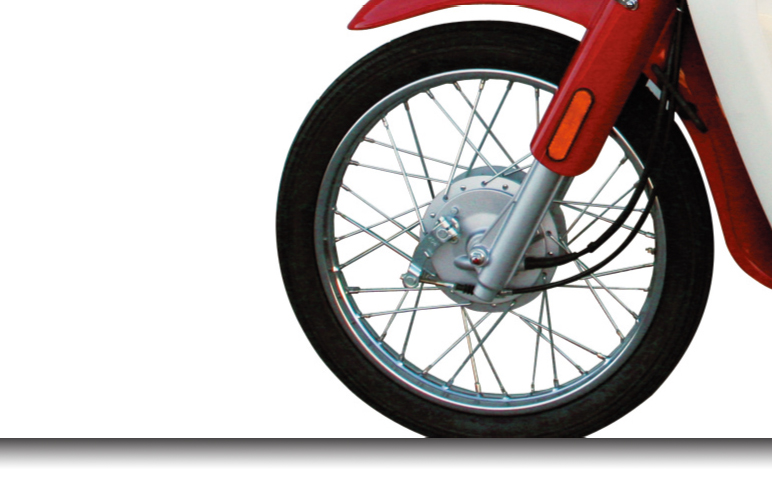 ďTimeless Classic Style.Ē Thatís how Alliance Powersports, the U.S. distributor for SYM motorcycles and scooters, describes the Symba. I have to agree.

Iíll admit, this was my first time riding a clutchless, shifting motorcycle. It seems so foreign to me. What? I shift but I canít control the clutch? As an avid motorcyclist and sportbike enthusiast, I find this difficult to enjoy. However, as someone who lives in San Francisco, the Symba makes perfect sense.

Iím not opposed to fully automatic shifting, as I spent a year riding a fully electric motorcycle and absolutely loved it. I almost wish this guy had the same setup. It took me awhile to get used to this strange new way of riding but after a little bit of practice, I got the hang of it.

As a MSF RiderCoach, I absolutely love the idea of a standard seated motorcycle as your first bike. Or something thatís fairly close to upright riding position. Itís immediately familiar and can put you in a more positive, confident state of mind. Riding is such a mind/body experience (not quite as physical as you think, initially). Once you sit on a bike and put your feet down, you immediately form ideas and opinions about what you think you can/canít ride, simply based on feel.

I really think itís important to start on something lightweight, familiar, easy to handle and forgiving. The Symba 100 easily falls into all of these categories. She weighs as much as your typical 100-150cc scooter (209lbs).

Because the seat tapers in the front, your knees wonít be pushed outward as on most scooters, which can then force you to tip toe or be on the balls of your feet while riding. And especially if youíre a new rider, youíll be looking to have as much confidence as possible so having a flatter foot (but not necessarily flat, and thatís okay too) might make you feel more comfortable.

As someone who rides motorcycles and loves everything there is to love about shifting and controlling my clutch, itís difficult for me to recommend this to a fellow motorcyclist who is looking for a good city ride.

But, if you had Hondaís original version of this motorcycle, or youíre a new rider just looking for something to ride instead of the bus, to save gas and have fun doing it, then youíll love this. With a 2 year warranty, ~100mpg, and a seat for your best friend, the Symba 100 is a great way to go!

Review by: Joanne Donn, San Francisco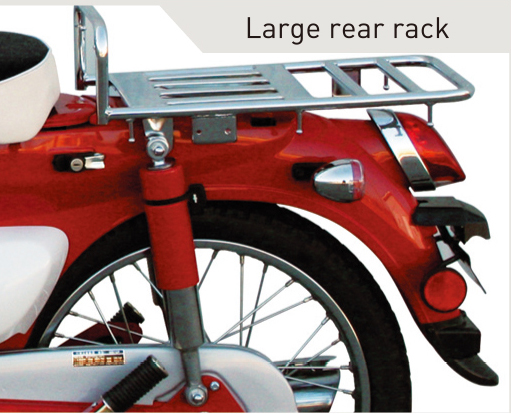 The Symba is powered by a 101cc four-stroke engine with forced air cooling. It is fed combustible mixture through a carburetor and makes nearly 7 horsepower. Power is transferred to the rear wheel by means of a chain which is covered. There is a four-speed transmission with an automatically actuating clutch. There's a shifter by the left foot, but no lever for the left hand. This arrangement takes some getting used to, especially if you are coming off of a conventional motorcycle. Once a person gets the hang of the heel/toe shifter, it's very easy and even starts to feel "natural" quickly. The spoked 17 inch wheels carry inner-tube style 2.50-17-38L ties. Drum brakes are utilized front and rear. The front suspension is a telescoping fork. Yes, let me say that again for all of you Cub/Passport fans out there.... a real telescopic fork. This is probably one of the biggest improvements over the traditional Cub design. The rear rides on adjustable shocks (another improvement). The Symba has a seat height of 30 inches and weighs 209 pounds. The listed carrying capacity is 199 pounds, so I guess (technically) I was more than the bike could handle.
The Symba has an integrated switch in the center of the bike. Turn it clockwise to the "on" position to run the bike and anti-clockwise to lock the front end toward the left. The display is contained in a single round module that houses the speedometer & odometer which are biased to miles. There are three small indicator lights for high beam, neutral & turn signals. Just below those three lights is a curved row of five small lights that act as a fuel gauge. The electric starter button is on the right-hand control along with the "engine kill" switch. The front brake lever is also on the right as is the throttle. On the left-hand control "high-beam/low-beam" headlight switch, push-to-cancel turn signals, and the horn switch. There is no brake or clutch lever on the left. The rear brake pedal is located on the right side of the Symba along with the kick-starter. The heel/toe shifter is on the left side. Under the front seat you will find a locking fuel cap and just to the sideSYM Symba fuel cap and helmet lock between the seats a helmet lock. There is no "native" storage to speak of on the Symba. However, front racks, rear racks, trunks, saddlebags and so forth are readily available.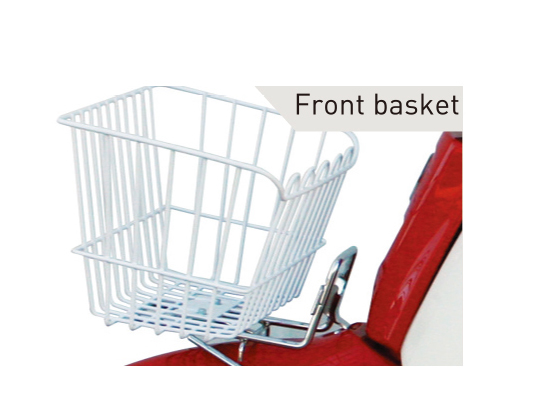 The adjustable rear shocks worked well. There is a "one person" or "two person" symbol on the adjusters and I noticed the ride was much better on the "two person" setting. Then again, according to the Symba carrying capacity, I AM two persons. The front turn indicators look a little like an after-thought, but so do about 90% of the front indicators on scooters in the US. UNLIKE the Cub/Passport, the Symba has a naked bar as opposed to an enclosed headset. Which look you prefer is strictly a matter of personal preference. The gas tank under the front seat is small, holding just about one gallon. Not a big deal as you still won't need to fill it up all that often.
The Symba started easily ran great throughout our review. The kick-starter worked well, though I never HAD TO use it as the electric was quite reliable (another improvement over the Passport). My ONE complaint has to do with the ergonomics of the Symba. The small front seat and passenger pillion with the large tubular metal grab-rail in between them made it impossible for me to find a comfortable riding position. It also made it difficult for me to correctly position my foot to operate the heel/toe shifter. After 100 miles of riding I had a large bruise above my tailbone because I was virtually sitting on the metal bar. Whether or not this is an issue for you will depend on your size.
Operating the semi-manual transmission is a breeze. At first I thought the gearing was a bit too tall, but after I got used to it, the spacing of the shift points seemed just right. The large 17 inch wheels and excellent suspension give the Symba a secure and smooth ride. The drum breaks may be kind of "old school" but they worked just fine with no noticeable fade. On a bike of this size in typical urban riding conditions I believe they are perfectly adequate. The Symba is no speed demon. It accelerates smoothly though not briskly - just like my old Passport did. I had no difficulty in keeping up with city traffic. The headlight works well. That may not sound like such a big deal, but those of you who had old Passports will remember the holding-a-candle-in-front-of-you feel of those bikes when riding at night.

Everybody wanted to ride the Symba. Even other non-SYM dealers wanted to have a spin. Bob Hedstrom of Scooterville enjoyed the bike and commented that the Symba should be the bike to stop people from riding with sandals on their feet! (could be painful with that shifter) Other than the correctable seating issue, I thought the Symba was a blast to ride.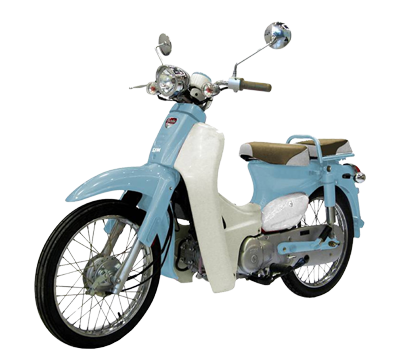 There's a reason that the classic design of the Symba represents the most popular motor vehicle in the world - it works well and is highly adaptable. If you want to revive memories of your youth on a Cub or Passport, get a Symba. If you want practical urban transportation with great fuel economy and low operating cost, get a Symba. If you want both and a bunch of fun, get a Symba.
Extracts from a review by: David Harrington