Vespa GT 200 L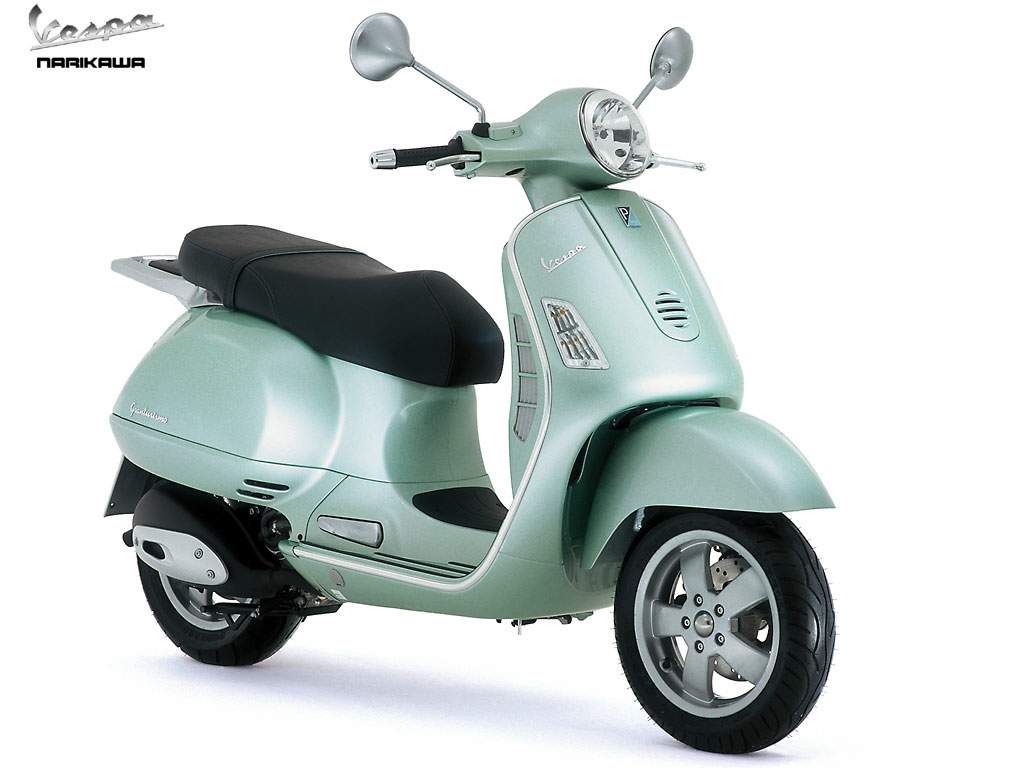 Make Model

Vespa GT 200 L

Year

2003 - 06

Engine

Piaggio L.E.A.D.E.R., single cylinder, SOHC, 4 valve

Capacity

197.8 cc / 12.1 cu in

Bore x Stroke

72 x 48.6 mm
Cooling System
Liquid cooled

Compression Ratio

12:1

Induction

Walbro WVF-7P carburetor, 29 mm or Keihin CVK 30

Ignition

Electronic CDI

Spark Plug
Champion RG 4 HC
Battery
12V, 12 Ah
Starting
Electric, automatic choke

Max Power

15.4 kW / 21 hp @ 8500 rpm

Max Torque

17.5 Nm / 1.78 kgf-m / 12.9 lb-ft @ 6500 rpm
Clutch
Dry, centrifugal type

Transmission

Automatic CVT
Final Drive
V-belt
Frame
Pressed steel, mono-coque type construction

Front Suspension

Single arm with hydraulic shock absorber, adjustable for compression and rebound damping

Front Wheel Travel

86.5 mm / 3.4 in

Rear Suspension

Engine swingarm with 2 x hydraulic shock absorbers, adjustable preload, compression and rebound damping

Rear Wheel Travel

89.5 mm / 3.5 in

Front Brakes

Single 220 mm disc, 2 piston floating caliper

Rear Brakes

Single 220 mm disc, 2 piston floating caliper
Front Wheel
5-Spoke aluminium alloy, 3.00 x 12 in
Rear Wheel
5-Spoke aluminium alloy, 3.00 x 12 in

Front Tyre

120/70-12, tubeless

Rear Tyre

130/70-12, tubeless
Dimensions
Length: 1940 mm / 76.4 in
Width: 755 mm / 29.7 in
Wheelbase
1395 mm / 54.9 in
Seat Height
800 mm / 31.5 in
Dry Weight
140 kg / 308 lbs

Oil Capacity

1.0 L / 1.1 US qt / 0.9 Imp qt

Fuel Capacity

9.5 L / 2.5 US gal / 2.1 Imp gal

Consumption Average

4 L/100 km / 25 km/l / 59 US mpg / 71 Imp mpg

Top Speed

119 km/h / 74 mph
Reviews
Bikepoint
The GT200 is the first larger-frame modern Vespa, introduced in 2003 after the success of the ET-series, which led Vespa's return to the US market after a 20-year absence. The GT (or Grantourismo) was available in US dealers in 2004. The GT introduced the angular, beveled body style which has been the design foundation of all modern Vespa models since.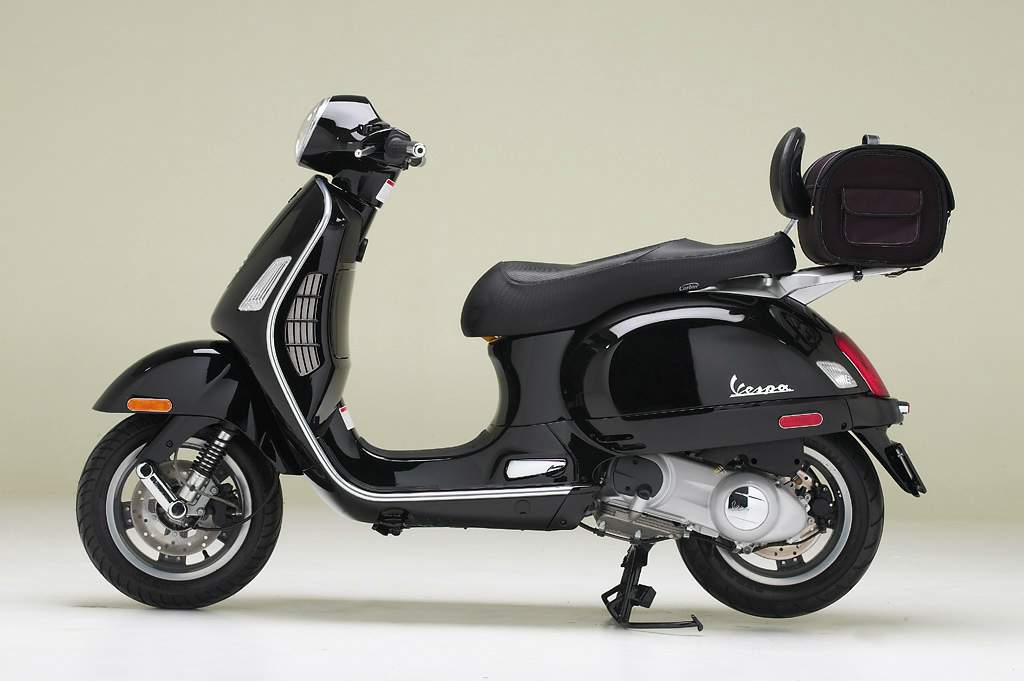 STYLE AND FUNCTION
There's a school of thought that links practicality with aesthetics: if it works well, it's beautiful. The Vespa profile has long been admired as a style exercise but it gets high marks for its usefulness as a transport module. You step into it rather than climb over it, making it suitable for the widest possible range of users. The MT Vespa had the optional top box fitted which adds to the already cavernous luggage capacity. The top box can swallow a helmet with room to spare so it's possible to store your riding gear on the bike in locked compartments rather than carry it around with you when you're not riding. Under the seat is another large storage area and this is complemented by a glove box below the handlebars which is useful for glasses, keys, purses, maps and the like.

The under-seat compartment looks more useful than it turned out to be in practice. It's not the right shape to store a helmet and it's not deep enough to carry A4-size briefcases or folders. It also sits over the engine, meaning the storage space heats up. This limits its usefulness in carrying groceries or bottles of red. It's also near the fuel tank which requires concentration when filling so that petrol overflow doesn't spill into the storage area. There's a ring just above the glovebox from which shopping bags can be hung for the short trip back from the supermarket and it got a lot of use during the test period. The topbox turned out to be completely waterproof in use but the underseat area could more accurately be described as "water resistant". The centrestand is very well balanced and easy to use which is good because the sidestand doesn't support the GT adequately in many applications. It's useful but you need to be careful. With its low centre of gravity, the GT is comfortable being wheeled around in tight parking spots. It's big, by scooter standards, though, and this means care is required if lane-splitting or riding in tight conditions.

ON THE MOVE
With its brisk acceleration, quick steering and automatic transmission, the GT200 is a breeze to use in the city. It's also very comfortable for short trips with a well-padded seat and upright riding position. Extended periods on freeways at 110km/h, though, suggest Vespa may have stretched the envelope a little by calling it a Grand Tourer. Wind pressure at speed encourages the "scooter hunch" and limited suspension travel on rough roads puts pressure on the rider's bum which, with the feet forward riding position, takes all the weight. Rear suspension spring/damper units have four adjustment positions for spring pre-load and this is useful when carrying a passenger. The brakes are excellent. Single discs front and rear are operated from levers on either side of the handlebars. Experienced motorcyclists will mistake the rear brake lever for a clutch lever until they get used to it but it's a bunny-proof system for everyone else. Because of the weight distribution and tyre size, the rear brake is just as effective as the front brake so using any lever or a combination produces powerful retardation. The mirrors are vibration-free and all the controls are light to operate and well placed.

The GT200 doesn't "handle" in a way that can be directly compared with big-wheeled motorcycles but it's accurate to say it is easy to manoeuvre at all road speeds and its straight-line stability is confidence-inspiring right up to its top speed. The instrument panel is comprehensive with a speedo, fuel gauge, engine coolant temperature gauge and a range of warning lights. Because of the seating position, taller riders have to consciously dip their heads to read the instruments, something which takes your eyes off the road and discourages regular checking. This can result, among other things, in indicators being left on unnecessarily. Pillion comfort is beyond reproach and the extra weight doesn't seem to affect performance. The pillion pegs fold in neatly to the bodywork and your average size partner will be both happy and comfortable for short to medium-range trips.

IN THE SHED
Despite its merciless thrashing at the hands of MT staff, the GT200 used no oil and returned a fuel consumption figure of around 25km/l. Gentle riding could easily return up to 30 km/l. This is a sensational result for the kind of performance the GT200 offers. Oil changes are scheduled at 6000km intervals and general maintenance can easily be handled by interested owners. A relationship with a Vespa service centre would be useful for jobs like replacing the transmission belt (every 12,000km) and checking and replacing if necessary the varistor rollers which need to keep their original shape if performance levels are to be maintained. Valve clearances need to be checked occasionally as well (four-valve head) but adjustments are simple.

A bonus with the smooth bodywork is that the GT200 is easy to wash. The engine can get dusty because of its location but just because nobody can see it, its cleanliness shouldn't be ignored. Another nice little maintenance touch is the offset tyre valves: it's a hands-and-knees job because the wheels are so small but normal garage air hoses can be used. Overall, the excellent design of the engine/transmission and straightforward mechanicals suggest a long service life and inexpensive maintenance.

LAST THOUGHTS
As a transport module for city or town use, the GT200 presents a good argument for itself. At $7790 it's priced at the upper end of the scooter market but you get all the cred of the Vespa name and something which will clearly go the distance if a long-term relationship is what you had in mind. As well as being fast enough to be safe in city traffic, it will keep its value too. While it's admirable as a solution to the practical questions about city transport, the jury is still out on how it compares with big-wheeled, motorcycle alternatives which will do the same job and provide a lot more on the performance end. Interestingly, most of the attention the Vespa attracted while I was riding it was from non-motorcyclists - women and men in car parks who would never consider buying a traditional motorcycle but who were clearly thinking, "I could ride that". Perhaps the scooter boom really will stretch the riding envelope.