Vespa 98 Corsa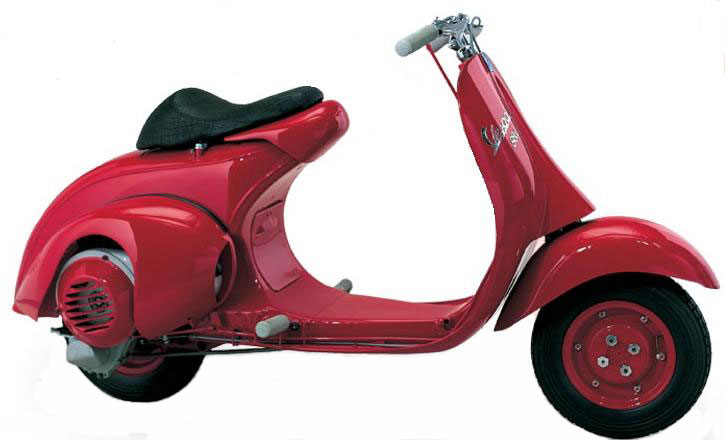 | | |
| --- | --- |
| Make Model | Vespa 98 Corsa |
| Year | 1947 |
| Engine | Four stroke, single cylinder |
| Capacity | 98 cc / 6 cub in |
| Bore and Stroke | 50 x 50 mm |
| Mixture | 1:50 |
| Compression Ratio | 8.7:1 |
| Carburettor | Dell'Orto T2 17 |
| Cooling | Air cooled, forced |
| Battery | 6V |
| Induction | Rotary valve |
| Ignition | Flywheel magneto coil |
| Starting | Kick start |
| Spark Plug | Bosch W340 T1/T or /U, Champion L86 |
| Clutch | Multiplate steel discs in oil bath |
| Max Power | 4.4 kW / 6 hp @ 6000rpm |
| Transmission | 3 speed |
| Final Drive | Direct drive |
| Frame | Pressed sheet steel with streamlined monocoque structure |
| Front Suspension | Coil springs and caplipers shock absorber |
| Rear Suspension | Leaf spring |
| Front Brakes | Drum |
| Rear Brakes | Drum |
| Wheels | Pressed steel flanges, interchangeable, split rims |
| Front Tyre | 3.5 x 8" |
| Rear Tyre | 3.5 x 8" |
| Dry Weight | 73 kg / 161 lbs |
| Fuel Capacity | 5.2 L / 1.3 US gal |
| Top Speed | 100 km/h / 62 mph |
| Colours | Red |
| Source | Allinvespa.blogspot.com |
The Vespa 98 Corsa was built specifically to show the world the capacity of the small scooter to be competitive in races. The great swarm of Vespa which was growing in the streets and squares of Italy, fuelled Enrico Piaggio to produce an aggressive vehicle, which could be an on track winner. The first to ride the Vespa 98 on circuit was Joseph Cau who triumphed in Monte Mario Hill Climb in 1947. The Vespa 98 Corsa (Circuit) was built for speed and represented innovation.
This first fabulous race Vespa was conceived for participation in various circuit races. With it, Piaggio dealers could enter their participation in speed contests. The Vespa in fact took part in several gradient and track races, with many victories in the scooter category, among which the Naples Grand Prix in 1947 and the chronograph climb at Rocca di Papa (Rome).

The Vespa 98 Corsa's form derived from the standard production model, but it had a much smaller, bubble-shaped shield and small handlebars. The horn was taken off the steering column cover and the seat is placed far back, so that the rider had to stretch to reach the handlebars. The rear brakes were also retracted to suit the rider's elongated, aerodynamic position.

The engine casing, a fundamental aspect of the vehicle, had small openings for better ventilation. The front mudguard was very small. The steering column was strengthened. The suspension had two coil springs. The rear suspension was directly above the engine support arm. The engine had no starter switch and the crankcase was cut at the point at which the engine start lever would have been placed to give the scooter more incline on curves.

It had a three-speed change, the 17-mm carburettor was the sport type with an intake cornet, and there was a direct "megaphone" exhaust.