ATK 605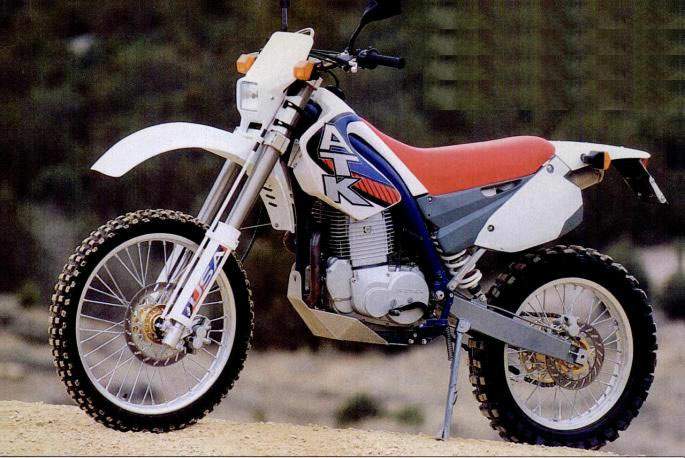 Make Model

ATK 605

Year

1994 - 95

Engine

Four stroke, single cylinder Rotax, DOHC, 4 valves

Capacity

598 cc / 36.5 cu in

Bore x Stroke

97 x 81 mm

Compression Ratio

9.5:1

Co

oling System
Air cooled
Oil capacity
2.8 L / 3 US qt
Exhaust
Stainless steel, upswept under seat

Induction

40 mm Dell'Orto round-slide carburetor

Ignition

Electronic

Starting

Electric

Transmission

5 Speed

Final Drive

Chain

Frame

Large diameter tubing, perimeter-style frame, all aluminium rear sub-frame

Front Suspension

WP 40 mm inverter telescopic fork, fully adjustable for compression and rebound

Rear Suspension

Twin sided swingarm, mono shock

Rear Wheel Travel

335 mm / 13.2 in

Front Brakes

Single 260 mm Brembo disc, 2-piston caliper

Rear Brakes

Single 220 mm Brembo disc

Front Tyre

80/100-21

Rear Tyre

110/100-18

Seat Height

927 mm / 36.5 in

Dry-Weight

129 kg / 284 lbs

Fuel Capacity

16.5 Litres / 4.4 US gal
Review
Cycle Chaos
WAS READY K)R A BIG-NO, MAKE THAT 5-/-G-SWAP. THERE
I was no way this new ATK wasn't going to kick sideways.
I As I sped down a bumpy two-track dirt road, a bike-eating I ditch suddenly appeared, deep enough to squash both ends of
I any suspension, let alone an Open-class dual-purpose bike's. I Out of options, 1 flew in, compressed and rebounded out. I Straight out, that is, no buck, kick or twitch of any kind.
ATK's new 605 Thumper and its revolutionary single-sided frame had passed the extreme flex test. It is hard to comprehend how a frame that connects the headset with only the lower-left swingarm pivot could possibly be as rigid as an ordinary frame, but it is. And that's only the beginning: Its design also allows a full 13.2 inches of rear-wheel travel, but with a relatively low 36.5-inch seat height. Plus, it's 10 pounds lighter than the conventional frame it replaces.
More oddities: The detachable lower frame rails and footpegs are divorced from the main frame and bolt on via the lower engine mounts; a skidplate smooths the transition from a dead-end front downtube to the separate lower cradle, creating a tunnel for the left-side header pipe to pass through.
It is not at all strange for ATK to debut a revolutionary new concept on a motorcycle. Remember the company's A-trak chain-torque eliminator, from which the ATK name was derived? How about the countershaft-mounted disc brake? Those ideas worked on paper, but real-world conditions forced ATK back to more normal setups.
That should not be a problem with this new frame.
The heart of the 605, its 598cc Rotax motor, is about as tried and tested as anything on two wheels. It's ancient by today's two-years-and-you're-out standards, but it truly pulls its own weight-all 100 pounds of it. Feeding the motor is a 40mm Dell'Orto round-slide carburetor breathing through a K&N fabric air filter. The new airbox is actually an integral part of the all-aluminum rear subframe.
A completely redesigned stainless-steel exhaust pipe gets the gasses out with less restriction and flows through a large-core muffler capped off with SuperTrapp discs.
WP continues to produce suspension for ATK. The 40mm inverted fork has full adjustment, this year with compression in one leg and rebound in the other. As per usual ATK practice, the side-mounted WP shock is progressively valved and runs without a linkage.
After years of borrowing bodywork from other brands, ATK went big this year and produced its own sidepanels,
giving the bike a distinct look.
The fuel tank is designed to call attention to the new frame, and houses a claimed 3.6 gallons. The fenders and numberplate are still sourced from Italian plastic maker UFO. Also on the thumbs-up list is the new oversized front-brake rotor squeezed by a Brembo dual-piston caliper; much improved over last year, though still a notch off Honda's class-leading stopper.
Depending on the model choice, starting is simple. With either the delicate push of a button or the swift swing of a kick starter, the 605 will fire right up, even on a brisk, 30-degree Utah morning.
Though in the past Rotax motors have been finicky about starting, the spot-on jetting of the ATK sorts this out. Warm-up is quick-no coolant to heat here.
Small-handed riders will find the reach to the clutch lever excessive, but everyone will appreciate the light pull and smooth engagement. The transmission gives a solid feel and shifts respectably, though the throw may be a bit long for those used to Japanese machinery. Spread of the wide-ratio five-speed will suit everything from tight single-track rock climbing to cruising comfortably at 65 mph on the interstate.
A wide powerband is one of the ATK's joys. Torque is abundant, throttle response instant. It runs like a well-tuned Honda XR600, but with a much smoother bottom-end power spread. The slow-revving nature of the motor is deceiving, but ground speed tells the real story—the 605 simply ingests off-road miles. There's really no need to rev the motor, but the fact that you can shows its versatility.
Suspension settings are the same on all of ATK's
Thumpers. Because the dual-purpose model makes up 95 percent of ATK big four-stroke sales, it comes as no surprise that the settings cater to fireroads more than supercross-style double-jumps. If your riding taxes the suspension, or the terrain gets nasty, the suspension has enough adjustment to handle the situation. During our visit to ATK's headquarters in Bountiful, Utah, I raced a kick-start version with stock suspension in a national hare & hound, and it worked admirably, rarely bottoming.
So, back to this half-a-frame concept. Riding the bike, you would never know that there is some weird, new-fangled frame beneath you. Made up of large diameter, thin-walled tubing, it resembles half a perimeter-style frame, but seems amazingly rigid. The wrapped-steel swingarm, just like the one on the two-stroke LQ model, is much stronger than the ol"d rectangular unit, and does its share to reduce flex, too.
The frame also carries the bulk of the engine's 3 quarts of oil. This feels great on a cold day, but the heat can get to a sit-down rider's left thigh in warmer conditions. ATK has, however, taken precautions: The fuel tank has threaded inserts to allow the mounting of a heat shield.
The electric-start 605 does not mask its claimed 280 pounds (260 for the kick-start model). On the plus side, the weight is well centered and low. Stability is great and we never experienced any headshake. Quick side-to-side turns require an average amount of effort, on par with most big Thumpers. Sliding has never been easier, the low seat height allowing you to really get "into" the bike while hacking the back end out.
There is plenty of room to move about on the ATK. A long and spacious seat, and its relationship to the footpegs does not cramp even tall riders. Ground clearance is not an issue, with 13 inches before a frame rail touches down.
Glitches? Some, and here is where we, and anyone
SI Buell Solo Saddle
SI Buell Solo Saddle Doubles Seating Area. Finely Crafted. Uses Stock Screw Fitting. Meant For Solo Rider. #Sl $269.
Corbin spending close to $8000 on a dirtbike, deserve to be critical—the finer points. We will always praise ATK's use of high-quality chains, handlebars, billet triple-clamps and hubs, and you get some of the best rims, spokes, sprockets, air filters and rotors on the market.
But it's small details that hurt the ATK: a flimsy aluminum plate that supposedly protects the chain guide, but bends when pebbles hit it; footpegs that are plenty strong and functional, but become dirt scoops on contact with the ground; a flappy-flyer license-plate mount that interferes with the tire. Sure, dirt riders love to tinker with their bikes, but for this many dollars, they shouldn't have to.
Still, ATK has a great product here, in need of just a bit more polishing in a few areas. For the deep-pockets dual-purpose rider in search of a unique, innovative, exciting ride, ATK's new 605-strange frame and all-is up to speed and ready to rip. □
Source Cycle World 1996