Benelli Tre-K 1130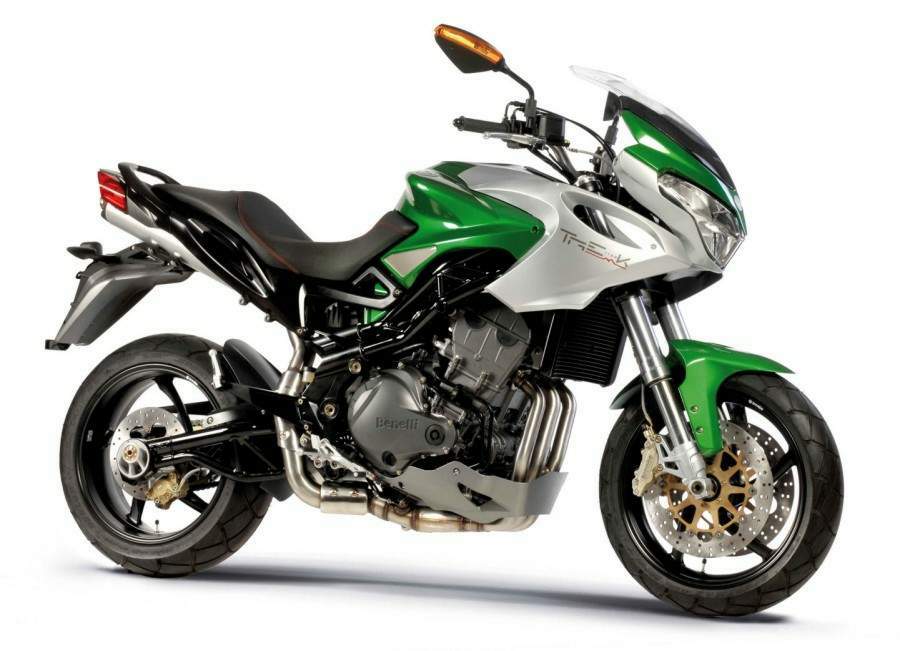 Make Model

Benelli Tre-K 1130

Year

2010 - 11

Engine

Four stroke, transverse three cylinder, DOHC, 4 valves per cylinder

Capacity

1130 cc / 69 cu in

Bore x Stroke

88 x 62 mm
Cooling System
Liquid cooled

Compression Ratio

11.5:1
Lubrication
Wet sump

Induction

Electronic injection

with

1

injector

per

cylinder

Exhaust
With catalytic converter and oxygen sensor
Spark Plug
NGK CR9E

Ignition

Electronic injection
Electric
Electric

Max Power

92 kW / 123 hp @ 9000 rpm

Max Torque

115 Nm / 11.4 kgm / 67.9 lb-ft @ 6250 rpm
Clutch
Wet clutch with hydraulic command

Transmission

6 Speed
Final Drive
Chain drive, ratio 16:37
Primary Drive
44/79
Gear Ratio
1st 14/39 / 2nd 18/35 / 3rd 21/32 / 4th 23/30 / 5th 24/28 / 6th 26/27
Frame

Mixed solution. Front: ASD steel tube trellis, fastened to boxed rear section, aluminium alloy castings. Subframe: aluminium die-cast.

Front Suspension

Marzocchi

50

mm

Ø

"upside

down"

fork

damping, rebound

and

spring

pre-load

adjustment.

Rear Suspension

ASD steel tube trellis swingarm with Extreme Technology single shock absorber with adjustable rebound and spring preload.

Front Brakes

2 x 320 mm Ø, discs 4 piston caliper

Rear Brakes

Single 240 mm Ø disc, 2 piston caliper

Front Tyre

120/70-17

Rear Tyre

180/55-17
Dimensions
Length: 2183 mm / 85.9 in
Width: 850 mm / 37.4 in
Height: 1320 mm / 51.9 in
Wheelbase
1515 mm / 59.6 in
Seat Height
810 mm / 31.9 in
Ground Clearance
140 mm / 5.7 in

Dry Weight

205 kg / 451.9 lbs

Fuel Capacity

21.5 Litres / 5.7 US gal

Consumption Average

5.6 L/100 km / 17.9 km/l / 42.1 US mpg

Standing ¼ Mile

11.5 sec
Standing 0 - 100km/h / 62 mph
3.5 sec
Standing 0 - 140km/h / 87 mph
5.4 sec
Standing 0 - 200km/h / 124 mph
9.9 sec
Acceleration 60-140 km/h
6.8 sec

Top Speed

221.4 km

/

h / 137.5 mph

Review

Rod Chapman, Bikesales
To be fair, Benelli hasn't exactly been flouting its wares to all and sundry. It's been something of a 'boutique' marque in recent years and it's weathered its share of financial storms. In fact, it's only settled down into a steady rhythm since 2005, after Chinese giant QJ purchased the company from Italian entrepreneur Andrea Merloni, a development that has smoothed its passage through the GFC.

Still, this Chinese-owned marque is still very much Italian, in that the factory is still in Italy, its products are largely made of Italian parts, and its products are assembled by an Italian workforce. It's got just as much right to display the tricolore as Ducati, even though – in a parallel twist – the latter is now owned by German car maker Audi.

In Australia it's also had a rough-and-tumble ride – it was under the umbrella of importer Stoney Creek Power Sports until that concern hit the skids at the end of 2008. For the last couple of years, however, Benelli has found new stability here thanks to importer Urban Moto Imports, which also sells Bimota (another Stoney Creek refugee), Erik Buell Racing, Confederate and Viper products.
Powered by Benelli's mainstay powerplant, an 1131cc in-line triple, the Tre-K is an all-rounder with oodles of Latin character. Based on the TnT 1130 streetfighter (the Tre-K 1130's swingarm even has "TnT" stamped on it), it's one of a pair, with the Tre-K Amazonas 1130 having more of an off-road focus, care of spoked rims, a larger 19-inch front wheel, longer-travel suspension and handguards, plus 'wave' brake discs, at a $1000 premium. The standard Tre-K then is more of a 'soft-roader', but as I was about to find out, that term does little to accurately convey its ample ability.

The styling is unique and distinctive – angular, yet somehow organic. The chunky tubular trellis frame and swingarm catch the eye, but the welds aren't the neatest I've seen and the sharp points remaining on the outside of the two main engine mounts detracted from the overall package – far better, then, to cover them by fitting the optional factory crash protectors.

Hopping aboard the thing the 810mm seat height was entirely manageable for this 188cm rider – as it will be for most – while the gel seat was immediately accommodating – nicely sculpted and very supportive.

The instrumentation is modern – a digi LCD display with two analogue dials – but not without its foibles. The LCD display brings up a range of information – clock, trip meter, ambient temperature and a lap timer (bit odd, that one), among others – but the means of accessing that info is far from intuitive. To the left of the engine temperature gauge is the 'Power' button, which lets you choose from one of two ride modes. Choosing the 'power' mode opens a butterfly valve in the exhaust, minimising backpressure to free up some extra horses down low and through the midrange, while also accessing a more aggressive fuelling/ignition map. Peak torque and horsepower remain unchanged, but the seat-of-the-pants difference is appreciable.
The beefy triple crackles into life with a growl – the single underseat pipe spits out a wonderfully evocative note, the growl rising to a chilling howl as the revs rise. Cold starts require a good few seconds on the starter, however, and it does appreciate a bit of a warm-up. With a bit of heat in the oil I let out the heavyish hydraulic clutch and was spearing down the road, the shroud of mystery surrounding the Benelli name now confined to the past – just like that cutie of the late '80s.

The Tre-K is handy enough around town, but at around 5000rpm the bike does display a slight tendency to 'hunt' when making small throttle adjustments at more or less constant lower speeds, such as in heavy traffic. It's a bit more pronounced in Power mode, where the throttle response is sharper, but hooking the next gear and dropping the revs did the trick. At 4000rpm the progress smoothes right out, and there's still ample torque on tap for fast acceleration.

That lusty triple is a highlight. I'm a big fan of the format and the Tre-K's unit is simply bursting with useable low-down and midrange stomp. However, this gives way to an equally strong top end, the donk freely revving to its 9500rpm redline in most of its six gears. In everyday use, however, I generally found myself swapping cogs in its midrange, making the most of its ample torque. Mechanical sympathy also played a part here, because when I picked the demo bike up it had just 30km on the clock. That's a big vote of confidence for the bike on the part of the Aussie importer, right there.

The first gear is a little too tall for stop-start city work, requiring a some clutch at speeds under 20km/h, but beyond this the Tre-K has useable grunt everywhere, a handful of throttle seeing it surge forward in just about any gear. At a claimed dry weight of 205kg it's no heavyweight, and with the upright riding position and a low centre of gravity it's easy to thread through traffic, provided you mind those high and wide mirrors.

Come Saturday I was eager to escape metropolis and stretch the Tre-K's legs on the open road. On the highway it's sublime – at 100km/h the engine purrs away at a lazy 3400rpm in top, barely breaking a sweat. The seat is the best standard perch I've sampled in recent years, while with the three-position, manually adjustable screen on its highest position, I was spared the worst of the wind's blast.

The ride position is spacious, the legroom generous, although the small pillion perch is better suited to day trips rather than interstate epics. The mirrors remain clear and there are no nasty vibes. In general the Tre-K would be an excellent mile-eater, save for one issue – its range.

Fact is, it's a thirsty beast, sucking down anything from 8.2lt/100km to 8.8lt/100km while in my care (that upper figure was achieved just running around town on the more conservative fuel map, too). With a 21.5-litre tank that's an effective working range of about 215-235km and that's a pity – it's comfy enough to do far more between fill-ups. That economy might improve with a few more miles on the clock – let's hope so.

Still, fuel economy was the last thing on my mind when some sweepers swung into view, because here the Tre-K was truly inspiring. It has a decent Marzocchi/Sachs suspension set-up, and for me the standard settings felt just fine. It's supremely stable and sure-footed, with neutral steering. However, it's quite agile in tighter going, where it tips in with little effort and holds a line beautifully. The excellent ground clearance allowed me to exploit the Pirelli Scorpion Trail rubber to the full, while playing tunes on the pipe via the slick-shifting gearbox.

While there are far more powerful and ferocious bikes prowling the streets these days, the Tre-K is still capable of a decent turn of speed. I'd didn't explore its true top-end potential, but there's enough there to get yourself into plenty of trouble. More importantly, there's a heap of urge available for fast and safe overtakes.

The brakes are everything you'd expect of a quality Brembo set-up, offering gobs of power and excellent feedback. Unfortunately there's no anti-lock option at present, but it's in the pipeline. Those wheel sensors are in fact part of the Tre-K's traction control system. It's permanently on and it's relatively basic – when it kicks in, it simply cuts the engine output by 10 per cent. This means you can continue to feed in more power – the output will just be 10 per cent down on what it could be until the rear wheel regains traction.

On paper this seems a long way off the intelligent anti-lock and traction control systems we're seeing on an increasing number of bikes these days, but regardless, it really is a welcome addition. On the fire trail that snakes through Victoria's Wombat State Forest I had a blast on the Tre-K, spinning up the back and hanging it out on corner exits without fear of the rear wheel inadvertently overtaking the front. I'm no Stéphane Peterhansel – far from it – but the traction control did give me a chance to indulge in a little Dakar daydreaming…

The suspension handled the dirt just fine and the brakes were good in this realm too – no excessive initial bite, just nice, progressive power. If a steady diet of dirt is on the agenda I'd be looking at the Tre-K Amazonas, but the standard Tre-K is all you need for the occasional off-road exploration.

I had a blast on the Tre-K 1130. At $17,900 rideaway, it's right there in the ballpark with what I perceive to be its closest competitor, Triumph's $15,990 (plus ORC) Tiger 1050 Sport. The latter does have anti-lock braking and it also comes with factory panniers as standard. It's a little more refined than the Benelli in general, but then the Tre-K has something of a raw edge to it, which may well push many buyers' buttons.

That mystery lady of my distant past will forever remain a memory, but the exotic Tre-K 1130 is here and 'available'. For anyone after a competent, capable and character-laden 'soft-roader', a long and beautiful relationship with this Latin lovely could be just around the corner…