Bimota 500 V Due Evoluzione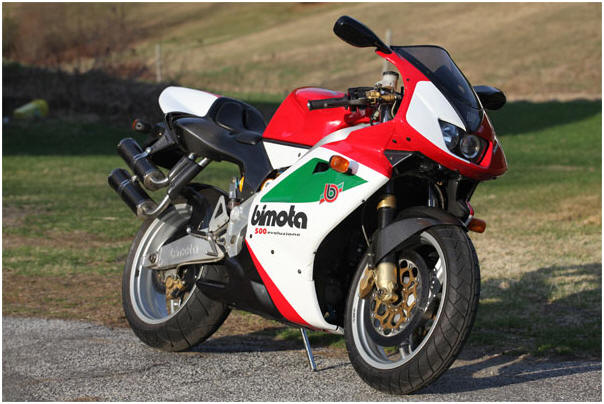 Make Model

Bimota 500 V Due Evoluzione

Year

1998
Production
120 units
Other related

V Due Corsa (1999 - 2001, 26 units)

V Due Corsa Evoluzione (2001 - 2003, 120 units)

V Due Evoluzione (2003, 14 units)

V Due Edizione Finale ( 2005, 30 units)

Engine

Two stroke 90°V-twin

Capacity

499 cc / 30.45 cub in

Bore x Stroke

72 x 61.25 mm

Compression Ratio

12:1
Cooling
Liquid cooled

Induction

Twin injectors
Starting System
Electric

Max Power

76.6 kW / 105 hp @ 9000 rpm

Max Torque

90 Nm / 9.2 kgf-m/ 66.4 lb/ft @ 8000 rpm

Transmission

6 Speed
Final Drive
Chain
Frame
Tubes of oval section, made of light aluminium alloy.

Front Suspension

46mm Paioli telescopic forks fully adjustable

Rear Suspension

Monoshock, fully adjustable for preload and damping.

Front Brakes

2x 320mm discs

Rear Brakes

Single 230mm disc

Front Tyre

120/70 ZR17

Rear Tyre

180/55 ZR17
Weelbase
1340 mm / 52.8 in
Seat height
820 mm / 32.3 in

Dry Weight

176 kg / 388 lbs

Fuel Capacity

20 liters / 5.28 gal

Consumption average

9.05 l/100km / 26 mpg

Braking 60 - 0 / 100 - 0

- / 43 m / - / 141.1 ft.

Standing ¼ Mile

12.5 sec / 185.9 km/h / 115.5 mp/h

Top Speed

265.5 km/h / 165 mph
Reviews
Performance Bike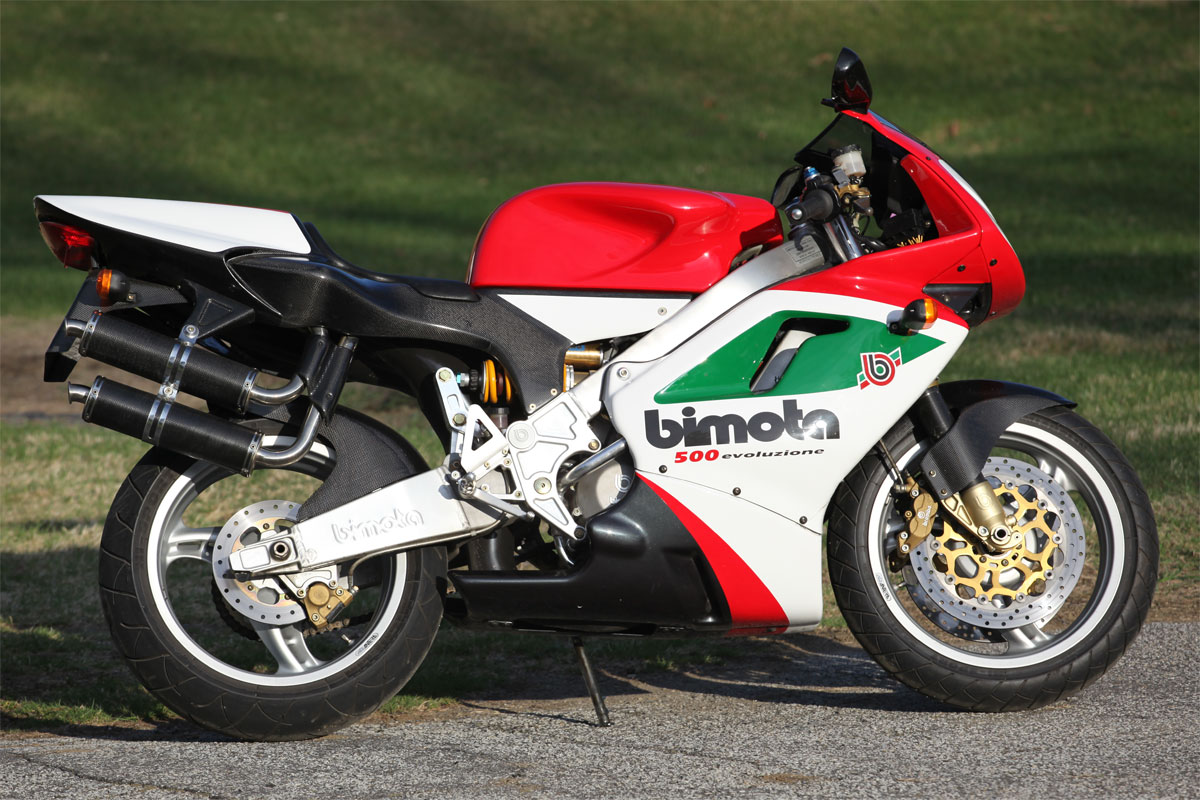 And now we present a 1998 Bimota V Due 500 Evoluzione with a 500cc, liquid-cooled, two-stroke, carbureted v-twin engine that makes 120bhp at 9000rpm, and 90Nm of torque at 8000rpm. This 1998 V Due 500 Evoluzione (serial number 226) appears to be one of only 21 Evoluziones built for street use prior to the 2003/2004 model. It is currently titled in Vermont with an active registration, and has emissions and VIN# that will allow it to be titled in all 50 States.
History of this bike
The V Due took eight long years of Bimota™s development time, effort and money. Initially intended to be a 500cc GP racer, the V Due was designed to deliver GP-spec performance and handling on the street. To go with the 500cc two-stroke engine, the V Due was equipped with a stiff, lightweight aluminum chassis, meaty aluminum swingarm, six-speed cassette-type gearbox, 17-inch wheels, fully adjustable 46mm Paioli forks, fully adjustable Ohlins rear shock, and Brembo brakes. Tire sizes are 120/70 ZR17 at the front, and 180/55 ZR17 at the rear.
With its carbonfibre bodywork and exhaust cans, a dry weight of less than 330 lbs, the V Due is capable of doing the standing quarter-mile in 12.5 seconds, and has a top speed of 164 mph.
Not only is the Bimota V Due's bodywork made of carbonfibre, but also the internal air boxes, Paoli fork lowers, exhaust cans, fenders and huggers. Everywhere that Bimota could save weight, they have adorned this bike with an extremely high-standard and finish of carbonfibre. The fine Italian workmanship on the milling and welding of the frame and aluminum billet is evident everywhere.
Exotic, and expensive (about US$30,000) when first released in 1997 as a fuel injected two-stroke. Designed by Robbiano and engineered by Marconi, this bike was created as a Moto GP bike for the road. Powered by a 500 cc twin-cylinder Bimota engine, the first and only Bimota designed engine, customers were immediately clamoring for delivery. Such intense demand leads Bimota to start delivery before full development is completed ultimately leading to a complete recall of all of the first 185 bikes of the planned total production of 500, and a financial crisis for the company.
In 1998/1999 Bimota released a new engineered V Due 500 they called the Evoluzione fitted with twin Dell'Orto carburetors instead of the fuel injection, an electronic dash, and a new compliment of bottom-end engine components to handle the additional torque requirements of the original engine design were also fitted. By 2000, Bimota would file bankruptcy over the continued financial strains placed on the company by the initial introduction of the fuel injected V Due and severe itself from the remaining V Due production. But, prior to the bankruptcy, the carbureted V Due proves reliable and Bimota successfully builds a race series around it.
The remaining V Due assets (including parts and incomplete motorcycles of the planned production of 500) would eventually be bought by Piero Carroni, who still supplies parts including accessories for these motorcycles. A total of 388 V Dues would eventually be built through 2005. According to the production history of Bimota, of the total of 167 carbureted Evoluziones manufactured, 120 of them were manufactured as 2003/2004 models. 26 were manufactured as racing only motorcycles in 1999/2000 which were not fitted with road going number plates.
The V Due engine gives a rush of horsepower between 7500rpm - 9500rpm, and with its extremely low weight of 330lbs makes the riding sensation as close to a 500cc MotoGP bike as possible. This was Bimota's intent in producing the V Due 500. The riding position ergonomics are extremely comfortable for this type of exotic performance. The seat, hand and foot controls and tank design make it easy for the rider to sit within a "tuck" position or more straight up for casual riding. For example, the unusual tank design permits a rider to easily apply pressure with a knee in order to cause the bike to tip-in to a turn with as little pressure as necessary on the bars. Likewise, it is easy to move the rider's weight from forward to rearward to help stop spinning of the rear wheel when apply throttle out of the turns.
There is little fatigue with the rider's ergonomics of this bike that are associated with today's sports bikes. This bike is by far the best handling road bike its current owner has every ridden to include the legendary handling of the Aprilia RS250. This bike has more than twice the BHP of an Aprilia RS250 Challenge Cup bike and yet weighs only 20 additional pounds. For those who have enjoyed the pure riding enjoyment of the Aprilia Cup bikes, this will put the potential for experiencing MotoGP riding in perspective as Bimota intended. For stopping power, the bike is equipped with 4-pot Brembos, and the brake lever design requires only light pressure from the rider.