Make Model

Bimota DB6 Delirio

Year

2008

Engine

Four stroke, 90°"L"twin cylinder, SOHC, desmodromic 2 valves per cylinder

Capacity

992 cc / 60.5 cub. in.

Bore x Stroke

98 x 71.5 mm

Compression Ratio

10.0:1
Cooling System
Air / oil cooled
Exhaust system
2 in 1 in 2
Lubrication
Wet sump

Induction

Fuel Injection, 45mm throttle body

Ignition

Marelli electronic
Starting
Electric
Clutch
Dry multi-plate with hydraulic control

Max Power

68 kW / 91.2 hp @ 7750 rpm

Max Torque

87.5 Nm / 9 Kg-m / 64.5 lb/ft. @ 5750 rpm

Transmission

6 Speed
Drive
Chain
Gear Ratio
1st 12.5:1 / 2nd 8.333:1 / 3rd 6.25:1 / 4th 5.263:1 / 5th 4.5455:1 / 6th 4:1
Frame
25/20 mm chrome-molybdenum steel trellis with aluminium machined plates

Front Suspension

50 mm Marzocchi upside-down with TiN treatmentm 120mm wheel travel

Rear Suspension

Straight connection with full adjustable monoshock, 130mm wheel travel

Front Brakes

2x 320mm discs 4 piston calipers

Rear Brakes

Single 220mm disc 2 piston caliper

Front Tyre

120/90 ZR17

Rear Tyre

180/55 ZR17
Rake
24°
Trail
100 mm / 3.9 in.

Dry weight

170 kg / 374.8 lbs
Wet weight
(Approx) 176.9 kg / 390 lbs
Seat height
830 mm / 32.7 in.
Wheelbase
1425 mm / 56.1 in.

Dimensions

Length: 2045 mm / 80.5 in.

Width: 750 mm / 29.5 in.

Height: 1230 mm / 48.4 in.

Fuel Capacity

16 Litres / 4.2 US gal

Standing 1000 m

23.0 sec / 206.8 km/h /128.5 mph

Standing ¼ Mile

12.1 sec / 182.9. km/h / 113.6 mph

Top Speed

214.1 km/h / 133mph
From its early beginnings, the Delirio project has been conceived as the creation of a piece of art, and as a challenge to all conventions. Everything created by Bimota to this date has been built to the extreme, emphasizing perfection beyond rationality. Delirio is a motorcycle that gives new value to the companies rich heritage, and traditions. The goal has been to realize a Bimota for the future, presenting engineers, designers and everybody involved with an equally exciting and challenging task. Once again in Bimota's history, the result has been shaped by passion, imagination, and extraordinary craftsmanship.
Technology Of Emotion
The Delirio has become a reality - from Sergio Robbiano's pencil to Alberto Strada's computer to Enrico Borghesan's golden hands - and the minds, souls, and hands of all at Bimota. Technical data of the Delirio confirms what is obvious at first sight: Delirio delivers outstanding performance. Engine and framework blend together in perfect harmony. Performance and handling are complimented by an aggressive but nonetheless comfortable riding position. The first biposto of the new generation.
The Bimota Delirio project had been born even before its supersport counterpart, the DB5, was completed. The esthetics and function-driven design of the DB5's bare chassis did not only suggest but demanded the creation of a naked bike.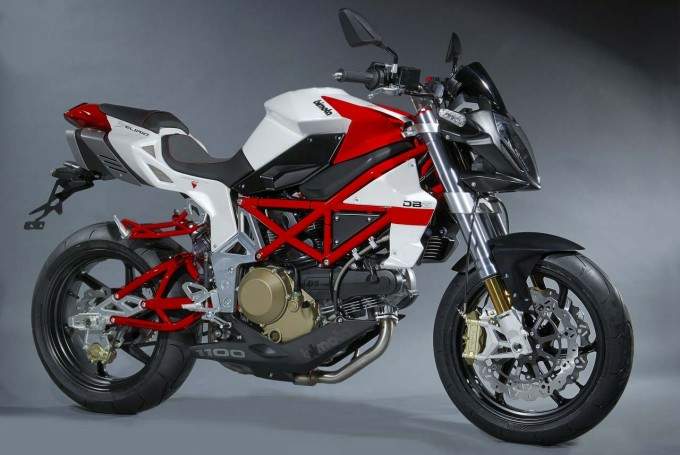 The process of designing the DB6 was bound to go far beyond just re-designing the DB5. Having identified the trellis frame, swing arm, and fork as the basis of the new motorcycle, we started all over again.

The finished design had to be distinctively different, setting the DB6 uniquely apart from all naked bikes on the market. A Bimota has always been immediately recognizable, today following the path set by Sergio Robbiano, proven by the success of the DB5, defined by low weight, esthetic proportions, and outstanding performance.

The challenge creating a naked bike is the balance between engineering necessity and design esthetics. The DB6 displays in a unique way the care that went into hiding essential functional auxiliary parts from plain view, directing attention to the most prestigious elements of the motorcycle. This process requires a radical approach positioning all functional parts, leaving no room for compromise.
Front-end, trellis frame, new bored out and lightened plates of the swing arm, as well as the passenger foot-rest supports are the most refined and exclusive parts of the new DB6.

The exhaust system of the DB6 has been completely redesigned and fitted with special silencers positioned under the seat. Tank and tank cover with fully machined lock-nut contribute to the overall aggressiveness of the DB6. Battery and fuse box are hidden by the side covers, making maintenance extremely simple. The front view of the DB6 gives the motorcycle the personality of a predator through its low positioned front light with integrated indicators.

Seating position and the ergonomics of footrests and handlebars provide the rider with the feeling of domination and absolute control. Riding the DB6 yourself, you will experience that the design of each single element is the expression of the pleasure to ride.
Review
From its red trellis frame and swingarm to its angular tank and mimimalist front fairing, the 2007 DB6 Delirio is the lastest in Italian engineering artistry from Bimota.It somehow doesn't seem right. Bouncing the tach needle off the rev limiter as I snatch another clutch-less upshift before pinning the throttle back to the stop. With my leg inches from the family four-door to my right, and a large truck filling my horizon, it's not how I anticipated the first few miles would be riding the new 2007 Bimota DB5 Delirio. With a $60,000 Tesi 2D hot on my tail, I stayed tucked to make my pass and get back on my side of the road. I certainly didn't want to "modify" the hand-made Italian motorcycle with the grill of the oncoming truck, so grabbed another upshift and kept the throttle pinned. Wheelying over every speed bump we could find, spinning the rear end out of the tight corners, and frequently heading into small villages hard on the brakes at 100 mph, testing motorcycles on public roads in Italy is an exhilarating experience to say the least.

Responsible for the sort of behavior that would see us all doing hard time in the States, Anaclato Bernabe, the Bimota PR guy, was taking us to lunch. In a hurry to spend two hours munching through a seven-course feast, there was no time to admire the stunning Italian scenery streaking by to the sides. Thankfully, we would lose Anaclato after lunch and get a better opportunity to enjoy the $30,000 handmade Italian beauty, and the equally stunning countryside inland from the scenic Adriatic coast.

As part of an aggressive re-birth of the company that three years ago was closed for production and in the hands of the bank, Bimota had invited us to Italy to tour the factory and ride the new bikes. Purchased by Italian businessman Ing. Roberto Comini in 2003, the financial investment into this famous brand that traces its beginnings back to 1973 is substantial. This is good news for Bimota aficionados in America. With the radical Tesi 2D already on American soil, the DB6 Delirio is hot on its heels, and it will be joined by the DB5 and DB5R sport bikes.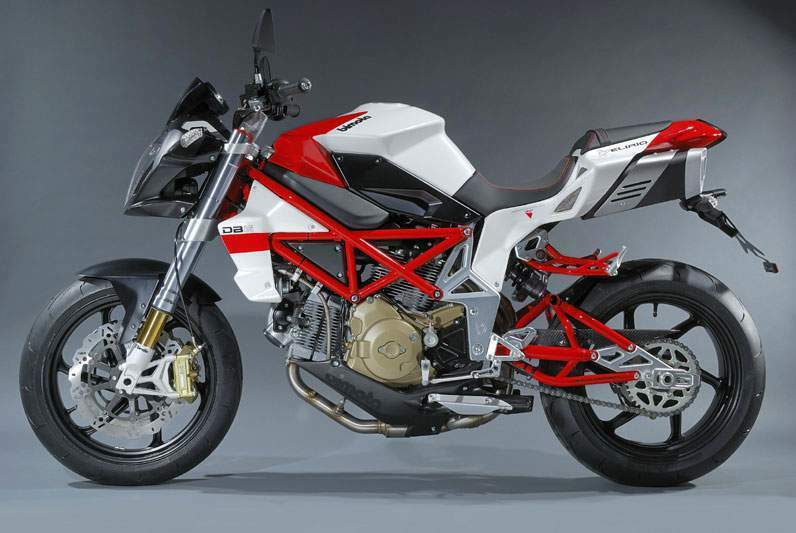 The ergos on the 2007 DB6 Delirio had Bayly tucked in a tight racer's crouch but the foot pegs were less than accomodating for his size 10s.As a naked standard, the Delirio is the most practical and lowest priced Bimota. (If you can call $30,000 a low price) Featuring a 90 horsepower air-cooled Ducati V-Twin engine, a trellis frame, and conventional forks and shock, on the surface the price tag looks exorbitant, especially when you can buy a standard S2R Ducati Monster for $10,500. What you are buying for this King's ransom is a handmade motorcycle built to the highest quality by a single Italian craftsman. Giving you a ticket to an extremely exclusive club, even when Bimota hits peak production some time next year, they will never build more than 1,000 motorcycles a year.

A household name in Europe, Bimota motorcycles are not so widely known here in the States. Formed by three Italian gentlemen back in 1970, the Bi stands for Bianchi, the Mo for Morri, and the Ta for Tamburini. And I am sure most of you are familiar with Signor Massimo Tamburini, the man who brought the world such machines as the Ducati 916 and the MV Agusta 750F4, among others.

By 1973, Mori and Tamburini had split from Bianchi and were manufacturing parts for popular Japanese sportbikes. Also producing racing frames, by 1976 they had won their first world championship with Johnny Cecotto using a Yamaha TZ350 engine in a Bimota frame. Business expanded to making complete kits for owners of current Japanese bikes. Basically, customers would use their own bike engine and electrics as donor parts and would buy everything else from Bimota. It wasn't until the late '70s that Bimota eventually started selling complete motorcycles built along these lines in house.
Influencing the world of motorcycle design more than most people would realize, (Tamburini took Bimota's trellis frame to Ducati when he left) Tamburini's first production Bimota was labeled the SB2. Featuring a Suzuki GS750 engine, his original prototype had an undertail exhaust system. Unfortunately, Bimota couldn't make it run correctly, and it wasn't until 1993 that Tamburini's vision was realized with the introduction of the Ducati 916. Nowadays, undertail exhausts are more the norm than the exception in the sportbike world.

Sergio Robbiano's swingarm design for the Delirio uses an amalgamation of thin tubular sections mated to an alloy plate.
The history of Bimota has been one of great highs and lows, with some incredible innovations and the odd world championship thrown in. The original Tesi designed by Pierre Luigi Marconi is still radical today. Bimota's YB4 E.I was also pretty radical in 1988 with a beam perimeter frame and fuel injection, and it went on to win the F1 world championship with Virginio Ferrari in the saddle. (The series that went on to become World Superbike)
History lesson over and back in the saddle of the Delirio, it is quickly apparent that Europeans are smaller than Americans. The ride position is tight, and the footpegs feel like race items that would suit people with smaller feet than my size 10s. The bars are nicely positioned and the reach is just right. Be prepared to have your legs tucked up in a racers crouch, and your family jewels, if you are of the male persuasion, spending their day making out with the front of the tank though.

Thumb the starter, and the Ducati engine fires right to life. Fueling on my test unit was not perfect and debriefing with Anaclato I learned it was a low-mileage model, so some reprogramming would take place to smooth out a couple of the rough spots I found. These occurred predominantly at lower rpm on a steady throttle, though I am happy to report there was no such problem when the throttle got yanked open in anger .

Peak power is around 90 Italian stallions at 9,000 rpm, with a peak torque figure of 70 arriving at 6000 rpm. Propelling the 390-pound bike along the small Italian roads like a guided missile, short shifting is the key to rapid forward progress. Riding with Cycle World's Blake Conner heading toward the small town of Montescudo, I noticed a small, sporty Fiat attempting to drive up my twin triangular Euro 3 compliant exhaust pipes. Blake must have noticed him too, as I heard the deep, low, roar of his DB5 blitzing up to redline, and I twisted the throttle to show our four-wheeled friend what the Bimota was made of.

Sir Neale checks the 2007 Bimota DB6 Delirio's one-wheel abilities, with the claimed 90 horsepower and 70 lb-ft of torque able the loft the front wheel no problem.
Now I have to give this guy his due, he was lightning quick in the turns, and with the Italian roads being as slick as anything I have ever ridden on, we were definitely erring toward caution. Once the rear tire had hooked up and the revs were climbing hard to redline, we just left the small Fiat in our exhaust fumes. Within a few miles I couldn't hear his screeching tires or see him in my mirrors anymore. We had worked for it, but the Bimota's impeccable handling, top-shelf brakes, and explosive power delivering from low throttle had won the day.

Featuring twin 320mm rotors and four-piston radical calipers, all supplied by Brembo, the stopping power available is superb. Easy to modulate with a good bit of lever travel before the jaws-of-life bite down, this was very much appreciated on the slippery Italian roads. Out back a single 220mm disc gets a regular two-piston caliper, but needs a major stomp of the right boot to see any action. A little fine-tuning is in order here, me thinks.

Attached to a pair of beautifully understated black, alloy wheels, modern sportbike-sized rubber is used front and rear. Our bikes were fitted with Continental tires, but US units will have Pirelli Dragons. Holding these in place, a capable set of Marzocchi TiN 50mm inverted forks is used. These are fully adjustable for pre-load, compression, and rebound as you might expect. In the rear a conventional single Extreme Tech shock is used and, like the forks, it is multi-adjustable.
Bimota strives to provide quality craftsmanship in a limited production, hand-made motorcycle.Checking the tech specs, I was surprised to see the Bimota Delirio's wheelbase is 1.7 inches longer than a Yamaha R6. It shares a similar 24-degree rake, with a little more trail, so still transitions side to side with little effort. The wide bars no doubt aid this, and it took a few miles of reprogramming to adjust to the low level of input needed to change direction. Also, some food for thought is the 390-pound weight is claimed with the bike full of fluids, so dry it has to be in the 360-pound category.
The instrumentation on the Bimota is small, and the digital speedometer is not the easiest thing to read on the move. The big white-faced tachometer is beautiful though, and it was fun to watch the needle racing around toward redline without having to pay much regard to the speed. I guess in Italy speed limits are more of a suggestion as we never seemed to travel anywhere near to the limit the entire week we were there. All the control switches are fine, mirrors do a reasonable job, and the small warning lights are bright.

Parking the bike at San Marino to take some photos after a fantastic few miles on the most awesome twisties, all of these technical details faded to insignificance as I studied the Bimota, getting lost in its many intricate parts. Designed by current Italian hotshot designer, Sergio Robbiano, the way the swingarm uses an amalgamation of thin tubular sections mated to an alloy plate to hold the rear wheel is breathtaking. The same process is used with the main frame, which is just as appealing to the eye. Dig in deeper, and the quality of the welds and paintwork is simply without compare. Intricate and stunning, the Bimota Delirio is like nothing else on two wheels. Just taking a moment to look at the machined-from-solid chain adjuster and rear brake caliper hanger will have every mechanical junky itching and looking for a fix.


The Delirio sits dockside in San Marino. Not many of the exclusive machines will make the boat ride over to the States, but those able to bankroll the $30,000 MSRP will have an honest to goodness piece of European luxury.The radical lines of the bodywork, the unbelievably narrow cut of the gas tank, and the way the shapes and forms all blend together, educates even the uniformed eye that this is not a mass produced machine. Built with fastidious attention to detail in every nut, bolt, and hand made fastener, a finer set of components would be hard to find on a single motorcycle. Unless it was another Bimota, of course.

Capable of breaking men's hearts and wallets, every single Bimota is unique, and as with any exotic, be it two wheels or four, only for a select few. On paper it is easy to dismiss the Delirio as an over-priced motorcycle, but after a day in the saddle, and a chance to absorb the bikes intrinsic details, it is a totally different story. Especially when you consider people are shelling out a lot more money for gaudy, hard-to-ride American customs built by companies without a fraction of the history or passion that is Bimota.
Source Motorcycle-USA 2007