BMW C Evolution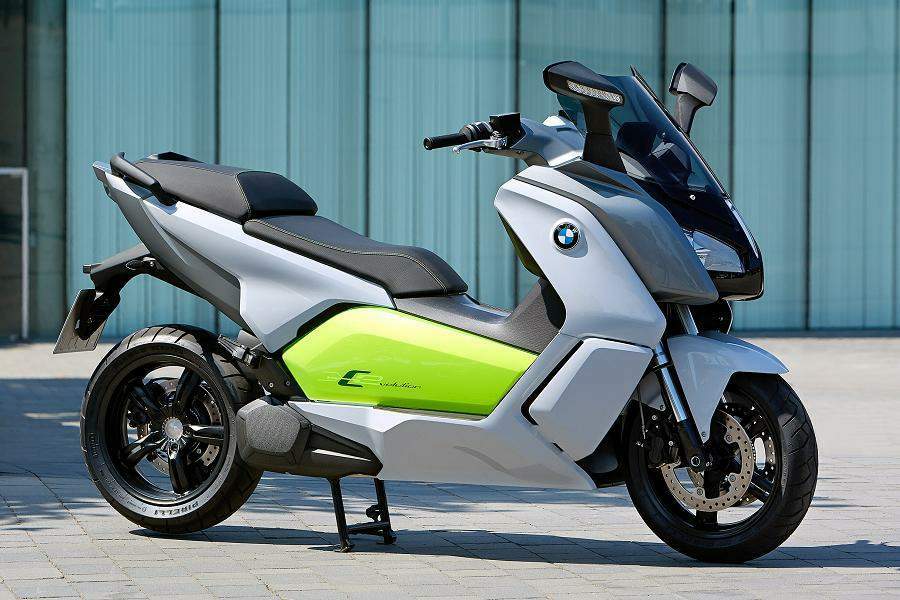 Make Model

BMW C Evolution

Year

2014 - 16

Engine

Drive train swing arm with liquid-cooled alternator; permanently excited synchronous machine with surface magnets, internal rotor

Rated Output

11 kW / 15 hp (homologation according to ECE R85, riding licence class A1)
Max. Output
35 kW / 48 hp at 4,650 rpm
Max. Torque
72 Nm from 0 to 4,500 rpm
Battery
Air-cooled lithium-ion high-voltage battery with booster fan
Battery Capacity (gross)
8 kWh
Battery Voltage
133 V (nominal)
Charging Power
3 kW, integrated charger
Charging
On-board charging socket type 1; charging cable with country-specific plug
Charging time at 220 V / 12 A (standard)
approx. 4 h to 100%; 80% in 2:45 h
Charging time at 220 V / 16 A (Mode3 cable)
approx. 3 h to 100%; 80% in 2:15 h
Secondary battery
12 V / 8 Ah, maintenance-free
Alternator
DC/DC transformer, integrated into battery charger, 475 W (rated power)
Drive
Drive train swing arm with toothed belt and ring gear transmission to the rear axle
Maximum Speed
120 km/h (electronically governed)
Acceleration 0-50 km/h
approx. 2.7 s
Acceleration 0-100 km/h
approx. 6.2 s
Range
approx. 100 km in everyday riding (Road mode)
Recuperation
automatic recuperation when coasting and braking, range extension up to 10-20% possible
Frame
Hybrid chassis with die-cast aluminium load-bearing battery casing, bolt-on tubular-steel stearing head carrier and rear frame
Front Suspension
Upside-down fork Ø 40 mm
Front Wheel Travel
120 mm / 4.7 in
Rear Suspension
single-sided swing arm with direct-link spring strut, spring pre-load manually adjustable over 7 settings
Rear Wheel Travel
115 mm / 4.5 in
Wheels
Cast aluminum wheels
Front Rim
3.50 x 15"
Rear Rim
4.50 x 15"
Front Tyre
120/70 R 15
Rear Tyre
160/60 R 15
Front Brake
2x 270 mm 2-piston floating caliper
Rear Brake
Single 270mm disc 2-piston floating caliper
ABS
BMW Motorrad ABS
Castor
95 mm / 3.7 in
Steering Head Angle
65.9°
Dimensions
Length 2190 mm / 86.2 in
Width 947 mm / 37.2 in
Height 1301 mm / 51.2 in
Wheelbase
1594 mm / 62.7 in
Seat Height
780 mm / 30.7 in
Wet Weight
265 kg / 584 lbs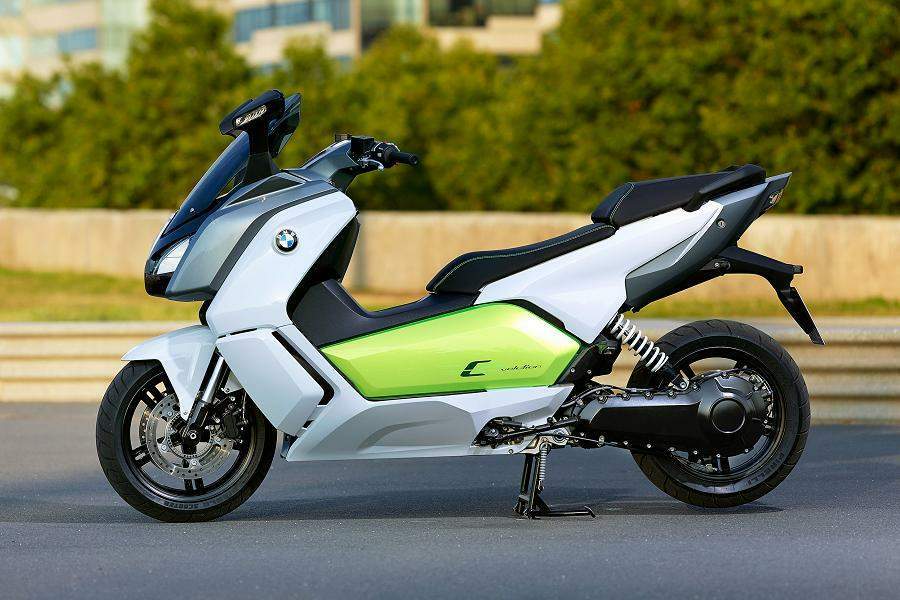 Dynamic riding fun with zero emissions.

The arrival of the new C evolution marks the start of a new chapter in the urban mobility segment for BMW Motorrad. The two conventionally powered maxi scooter models – the C 600 Sport and C 650 GT – already succeed in combining the superb ride qualities of a motorcycle with the specific agility of a scooter and the design's inherent comfort. The new electrically powered C evolution now goes even further by fusing riding fun and dynamism with the benefits of zero-emission performance to create a whole new experience on two wheels.
In keeping with the BMW Group's sustainability strategy, BMW Motorrad is taking a fully committed approach to electric mobility. As with BMW i, development of the C evolution revolved around creating a visionary vehicle concept offering maximum everyday practicality and an inspirational design.

Powerful drive unit with liquid-cooled electric motor and air-cooled high-voltage battery. Range of 100 kilometres (62 miles) under practical conditions.

The C evolution is powered by a drivetrain swing arm with liquid-cooled permanent magnet synchronous motor via a toothed belt and ring gearing. The rated power output is 11 kW (15 hp), with a peak output of 35 kW (47 hp). This enables the C evolution to achieve a top speed of 120 km/h (75 mph, electronically limited) and gives it better acceleration than some maxi scooters powered by engines with displacements of 600 cc or more.

The generous 8 kWh capacity of the air-cooled lithium-ion high-voltage battery allows the two-wheeler to cover a range of up to 100 kilometres (62 miles) before it needs to be charged from any domestic mains supply. When plugged in to a standard 220V domestic socket with a 12A charge current, recharging fully from empty takes around 4 hours (with 220V / 16A = 3 h).

Intelligent recuperation and four ride modes ensure riding fun as well as efficiency.
BMW Motorrad has opted for a form of energy regeneration for the C evolution that has never been seen before on a single-track vehicle. Recuperation takes place automatically both when coasting with the throttle closed and when braking.

Riders of the C evolution can set their preferred mix of dynamic performance and efficiency by selecting from the four ride modes. In Road mode, for instance, they have at their disposal maximum acceleration, approximately 50 per cent energy regeneration when coasting and full regeneration when braking. In Eco Pro mode, meanwhile, acceleration and therefore energy consumption are restricted, while the maximum possible amount of energy is recuperated. Sail mode suppresses recuperation while coasting, allowing the C evolution to glide along virtually free of any braking effect when the throttle is released. And for an added touch of dynamism, Dynamic mode combines full accelerating power with a high degree of recuperation.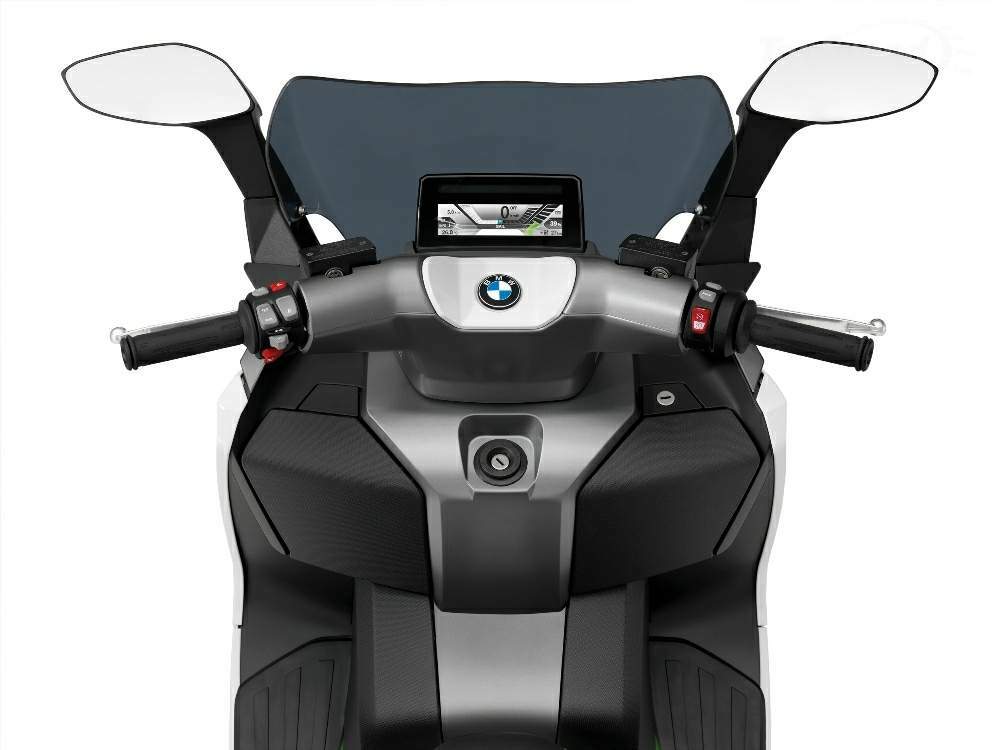 Supreme safety thanks to synergies with BMW Automobile.
As part of the BMW Group, BMW Motorrad was able to harness synergies with BMW Automobile during development of the C evolution. Besides adopting the same energy storage modules and electronic componentry used in the BMW i3, this was particularly beneficial for electrical safety, which is to passenger car standard. The C evolution is the first electrically powered two-wheeler to meet the ISO 26262 standard for functional safety and the ECE R100 standard governing high-voltage safety, both of which have been ratified by the leading carmakers.

As far as the chassis is concerned, the C evolution no longer has a main frame in the conventional sense. The central component here is the battery casing made from diecast aluminium, which has a steering head support made from steel tubing attached to it at the front and, at the rear, the single-sided swing arm as well as a rear frame, also made from steel tubing. The task of wheel suspension and damping is performed by an upside-down telehydraulic fork at the front and a spring strut mounted on the left at the rear. As on all vehicles from BMW Motorrad, the C evolution comes equipped with safety-boosting ABS together with powerful disc brakes as standard.