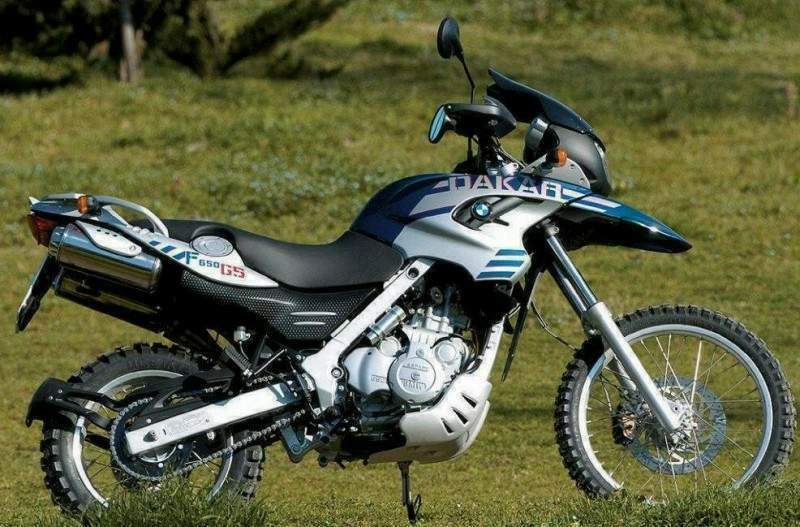 FEATURES:
Redesigned for improved wind and weather protection, the new windshield reduces helmet noise, even for tall riders. Tinted, the windshield can be removed for off-road riding. The new headlight provides more uniform illumination while stylistically contributing to the bikeís assertive appearance.
The adjustable clutch lever makes for more comfortable riding regardless of your hand size.
Once you get into this saddle, the only time youíll want to get off is to refill the tank. Completely redesigned, the luggage rack system now makes attaching the top case easier (no intermediate plate needed) and tensioning straps can now be attached via attach points in the rack itself. Single seat also available.
Rugged and functional, the Soft Case System fits both the GS and Dakar models and attaches to motorcycle via zipper/buckle system. This system offers up to 62 Litresof storage. Water resistant with built-in pack straps and attachment loops. Each piece is sold separately. Item available as an ACCESSORY.
For added storage and carrying capacity. The topcase is reinforced with an aluminum edge on both top and bottom lids to help secure your gear and protect it from the elements. Made of hard black waterproof PVC plastic. Requires mounting bracket kit. Available as an ACCESSORY.
Adds additional storage or carrying capacity. Comes with a waterproof rain cover, a clear map holder window and a rear zipper-lock pouch. All necessary hardware and parts for installation are included. Available as an ACCESSORY.
Review
BMWís all new F650 on/off-roader is available in street or enduro style, with the Dakar version created as a tribute to those brave riders who manage to complete the arduous Paris-Dakar rally, and to celebrate a BMW win in the 1999 event.
With a Rotax derived four stroke, single cylinder, fuel injected, water cooled engine, all new weight distribution and chassis, the Berlin built F650 is a great novice machine, road or trail. The Dakar rep has a slightly more hardcore image, yet remains a genuinely easygoing all-rounder underneath the knobblies.

Fancy doing some off-road motorcycling but donít want to buy a bike just for green-laning?
The answer could be choosing a machine like the BMW F650, which is available in stock road kit, or the slightly more adventure orientated Dakar version. The decision could be helped by sampling a few of the excellent off-road schools and adventure trail rides in the more scenic parts of the UK - as Insidebikes.com did, courtesy of BMW GB.
Dakar desert riding Brit hero John Deacon rides for the BMW factory in both that annual gruelling rally event, as well as running a gentler off-road experience near his dealership in Saltash, Cornwall. The lanes arenít too taxing - depending on the weather of course - but itís handy if you have had some green lane riding under your belt before you try a day or two on the rutted farm tracks of Devon and Cornwall.
The F650 Dakar variant has few differences from the more familiar road based bike, with the 21 inch diameter front wheel size giving a taller riding position. You also get chunkier enduro type tyres, a taller screen, handlebar guards and longer suspension - 40mm more in the forks and 45mm in the rear monoshock. The ABS braking also gets the old heave-ho.
The Dakar feels much taller in the saddle and a 5foot, 9 ins bloke like myself had to dip to the left slightly in town to make sure my boot touched tarmac at the lights. That said, the Dakar is nowhere near as high in the saddle as rivals like the CCM 604 Enduro, or KTM LC640 for example, which betray their pure off-road roots the moment you attempt to pole-vault onto the seat...
The F650 isnít the lightest Rotax powered trailbsike on the market and the Beemer soon proved a bit lardy to handle if the going got seriously slippy, with those fiendish rutted tracks nearly causing me to eat cowcrap and ICIís finest agri-chemical cocktail as per usual. As you might have guessed, Iím not really too brilliant off-road, having tried it twice in the last 25 years since getting my bike test passed, yet mostly, the F650 remained generally easy to handle off-road, even for me.
The reasons are like the bike itself; simple. The Beemer carries its 192kgs (with full tank of fuel) exceptionally well, plus the gentle, torquey 50bhp from the motor is developed in a predictable, steady sort of way. There are no jerky surprises in the power curve, making throttle control in tricky, tree-stump lined trails less critical than on something more enduro biased. I felt like I had learned a few things, even in the space of a morning on the rough stuff, rather than just be intimidated by the ragged poke of the thing, which is how proper dirt bikes make me feel...
For sure, a Husqvarna, KTM or Kawasaki MX 125 two stroke would utterly see off the F650 on properly churned up terrain (assuming the rider was any good) but the BMW has the benefit of being able to hold a steady 80mph along the by-pass all the way home after your off-road excursion.
The dual purpose bike is always a compromise of course, and thereís no doubt in my mind that once I manage to get the hang of riding faster than 40mph off-road, Iíll want the sheer agility and raw power of a 250cc sized two stroke. But the build quality of the BMW F650 Dakar makes it a tempting alternative for me nevertheless. It looks classy and able to take some serious knocks if things go pear-shaped in the hills.
Fact is, if I lived somewhere remote where land access wasnít a big problem and needed a bike to commute on in the summer, the F650 would be pretty close to perfect.
THE JOHN DEACON BMW OFF-ROAD EXPERIENCE.
The mix of green lanes, old droverís roads etc dotted around the Liskeard area of Cornwall proved perfect for a day of freedom, and tuition, in the countryside, with light local traffic on the tarmac sections keeping speeds sensible. Dakar ace John Deacon was on hand to give valuable tips and advice and the day long package includes one nightís hotel accommodation, use of F650 BMW, fuel and insurance, all for £195. You do need your own off-road biking kit however.
No off-road section was longer than a handful of miles, with desert-racer levels of fitness definitely not required. The accent is big on fun and taking things at your own pace. The groups can be split ad hoc, according to everyoneís ability on the day. The pub grub was absolutely fan-bloody-tastic too by the way.
Plus points: Great novice-intermediate level off-road sampler course; fantastic scenery; good winter activity if you store your road bike.
Minus Points: BMW F650 is a little heavy, plus road based gear ratios leave big gap between 1st and 2nd gears - OK, I admit I kept stalling it...
Source Insidebikes.com